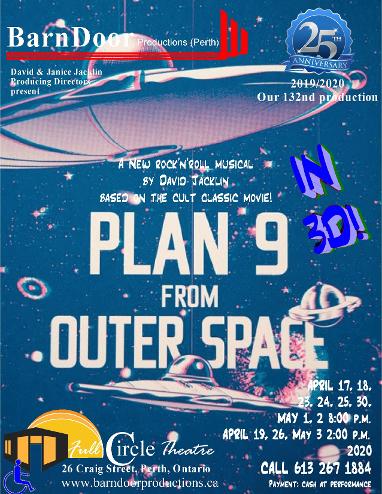 Musical Numbers with Alter Ego Vocals
Below: Act One
No 2 Plan Nine From Outer Space.mp3
No 3 The Shadows Of Grief-A Time To Live.mp3
No 4 A Time To Live reprise.mp3
No 6 Plan Nine From Outer Space reprise.mp3
No 9 Near The Cemetery.mp3
MUSICIANS!


Here are the score and instrument parts for
PLAN 9 FROM OUTER SPACE
PERFORMANCES:
This show has been rescheduled for
April/May of 2021
REHEARSALS
Beginning in February, 2021, as arranged with the band

BAND:
Keyboard 1 (Piano, lead synthesizer)
Keyboard 2 (lead synth, string synth, organ, effects)

Guitar (electric and acoustic)

Bass
Drums
Contact us
HERE
about joining the band
FIRST!


Download the Full Score here (pending)


(Guitar tabs pending)
Musical Numbers with Alter Ego vocals
Below: Act Two
Note: accompaniments for Nos. 14 and 20 have changed since these were made but vocal part is the same.
No 14 That's Why I Hold You.mp3
No 16 The Zombie Walk.mp3
No 17 The Zombie Walk reprise.mp3
No 20 God Help Us In The Future - Plan Nine reprise.mp3
No 21 Bows and Finale Ultimo.mp3