BarnDoor Productions is Perth, Ontario's original community theatre. An outgrowth of Perth's original professional summer theatre (Perth Summer Theatre 1983-1992), BDP is a partnership owned by David and Janice Jacklin. BDP has been described as "a professional company who work with amateurs" in creating theatre of a quality "that belies its amateur status" (The Perth Courier).

Established in 1995, we have presented more than 130 productions in a dozen venues across the region. In 1997, we were instrumental in the creation and development of Perth's Studio Theatre and were the Resident Production Company there until events in the fall of 2008 left us looking for a new home.

While continuing to stage as many productions as we could in various venues, we acquired and renovated 26 Craig Street, aka Charlie's Carwash, a well-known Perth landmark, turning the circa-1947 building into our new home.
The new theatre was created largely through volunteer labour. From initial drawings and plans to heavy construction work to final decorating, more than 50 people donated time, energy and materials to the facility. We also drew on re-used and re-cycled materials wherever possible. For instance, the panels of the stage front and proscenium arch used to be the panels of the car-wash's overhead doors and the seats are from Perth's 1915-1958 vaudeville theatre, the Balderson Theatre.

We are now into our eighth season at the Full Circle Theatre, and are working to improve the facility at every opportunity.

In our first year of operations at Full Circle Theatre, we hosted events ranging from live drama and comedy, music and dance to cinema and vaudeville to simple meetings. At our peak, we hosted 144 income-generating events in a season.

The Full Circle Theatre is now widely recognized as the most comfortable, the most accessible and the most performer- and audience-friendly theatre in Perth.

In November of 2012, David and Janice Jacklin were (individually) awarded the Queen Elizabeth II Diamond Jubilee Medal, "in recognition", as stated in the medal's citation, "of your contributions to Canada."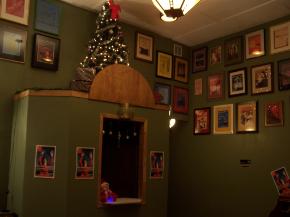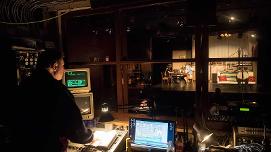 Left top: The lobby of the Full Circle Theatre all dressed up for Christmas

Left bottom: The stage seen from the tech booth, in rehearsal.

Below: A full house at Full Circle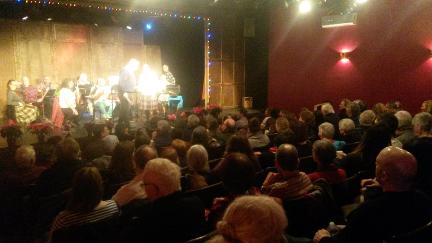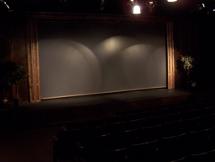 Left: Our wide-screen, hi-def video projection system in place.

Below: The seating arrangement in the house. 102 seats total.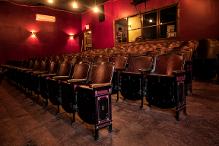 "Had a great show in this lovely theatre with Kate Weekes last Saturday night. David and Janice are dedicated and professional. Their labour of love creating this space is much appreciated. Perth is blessed in many ways and this is certainly one of them. THANKS SO MUCH!!"



And here's a link to a Youtube video of Kate Reid performing -- shot entirely at FCT!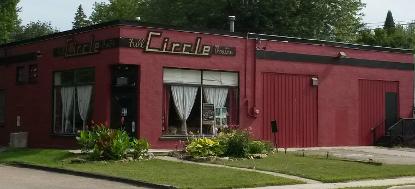 The Full Circle Theatre at 26 Craig Street, Perth, Ontario as seen in August of 2015.
Below: The finale from our 2011 theatre opening gala, a video thank-you to all who helped us get there.
Full Circle Theatre specs:
General

Perth's only ground-level, fully barrier-free theatre


Air-conditioned

Excellent acoustics

On-site parking + ample FREE adjacent street parking

8X8 loading door directly onto stage

102 fixed seats, raked 1-in-10
3 wheel-chair designated spaces
Level access from street to seat
No obstructed view seats
No seat further than 27 feet from stage
Assisted listening system in place

Flexible proscenium stage, 24" above audience level, 23' deep,
12' stage overhead, width variable from 25' to 35'

17' X 13' dressing room with attached, private performers' washroom
Audio

12-channel snake from stage to booth into
16 channel audio mixer into
1250 watt, 14.2 surround sound system
500 watt and 250 watt active subwoofers

Digital multi-effects audio processor in place.

Variety of microphones available by arrangement
MUSICIANS, NOTE:
Our sound system is intended for use with live theatre and cinema events. It is not primarily for musical reinforcement.
We cannot provide DI boxes, phantom power or MONITORING!
The system is not set up for that.

Lighting

48 channel Strand LightBoard M
Northlight Decode24 DMX-to-analogue converter
2 12 X 1.2kW LDS dimmer boxes
12 X 10-amp FOH circuits
12 X 10-amp over-stage circuits
(24 lighting channels total)

FOH lights:
10 X 500 watt Altman 360Q
2 X 500 watt Strand Coolbeam Zoom
Over stage lights:
14 X 500 watt 6" Fresnel on 2 elecs over stage
various Par and flood strips available
Projection

Digital projection system
20' X11' rear projection screen.
Multi-disc, High-Def Blu-Ray capability
Secondary 9' X 7' screen available
Misc.
In house WurliTzer 4800 concert organ available

Full time friendly proprietors with combined experience of over 70 years in theatre at every level, from scholastic to fully professional.
Click on the graphic above for a saveable and printable plan of the FCT stage and house.

Stage dimensions indicated are from construction plans and may vary by a few inches.


Above is a PDF version of the Full Circle Theatre Operations Manual, with details on building and technical systems.