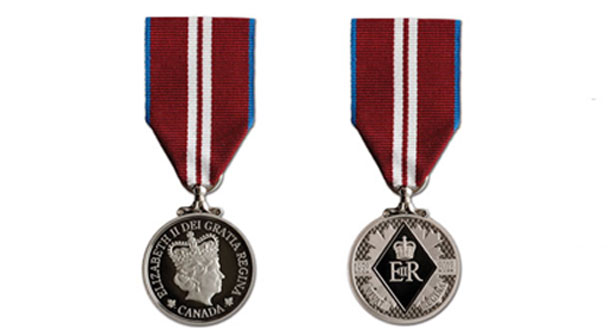 Our Facebook counter somehow got reset from over 500 to 0! Give us a click and help us build it back up!
BarnDoor Productions
has been presenting live theatre in Perth, Ontario since 1995 and before that, as
Perth Summer Theatre
, back to 1983.
From outdoor classics to modern hits, from favourite "chestnuts" to original shows, BDP has set the region's community theatre standards since our first production and built a reputation for high-energy, fast-paced, constantly surprising and always exciting theatre.
Producing Directors David and Janice Jacklin are now in their 34th season of presenting theatre together and their sixth season at the

Full Circle Theatre

, Perth's only ground-level barrier-free theatre -- and generally praised as the best performance space in town.
In 2012, the
J

acklin

s
were honoured with the
Queen Elizabeth II Diamond Jubilee Medal for service to the community
and the
performing arts.

A new website featuring David's scripts and music is now online at:
www.playsfromdavidjacklin.ca


A note on tickets for BarnDoor Productions' shows:
We don't do credit cards. We ask for cash. This saves both of us money -- lots of it.
Credit/debit card and "convenience" fees can add up to 25% to the cost of your ticket!

For a BarnDoor show, just phone, place your order and pay us in cash when you arrive
-- your tickets are guaranteed and it's a lot cheaper!

---> This is for BarnDoor Production's shows only <---
other events at FCT handle ticket sales as noted.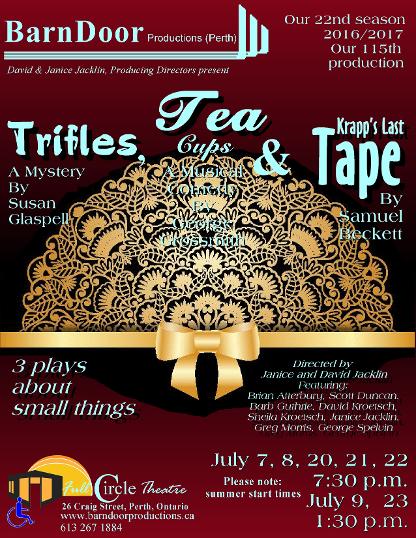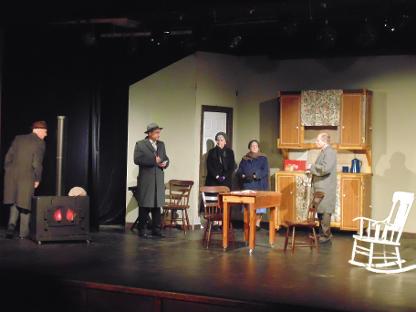 Above: Greg Morris, Scott Duncan, Barb Guthrie,
Janice Jacklin & Brian Atterbury
Susan Glaspell's Trifles


Below: David and Sheila Kroetsch in Tea Cups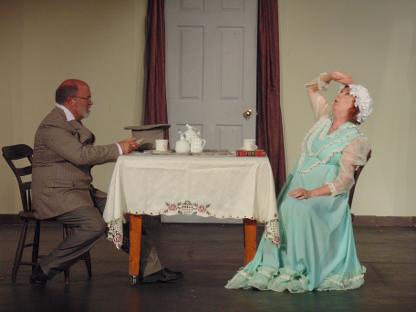 July 20, 21, 22 7:30 p.m.
July 23, 1:30 p.m.
NOTE: summer start times -- one half hour early
ONLY FOUR MORE PERFORMANCES
Thursday, Friday, Saturday at 7:30 p.m.
Sunday at 1:30 p.m.

TRIFLES, TEA & TAPE
three plays about small things
Audiences have said the production is:
"Brilliant!"
"Magic!"
Find out for yourself!

-- A woman is accused of killing her husband. While the men deal with the serious matters, two women attend to the trifles -- and solve the mystery.
-- A widow has a precious antique china saucer -- her beau may have the matching cup. Is it love at first sip?
-- A man listens to old recordings he has made to sum up each year of his life.
What does a long life add up to?
Trifles, Tea & Tape
is serious, funny, chilling, musical, oh!, so different, and perfect summer fare.
Something you're NOT going to see anywhere else.
Order tickets
HERE


Below: David Jacklin in Krapp's Last Tape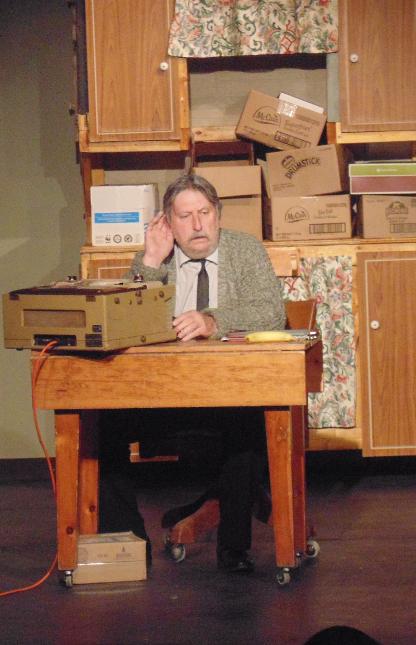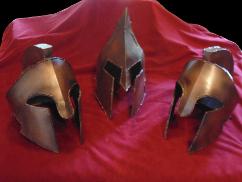 Meanwhile, we're
GETTING OUR GREEK ON!
for


LYSISTRATA

August 11 to 20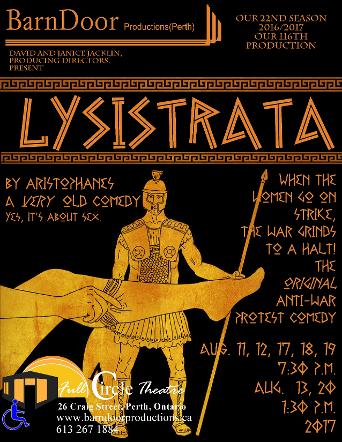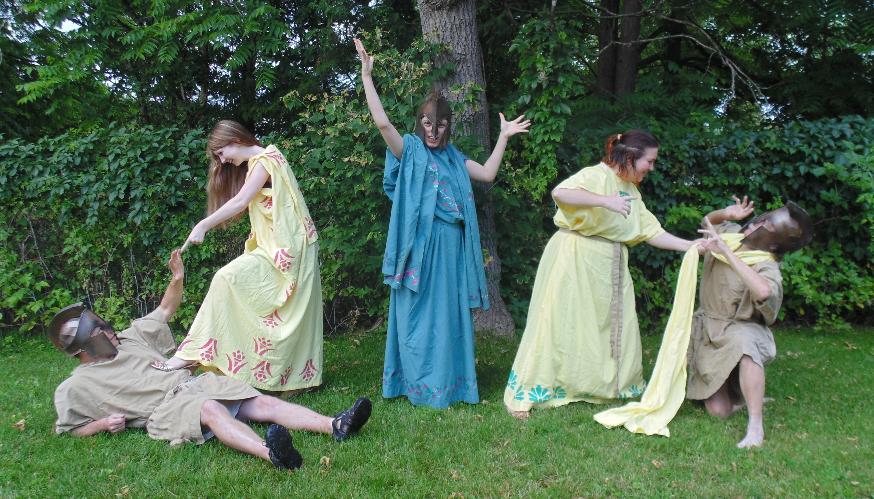 It's funny, it's sexy, it's musical, it's outrageous
and it's 2,428 years old!
Aristophanes' rule-breaking, role-twisting comedy from 411 B.C. is now a brand-new musical!
With an all-new book, new jazzy songs, some (very) old favourite melodies and lots of laughs.
WHAT'S IN THE CIRCLE?
Special events at FCT

International cinema,
big name musical talent,
touring productions,
the best of local theatre
and much more at
FULL CIRCLE THEATRE

Stay tuned here for news as we confirm the many events we have pending for the rest of 2017

Here's what our 21st season looked like . . .
. . . and our 22nd season is just as packed with entertainment.
Trifles, Tea & Tape
3 plays about small things
July 6-9; 20-23
(Yes, there's a week between the two runs --
enjoy the Stewart Park Festival in that time.)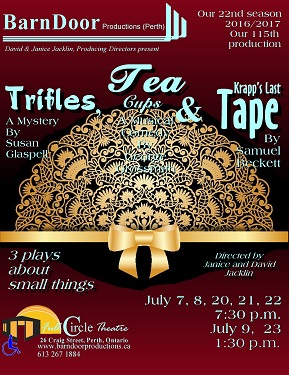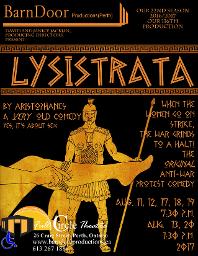 SUMMER 2017
A full summer-long series of laughs, thought and entertainment

What's 23 years in the making,
starts in October
and looks a little like this?
October
A PERFECT LIKENESS
a comedy by
Daniel Rover Singer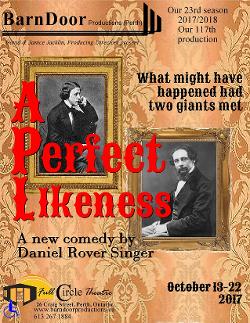 February
PANTO CAN BE MURDER
Find out what was happening backstage at our last production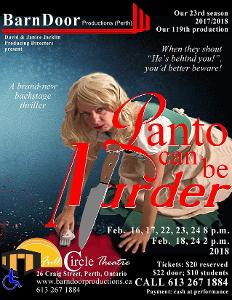 December

CINDERELLA

An "English panto" style comedy -- with a twist!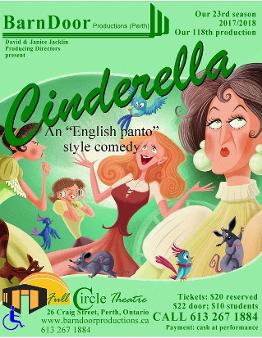 April
THE TAMING
Shakespeare meets beauty pageant meets politics. It's a comedy -- sort of.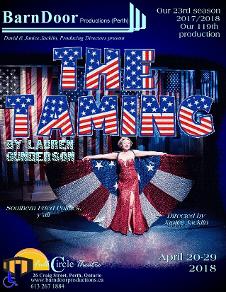 Yep, that's our 23rd season, 2017-2018
And, it's a LULU!
Below: the stage at the Full Circle Theatre, lit, dressed and waiting!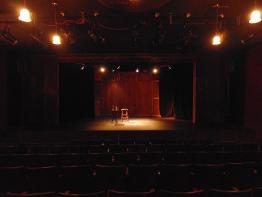 Have YOU got an event that you want to put in front of the public? A concert, a play, a movie, a public reading of the telephone book? We can help you bring it to your audience.
We are the most approachable, affordable and experienced
performing arts venue
in the county.
135 events at FCT in 2015-2016 tells you
the story.
CONTACT US
WHAT'S IN THE CIRCLE?
Of interest at Full Circle Theatre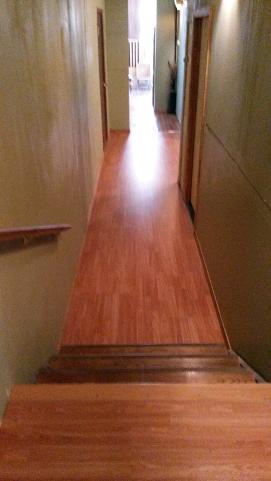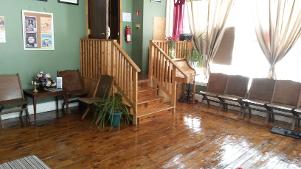 We've made a few improvements to FCT this past year,
including new hallway flooring and
new finish on the lobby floor.

Small gains, but FCT is still the most comfortable and accommodating performance space in Perth!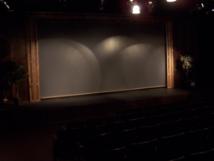 FILM NIGHT INTERNATIONAL
AT FCT
Some of the best in international cinema
-Alternate Wednesdays
at 2 and 7 p.m.-
FOR TICKETS CONTACT:
filmnightperth@gmail.com
or call the Perth Library at
613-267-1224
HERE IS FiNI's BLOG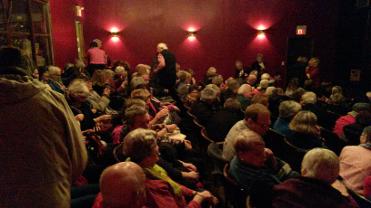 Film Night International
FiNI returns in the fall for their sixth year at Full Circle Theatre


Go
HERE
for details on the lineup
and
tickets