BarnDoor Productions is NOT your grandmother's little theatre!
Our original scripts are literally being produced around the globe.
Our audiences at home are seeing some of the best community theatre (nay, we'll say it, best theatre) they'll ever see.
All we need is you!


COMING SOON:
ROMEO & JULIET
Simply the greatest love story of all time.
ALL WELCOME
Our winter 2021 production
To a quiet town, danger comes
Suddenly
The 1954 film (starring Frank Sinatra) that some tried
to claim led to Kennedy's assassination.
It didn't, of course, but the questions it raised are
even more urgent now than they were 60 years ago.
This is, to our knowledge, the first stage adaptation of the now public-domain movie -- and it's tense, gripping and entertaining.
PERFORMANCES: March 4 to 12, 2021
Tod Shaw,
Keith Busher
Ellen Benson, Karen Bernique
Peter Benson, Joe Laxton
Peter "Pidge" Benson III, Jamie Graham
Jud Kelly, Mitchell Bernique
Johnny Baron, Brian Atterbury
"Birdie" Conklin, Kim Fisher
Bart Wheeler, Jesse Gibson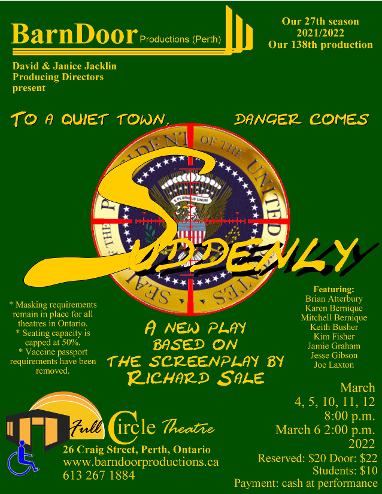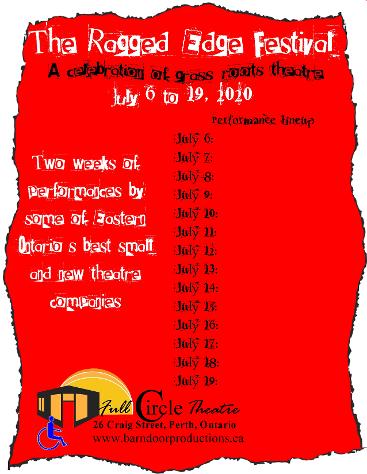 The inaugural
RAGGED EDGE FESTIVAL
a celebration of grass-roots theatre
from aroundEastern Ontario
We couldn't make it happen in 2020.
We'll try again in 2021!
Watch this space as the performance calendar fills!

What kind of shows do we want?
Simple answer: Yours!
Got a show you want to bring to life?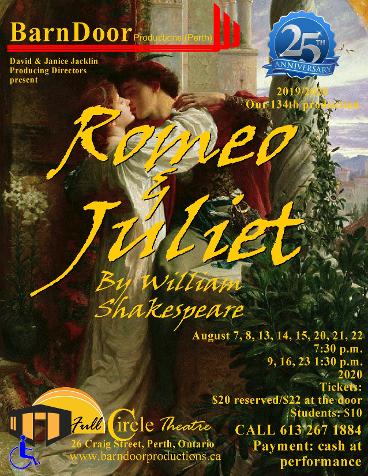 ROMEO & JULIET
by Wiliam Shakespeare
Are you kidding me?
What better way to finish off our 25th season -- even if it's in our 27th?

Need we mention that are some REALLY good roles for young people?
Join the company and have a chance to learn to fence
AUDITION: MARCH 14 2021
Full Circle Theatre. Beginning at 7:00 p.m.
ALL WELCOME
NOTE: those already cast in 2020 will have the option of first refusal on their role.