OUR 22nd season, 2016-2017
is rolling bigtime!


SUMMER 2017
A full summer of exciting theatre in BDP's patent style
LYSISTRATA
by Aristophanes
in a new, musical version

August 11, 12, 13, 17, 18, 19, 20 2017

Aristophanes' 2,400 year old anti-war comedy,
in a brand-new, musical version.
It's still as funny, sexy, silly and thought-provoking
as it was in Athens in 411 B.C.

The Greek women stage a sex-strike
until the men stop the war --
"They don't get a piece, until we get a peace."
says Lysistrata.

The men refuse to give in --
no matter how hard it gets.

Can the men hold out?
Can the women?

This is good, old-fashioned (VERY old fashioned!),
clean, sexy fun -- with a big whallop of a political point to make. The new script is snappy and sassy and sexy and the jazzy music is a fun new layer that brings it into the modern era.

Characters:

Lysistrata: an Athenian woman, the ringleader
Calonice: her earthy BFF and neighbour
Myrrhine: a young Athenian woman, newly married
Lampito: a Spartan woman, all muscle and no brain
The Magistrate: a city father of Athens
Cinesias: the soldier-husband of Myrrhine
Stratyllis: the leader of the women's chorus
Philostratus: the leader of the men's chorus
A Spartan herald
An Athenian politician
A Chorus of Old Women
A Chorus of Old Men
Other young women and men


AUDITION: 7:00 p.m. April 3 2017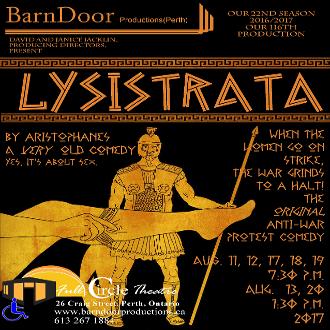 Below: this is NOT our production,
but it gives you an idea of the spirit of the show.
Sassy, snappy, sexy and totally unpredictable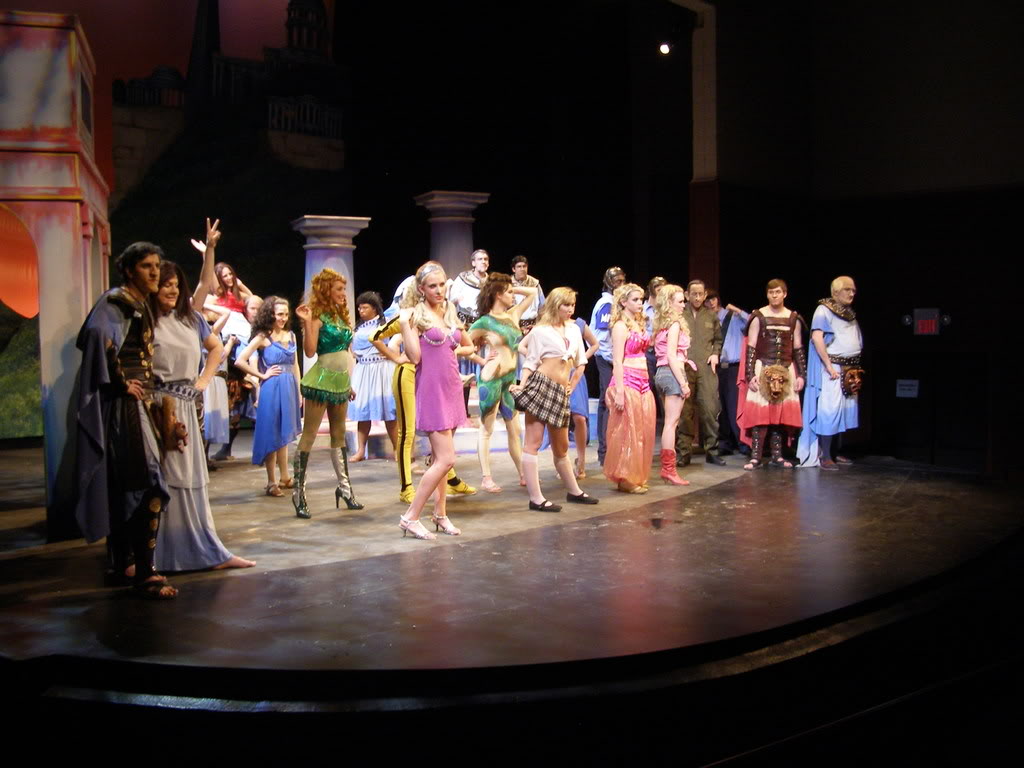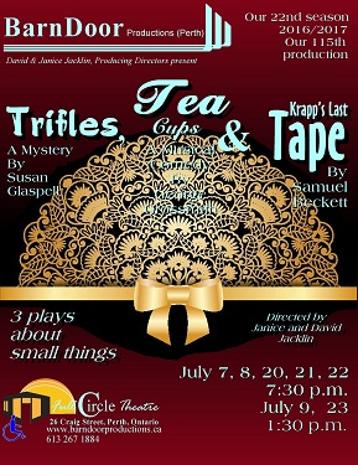 TRIFLES, TEA & TAPE
3 plays about small things
July 7, 8, 9, 20, 21, 22, 223 2017
(Yes, there's a complete dark week in between)
HERE'S A PAGE WITH SCRIPTS, MUSIC & MORE
Trifles
Susan Glaspell's enduring one-act mystery play
for 3 women and 2 men
Featuring: Barb Guthrie, Janice Jacklin, Brian Atterbury, Greg Morris, Scott Duncan


Tea Cups
George Grossmith played Ko-Ko, the Major-General
and almost all of G&S's great comic roles.
He also wrote this tiny 1 man/1 woman musical
about tea cups. It's only 15 minutes long!

Featuring: David and Sheila Kroetsch


Krapp's Last Tape
Samuel Beckett's brilliant, intense and engrossing examination of a man's life -- as told by one man and a tape recorder!

Performed by George Spelvin



AND AUGUST 7:00 p.m. AUGUST 14, 2017
AUDITIONS
for the season opener for BDP's 23rd season
-- A Perfect Likeness --

THE DECORATOR
by Donald Churchill
Casting complete!
June 9, 10, 11, 15, 16, 17, 18 2017
Marcia returns to her flat to find it has not been painted as she arranged. A part time painter who is filling in for an ill colleague is just beginning the work when the wife of the man with whom Marcia is having an affair arrives to tell all to Marcia's husband. Marcia hires the painter a part time actor to impersonate her husband at the confrontation. Hilarity is piled upon hilarity as the painter, who takes his acting very seriously, portrays the absent husband. The wronged wife decides that the best revenge is to sleep with Marcia's husband an ecstatic experience for them both. When Marcia learns that the painter/actor has slept with her rival, she demands the opportunity to show him what really good sex is.
"Irresistible." -
The London Daily Telegraph
"This play will leave you rolling in the aisles...I all but fell from my seat laughing." - The London Star
Characters:
Marcia
: Kristy Tait-Angel
Jane
: Karen Bernique
Walter
: Chris Angel
Directed by David Bird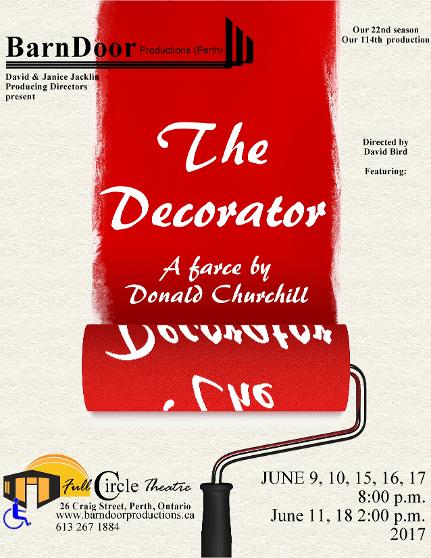 THE TIN WOMAN

A new play by an emerging author. A heart transplant recipient goes on a trip to find the family of her donor -- and finds her heart, too. A comedy-drama, or drama-comedy: either way, it's critically acclaimed.

IN REHEARSAL

JOY, Leslie Snedden
ALICE, Joanna McAuley Treffers
SAMMY, Caledonia Matheson
NURSE/DARLA, Donna Bourgeault
JACK, Brian Atterbury
HANK, Jeff Wilson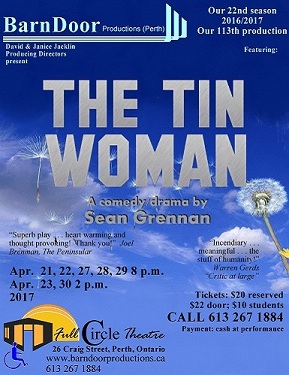 7 KEYS TO BALDPATE

PRODUCTION COMPLETE!

George M. Cohan's biggest (non-musical) hit -- made into 6 movies over the decades! This new adaptation is fast, funny and thrilling -- mysterious happenings in a shut-up inn at the top of Baldpate Mountain. Based on a novel by Earle Derr Biggers, who later created the character of Charlie Chan.

A writer of cheap thrillers makes a bet to write a novel in 24 hours -- while staying in a summer hotel in the middle of winter at the top of Baldpate Mountain! A series of strange events occur - with a double-twist ending that is surprising and fun more than a century later!

"You fooled us -- and then you fooled us again!"
"What a fun show!"
"I never saw the ending coming. And, then, I never saw the other ending coming."

CAST:

Hal Bentley, David Bird
William Hallowell Magee, Brian Atterbury
John Bland, Ian Jenner
Peters, John Stephen
Lou Max,Brent McGuire
Jim Cargan, Greg Morris
Jiggs Kennedy, Joe Laxton

Mary Norton, Karen Bernique
Mrs. Rhodes, Nancy Browman
Myra Thornhill, Theresa Stork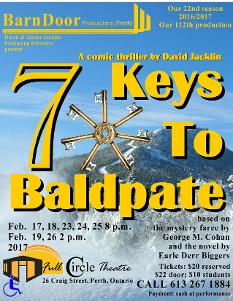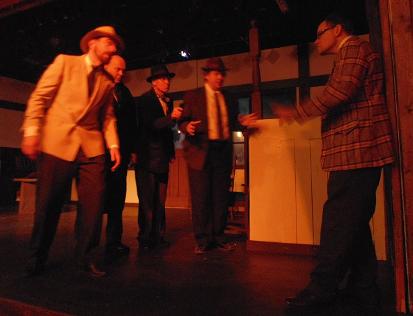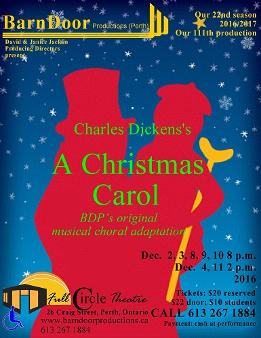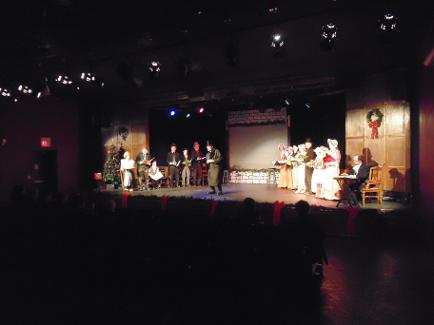 CHARLES DICKENS'S
A CHRISTMAS CAROL
(Production over)

Our perennially-favourite original musical story theatre adaptation of the classic story proved to be as popular as ever.

The audience reaction?

"A superb production."
"A revelation!"
"The jig alone is worth the price of admission."
"Worth far more than the asking price."
"Another masterpiece."
"If I could afford it, I'd see every performance!"
"I now like Dickens!"

The Cast
(as seated)

David Bird Karen Hanlon
Scott Duncan Kathie Reid
Murray Hodgins or Chris Angel Janice Jacklin Nolan Atterbury Elaine Warner-Laxton
Abby Brisson Joseph Laxton
Jamie Graham Maya Rutherford
Brian Atterbury Ella Anderson
Willow-Grace Hanlon Lara DelGrande
Robert DelGrande
Special costume assistance from
Marilyn Bird and Jeanne Jenner
Technical Operators: Don MacKay, Karen Bernique
Front of House: Jeanne Jenner, Madge Jeffrey, Donna Bourgeault
VENUS IN FUR
(Production over)

The audience reaction to our production of
David Ives's Tony Award winning play
was, over and over again, "amazing!"

The show was startling from first moment to last, playing with reality, both onstage and off.

Tegan Mackey's performance was "the bravest performance ever put on a stage in Perth."

And that's just the beginning.

CAST:
THOMAS: David Jacklin
VANDA: Tegan Mackey