Our 23rd season is set to begin!


A Perfect Likeness
by Daniel Rover Singer

It is known that Charles Dodgson once asked Charles Dickens' publisher for his home address. What happened after that, we do not know.

This play is a speculation about what might have transpired had the author of Oliver Twist met the author of Alice In Wonderland.

It's fun, surprising, intense and exciting theatre.

CAST:
Charles Dodgson: Connor Williamson
Charles Dickens: David Bird


Performances:
October 13, 14, 19, 20, 21, 8:00 p.m.
October 15, 22 2:00 p.m.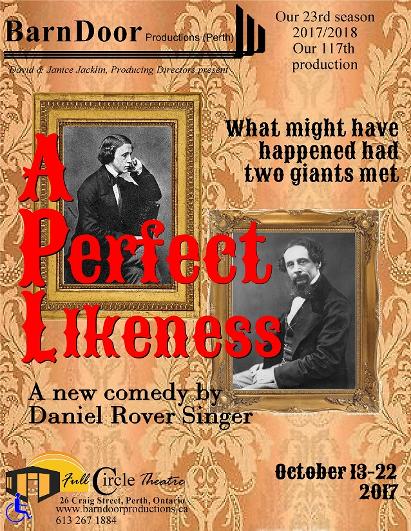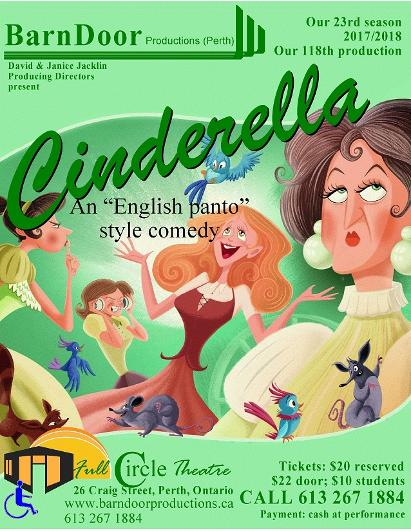 Performances:
December 1, 7, 8 7:30 p.m.
December 2, 3, 9, 10 1:30 p.m.
(Note the early start times and the additional matinees; this is a show for children)
CINDERELLA
a new traditional English-style panto

This is a brand-new version of the age-old Cinderella story -- told in traditional panto fashion, with all the fun and craziness of the British style.




We still need 2 men and 1 woman

or 3 men




Characters:

The Fairy Godmother, Ashley Pitcher
Cinderella, Miranda Wilson
Baron Hardup, Don MacKay
Baroness Hardup, Joe Laxton
Griselda Hardup, Ian Jenner
Ammonia Hardup, Brian Atterbury




We still need:


Buttons, a comic character, male, twenties


Prince Charming, Principal Boy, usually played by a female, in their twenties


Dandini, the Prince's friend, male, in his twenties




Doubled characters:


The Chamberlain, doubled by Buttons
The Ghost of Cinderella's Mother, doubled by The Fairy Godmother

PANTO CAN BE MURDER
a brand-new backstage
murder-mystery thriller farce

Everybody loves a panto.
Everybody loves a thriller.
Everybody loves a backstage farce.
So, here's all three in one!

The cast for this one is (mostly) the same cast as for our Cinderella panto in December, but with four additional characters.

This time, we see the actors in the panto BACKSTAGE, as we discover and solve a murder, while the panto performance goes on (unseen) on the other side of the set!

5 women/8 men
Jenni Wale (Cinderella) about 20-24
Ruth Buchanan (Fairy Godmother) about 50
Taylor Ellis (Stage Manager) about 24
Meg Proznuk (A.S.M.) about 19
W.P.C. Lorraine Duff (Police) about 23


Barry Inman (Buttons) about 28
Vance Britton (Baron Hardup) 50-60
Terry Lavasseur (Baroness) 50+
Hugh Coltman (Griselda) about 40
Dennis Willett (Ammonia) about 40
Julian Havers (Dandini) 30-40
Ben Roe (Prince Charming) about 25
Detective Inspector Tuff (Police) 50+
Performances:
February 16, 17, 22, 23, 24 8:00 p.m.
February 18, 25 2:00 p.m.
Primary audition:
Monday, September 11, 7:00 p.m.
Final audition:
Monday, December 18, 7:00 p.m.
All welcome.
HERE'S A LINK TO A PAGE
WITH THE WORKING SCRIPT FOR
PANTO CAN BE MURDER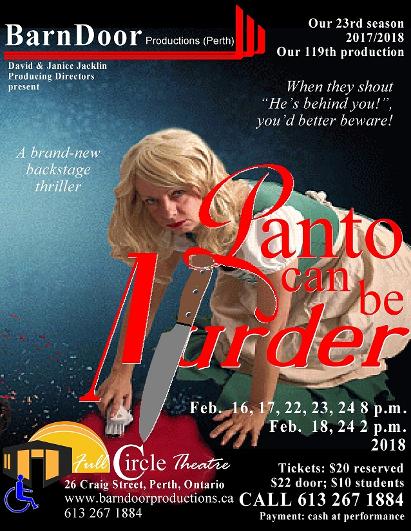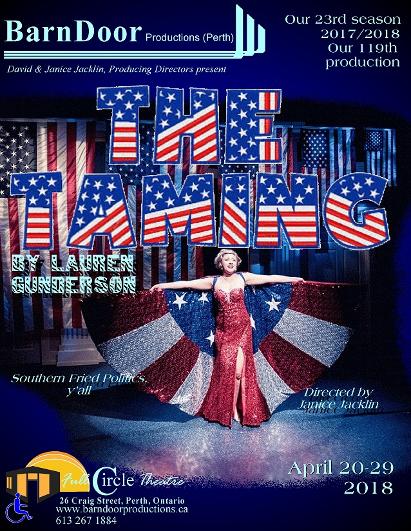 This is all out verbal war between the right and the left -- played out in a hotel room in Georgia.
Along with a few Founding Fathers, a couple of Founding First Ladies, an intern or two and lots of good ol' Stars And Stripes.
Hilariously funny -- kick-you-in-the-groin serious.
THE TAMING
By Lauren Gunderson

Shakespeare meets American politics -- all set in a motel room at a beauty pageant.

And, it's a comedy -- and a satire -- and a history lesson -- all in one.

And, as timely as it's possible to get -- politically.

3 women -- who also play other roles





Characters

(all are from Georgia)




PATRICIA, aide to Senator Baxter (R-GA), 30s

(also plays James Madison, 1787)




BIANCA, activist, liberal, 30s

(Also plays Charles Pinkney, 1787)




KATHERINE, passionate Southern belle, 20s

(Also plays George AND Martha Washington, 1787

AND Dolly Madison, 1787)





Voices of:

The Stage Manager

Miss America Announcer

Victoria "The Knife" Castelliano



Performances:
April 20, 21, 26, 27, 28 8:00 p.m.
April 22, 29 2:00 p.m.

Audition:

Monday, February 19, 7:00 p.m.
All welcome