Our 25th Anniversary Season is a season celebrate!
Our original scripts are being produced nearly around the globe.
Our audiences at home are seeing some of the best community theatre (nay, we'll say, best theatre) they'll ever see.
2019-2020 is another season of all-new scripts.
We've got an very exciting lineup of great theatre --
scripts, music and more are below.

All we need is you!


NOW CASTING:
LITTLE RED RIDING HOOD

Our brand-new laugh-out-loud panto about a little girl and her furry friends.
AUDITION: Monday, September 29, 7:00 p.m. ALL WELCOME; NOTHING TO PREPARE; READ THE SCRIPT (BELOW) AND JUST SHOW UP!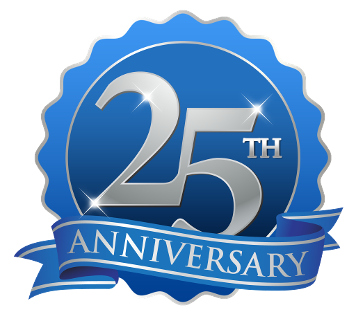 Our 25th Anniversary season

The "little theatre that everybody meant to get to"
is stronger that ever!
Drama, comedy, panto, mystery and an
"out-of-this-world" new musical!
The red highlighted titles are links to perusal scripts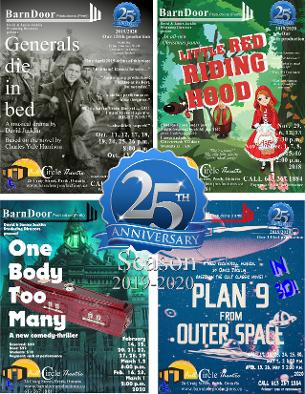 GENERALS DIE IN BED
A re-mount of our hit spring 2019 production,
GENERALS DIE IN BED
is moving, funny, musical, engrossing, frightening, shocking
and just plain great theatre.
WE ARE STILL LOOKING FOR A YOUNG MAN ABOUT 20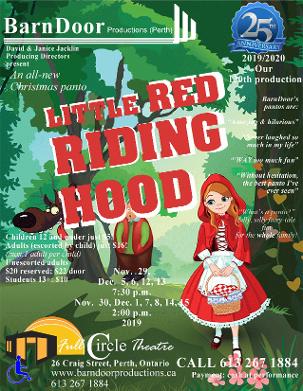 Our winter production
a silly haunted-house romp based on a 1944 movie
Originally written as a vehicle for Jack Hailey (aka The Tin Man)
Cyrus J. Rutherford, a screwball ... sorry, eccentric millionaire, dies and his heirs gather to split up the loot. Instead, they end up splitting heirs. Then brave insurance agent Albert Tuttle solves the mysteries and sorts out the mess -- and, of course, finds romance along the way.
THE CHARACTERS
The
body
of
Cyrus J. Rutherford
Albert Tuttle,
an insurance agent
Estelle Hopkins, CJR's only surviving sibling
Kenneth Hopkins, her husband
Margaret Hopkins, daughter of Estelle & Kenneth
James Davis, older nephew of CJR, son of CJR's deceased older sister
Carol Dunlap, niece of CJR, daughter of another of CJR's deceased sisters
Henry Rutherford, nephew, son of CJR's deceased brother
Mona Rutherford, Henry's wife
Merkel, the butler (who looks and sounds like Bela Lugosi)
Matthews, the house-keeper
Professor Hilton, CJR's astrological advisor
Morton Gelman, CJR's lawyer
February 14 to March 2, 2020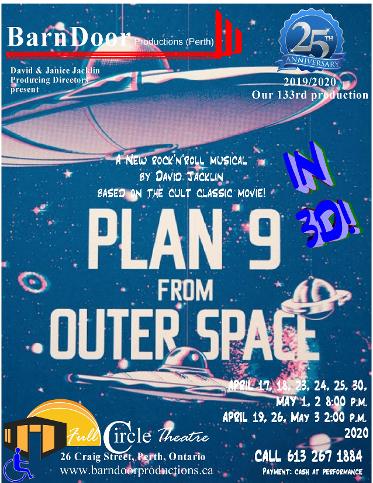 The inaugural
RAGGED EDGE FESTIVAL
a celebration of grass-roots theatre
from aroundEastern Ontario
Watch this space as the performance calendar fills in over the next 10 months!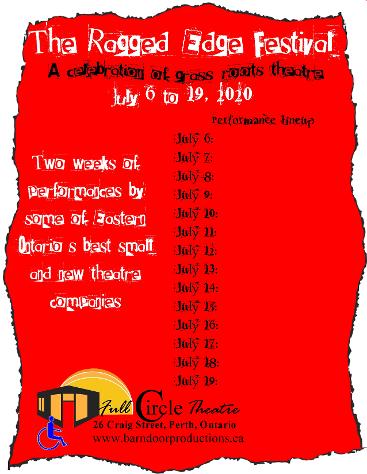 ROMEO & JULIET
by Wiliam Shakespeare
Are you kidding me?
What better way to finish off our 25th season?