Our 24th season is a season of ALL ORIGINAL productions!
One of our original scripts from 2017-2018 has ALREADY had its INTERNATIONAL PREMIERE
and another is in production for its INTERNATIONAL PREMIERE.
2018-2019 is a season of all-classic, all-new scripts.
(Wait! What? All classic and all new? Yep!)
We've got an very exciting lineup of great theatre --
scripts, music and more are below.

All we need is you!


NEXT UP:
The Diaries of Adam & Eve

Four actors and a rock band for this exciting new musical. Great roles.



Production concluded.
A drama set in the tropic rains
at
Does evil out of sight
cease to be evil?
"One of the best you've ever done"
"That. Was. Good."
Exciting and challenging, it proved to be an intense, fast-paced, hard-hitting and ENTERTAINING drama that affected its audience deeply.
Thursdays through Sundays
February 15 through March 3
You've seen the movie.
You know the story --
now be part of it!
What you do for
The Black Bird?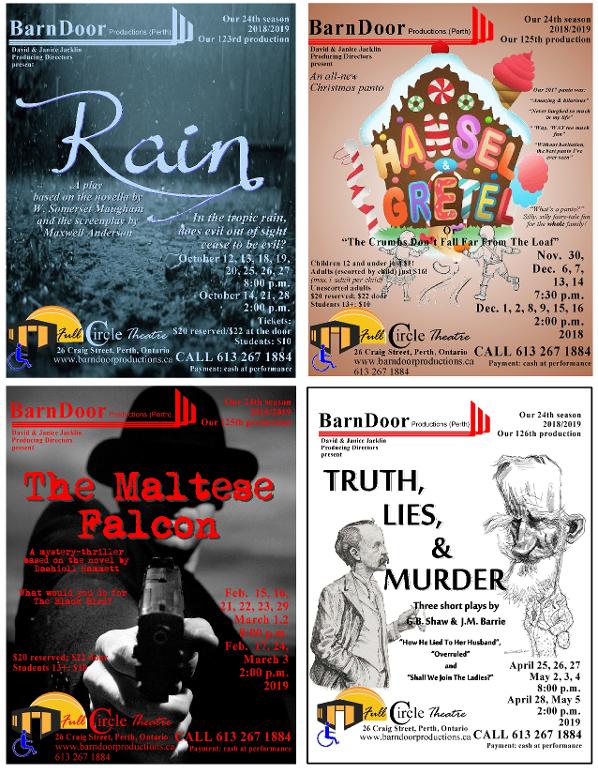 Production concluded.
An English panto-style show, with original music and lots of laughs.
Possible even better than our Cinderella panto last year. Vidow Vinkle and her friends had a wonderful time, fighting off bears and barons and cannibals in the Schwartz Veld.
No, it's a kid's show! Really!
THE DIARIES OF ADAM & EVE
AUDITION: January 14

Performances:
Thursdays through Sundays
April 19 through May 5
a new musical
Originally inspired by stories
by
Mark Twain, but this goes far beyond Twain's stories.
2 men / 2 women / 6 piece rock band
Funny, eye-opening, exciting, sad and
very musical
with script, music and more