Our 24th season is a season of ALL ORIGINAL productions!
One of our original scripts from 2017-2018 has ALREADY had its INTERNATIONAL PREMIERE
and another is in production for its INTERNATIONAL PREMIERE.
2018-2019 is a season of all-classic, all-new scripts.
(Wait! What? All classic and all new? Yep!)
We've got an very exciting lineup of great theatre --
scripts, music and more are below.

All we need is you!


NEXT AUDITION:
THE ADMIRABLE CRICHTON

J.M. Barrie's delightful comedy about class and nature
MONDAY, AUGUST 12, 7:00 p.m.
Scroll down for more
Production concluded.
A drama set in the tropic rains
at
Does evil out of sight
cease to be evil?
"One of the best you've ever done"
"That. Was. Good."
Exciting and challenging, it proved to be an intense, fast-paced, hard-hitting and ENTERTAINING drama that affected its audience deeply.
Fast! Gut-grabbing!
Shocking!
The "film noir" of the stage!
A really excellent production!
How good?
We had interest in producing the script from the U.K. before we even got
the final script posted!
(Can't do it in the U.K. though -- copyright issues.UPDATE: two requests from the U.K. and one from Australia, already.)
JUNE 14, 15, 16, 21, 22, 23 2019
BOX and COX, Complete!
Production concluded

Two one-act farces by different authors -- with the same characters!
Although these scripts have been around for more than 150 years, we believe that this was the first time that anyone has stage them together as a "complete" evening.

The concensus: "That was fun!"
Which is exactly what it was supposed to be.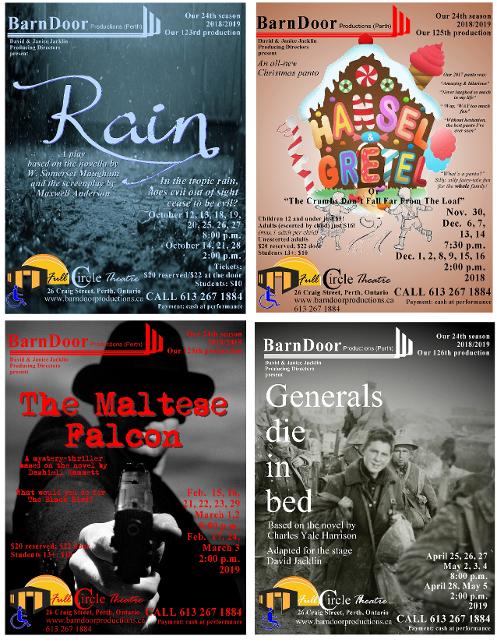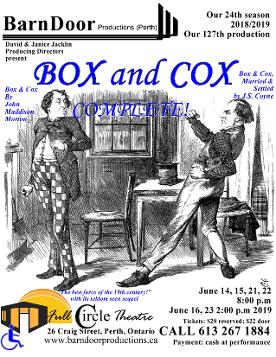 Production concluded.
An English panto-style show, with original music and lots of laughs.
Possibly even better than our Cinderella panto last year. Vidow Vinkle and her friends had a wonderful time, fighting off bears and barons and cannibals in the Schwartzveldt.
No, it's a kid's show!
Really!
GENERALS
DIE IN BED
Production concluded

A new adaptation of a novel by
Charles Yates Harrison
The story of a young man's experience
in World War One.
Called "the best production I've ever seen" and "a masterpiece" and "theatre at its finest."
This one really struck home with the audience.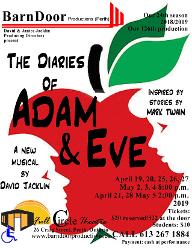 Our planned spring 2019 production of
THE DIARIES OF
ADAM & EVE
is postponed for a while.
We need to find the right people to do it.
It is a REMARKABLE script and score
with script, music and more
SUMMER 2019
Classic farce and classic tragedy
AUGUST 2, 3, 4, 8, 9, 10, 11, 15, 16, 17, 18 2019
MACBETH
The "Scottish play" -- witches and tyrants; good and evil; murder and love
"By the pricking of my thumbs, something wicked this way comes."
We still need a couple of men, a teen and a boy!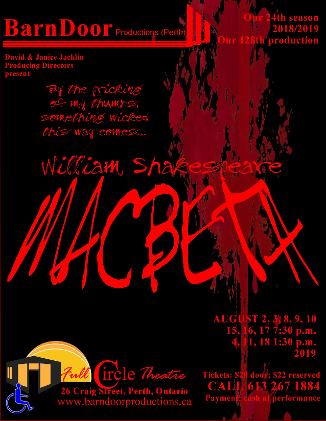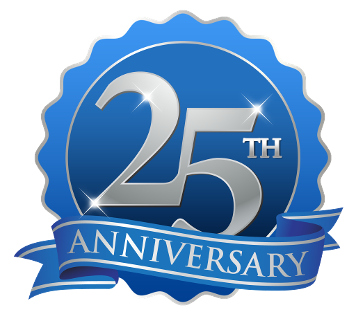 Here are most of the scripts for 2019-2020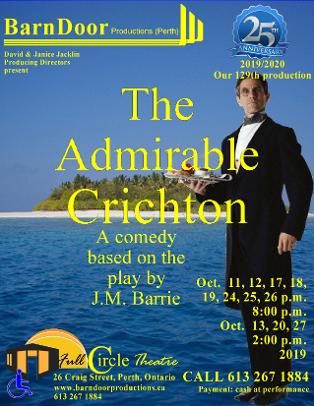 Here's a working draught of
Our 2019 panto
Girl goes into woods; girl meets wolf; wolf eats Granny; wolf eats girl;
yah-da, yah-da, same old story.
With two twists!
Or is it three?
Or maybe four?
The Characters
The Narrator, who's just back from Baghdad
Red Riding Hood, whose name is Lisa
Peter, a woodsman
The Wolf, aka Wolfie or Big Bad
Mother Hood, Red's mom
Granny Smith, Red's grandmother
|
two of the Three Little P.I.G.s
Pinky |
A bear (of the Three Bears)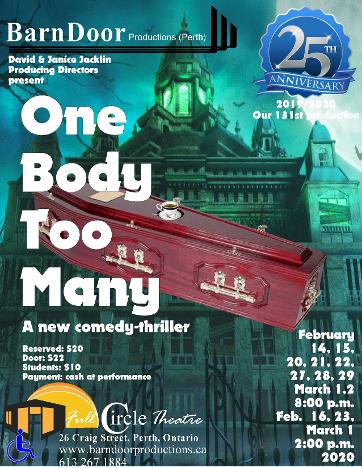 PLAN 9 FROM OUTER SPACE
Yes! It's a rock'n'roll musical based on
THE WORST MOVIE OF ALL TIME!
Ed Wood's 1958 "classic" (for want of a better word) is just awful --
so awful we had to make it into a musical.
It's camp!
It's silly!
It's got some great songs!
AND
It's in 3-D!!!!!
It's a "science fiction single-feature"!
Script and score still in preparation

APRIL/MAY 2020
J.M. Barrie's
J.M. Barrie, of course, wrote Peter Pan and some see this earlier play as a sort of warm up for that -- a group of upper crust Brits (and their servants) arrive on a desert island to find that tables can be turned.
A delightful, laugh-out-loud comedy
THE CHARACTERS
LORD LOAM, a peer of the Realm, 50+
LADY MARY, his eldest daughter, 22
LADY CATHERINE, his second daughter, 20
LADY AGATHA, his third daughter, 18
CRICHTON, an impeccable butler, 30+
TWEENY, a young between-stairs maid, 18-20
Hon. ERNEST WOOLSEY, an upper-crust young gentleman, 25
The Rev. TREHERNE, a young clergyman, 27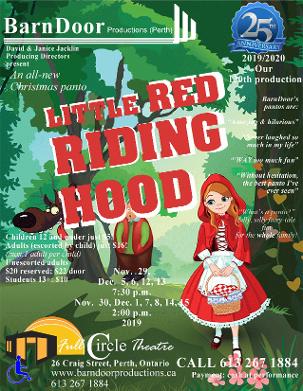 Our winter production
a silly haunted-house romp based on a 1944 movie
Originally written as a vehicle for Jack Hailey (aka The Tin Man)
Cyrus J. Rutherford, a screwball ... sorry, eccentric millionaire, dies and his heirs gather to split up the loot. Instead, they end up splitting heirs. Then brave insurance agent Albert Tuttle solves the mysteries and sorts out the mess -- and, of course, finds romance along the way.
THE CHARACTERS
The
body
of
Cyrus J. Rutherford
Albert Tuttle,
an insurance agent
Estelle Hopkins, CJR's only surviving sibling
Kenneth Hopkins, her husband
Margaret Hopkins, daughter of Estelle & Kenneth
James Davis, older nephew of CJR, son of CJR's deceased older sister
Carol Dunlap, niece of CJR, daughter of another of CJR's deceased sisters
Henry Rutherford, nephew, son of CJR's deceased brother
Mona Rutherford, Henry's wife
Merkel, the butler (who looks and sounds like Bela Lugosi)
Matthews, the house-keeper
Professor Hilton, CJR's astrological advisor
Morton Gelman, CJR's lawyer
February 14 to March 2, 2020