BarnDoor Productions is NOT your grandmother's little theatre!
Our original scripts are being produced around the globe.
Our audiences at home are seeing some of the best community theatre (nay, we'll say it, best theatre) they'll ever see.
All we need is you!


NOW CASTING:
CRATCHIT
A new staging of a new novel of an old theme. Men, women, youth, children.
ALL WELCOME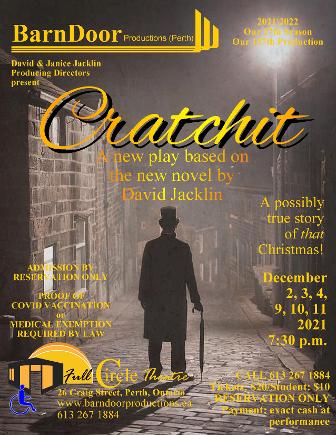 Our winter 2021 production
To a quiet town, danger comes
Suddenly
The 1954 film (starring Frank Sinatra) that some tried
to claim led to Kennedy's assassination.
It didn't, of course, but the questions it raised are
even more urgent now than they were 60 years ago.
This is, to our knowledge, the first stage adaptation of the now public-domain movie -- and it's tense, gripping and entertaining.
PERFORMANCES: February 12 to 28, 2021
5 men, 2 women, 1 boy (8-10)
November 3, 7:00 p.m.
CRATCHIT
Bob Cratchit (you remember him) finds himself thrown into the dark underworld of pre-Victorian London on that Christmas
and must fight for his life and his family while
Scrooge is having fun with ghosts and spirits.
There is not one spirit in this gritty, believable and exciting story.
There are familiar characters (from Christmas Carol and other Dickens works) as well as new characters that are very 'Dickens' at heart!
Not a dramatic reading, but not quite a full-on play, either,
it's the first look the public can have at a new, upcoming novel!
Up to 5 men, 5 women, 2 young men, 2 young women, 2 kids.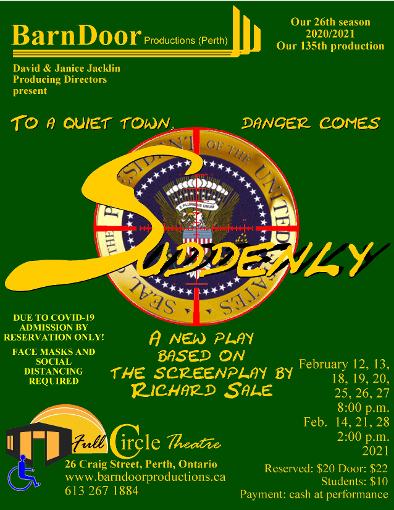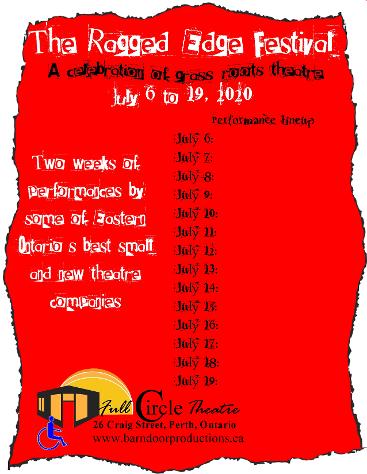 The inaugural
RAGGED EDGE FESTIVAL
a celebration of grass-roots theatre
from aroundEastern Ontario
We couldn't make it happen in 2020.
We'll try again in 2021!
Watch this space as the performance calendar fills!

What kind of shows do we want?
Simple answer: Yours!
Got a show you want to bring to life?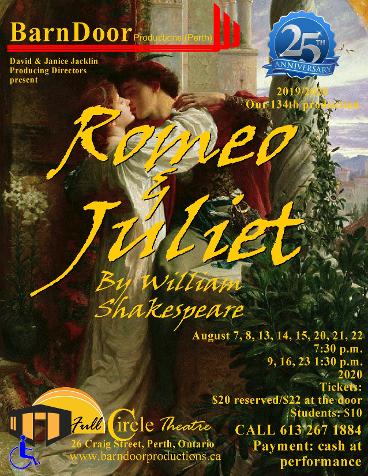 ROMEO & JULIET
by Wiliam Shakespeare
Are you kidding me?
What better way to finish off our 25th season -- even if it's in our 26th?

Need we mention that are some REALLY good roles for young people?
AUDITION: MARCH 2021
Full Circle Theatre.
NOTE: those already cast in 2020 will have the option of first refusal on their role.