Our 25th Anniversary Season is a season celebrate!
Our original scripts are being produced nearly around the globe.
Our audiences at home are seeing some of the best community theatre (nay, we'll say, best theatre) they'll ever see.
2019-2020 is another season of all-new scripts.
We've got an very exciting lineup of great theatre --
scripts, music and more are below.

All we need is you!


NOW CASTING:
PLAN 9 FROM OUTER SPACE



We need A LOT of people for our April/May musical -- actors-singers as well as musicians!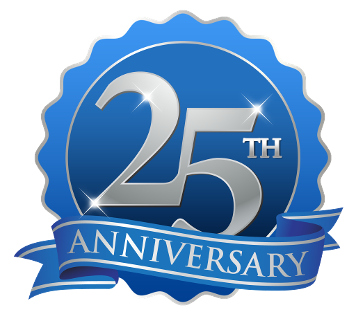 Our 25th Anniversary season

The "little theatre that everybody meant to get to"
is stronger that ever!
Drama, comedy, panto, mystery, classics and an
"out-of-this-world" new musical!
The red highlighted titles are links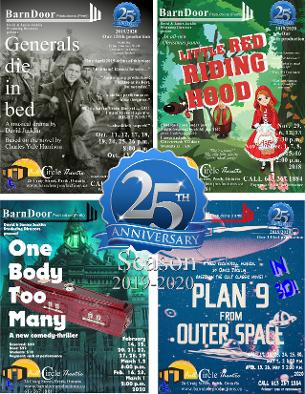 Yes! It's a rock'n'roll musical based on
THE WORST MOVIE OF ALL TIME!
We've uploaded the script AND music!
Click on the title above!
Ed Wood's 1958 "classic" (for want of a better word) is just awful --
so awful no one bothered to renew the copyright --
which means it's now in the public domain.
So, naturally, we had to make it into a musical.
Eros and Tanna, two aliens from outer space,
plan to destroy the Earth by raising
zombie-vampires from the graveyards --
we're not sure how that's supposed to work, either.
Why are they doing it -- and can they be stopped?

It needs a BIG cast and a rock'n'roll band.
It's a "science fiction single-feature"!
It's camp!
It's silly!
It's got some great songs!
AND
It's in 3-D!!!!!
PERFORMANCES: APRIL 17 to MAY 3 2020
AUDITIONS: Monday, January 13 and 20
Because this is a musical, we need to do individual auditions for this one, so
contact us about getting involved!


Audition particulars are on the preview page
(click the title above)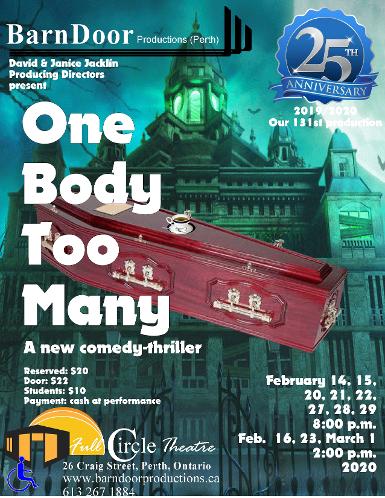 Our holiday panto
Little girl goes into the woods --
little girl gets lost in the woods --
little girl has surprising adventures in the woods!
Our new holiday panto has a raft surprises and twists
to make it as much fun to perform as it is to watch --
and it's TONS of fun to watch!
We had one of our biggest overall audiences ever
and nearly our biggest single audience at FCT ever.
And all of them had a blast!
Costumes: Leslie Henderson Armstrong
Tech operator: Laurie Latham
The Characters
The Narrator, Andrew McDougall
Red Riding Hood, Saige Cunniffe

Peter, Isaac Sinfield

The Wolf, Scott Duncan
Mother Hood, Susan Code McDougall

Granny Smith, Brian Atterbury
Inky, Jamie Graham
Pinky, Christine Erdos

A bear -- a mystery guest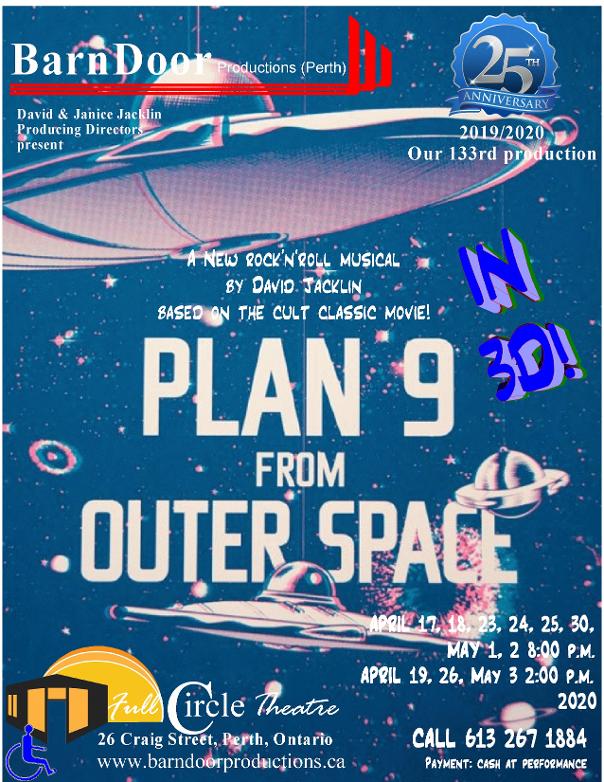 Our winter production
A silly haunted-house romp based on a 1944 movie
Originally written as a vehicle for Jack Haley (aka The Tin Man)
Cyrus J. Rutherford, a screwball ... sorry, eccentric millionaire, dies and his heirs gather to split up the loot. Instead, they end up splitting heirs. Then brave insurance agent Albert Tuttle solves the mysteries and sorts out the mess -- and, of course, finds romance along the way.
THE CHARACTERS
The body of Cyrus J. Rutherford
Albert Tuttle,
Chris Angel
Estelle Hopkins, Kim Fisher
Kenneth Hopkins, Greg Morris
Margaret Hopkins, ????????
James Davis, Ian Jenner
Carol Dunlap, Karen Bernique
Henry Rutherford, Don MacKay
Mona Rutherford, Melanie Fulop
Merkel, David Bird
Matthews, Marilyn Bird
Professor Hilton, Georgina Spelvin
Morton Gelman, Jeff Wilson
February 14 to March 2, 2020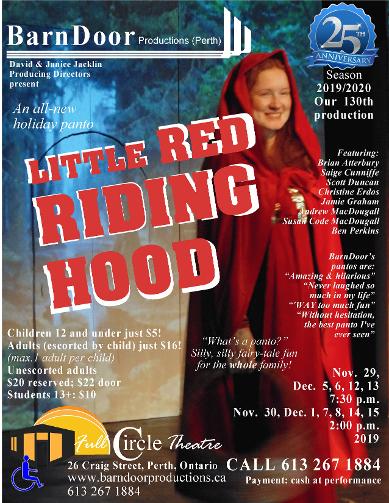 An Ideal Husband
A new version of a comedy by
No man is rich enough to buy back his past.
Our new adaptation brings Wilde's 19th century social comedy into the 21st.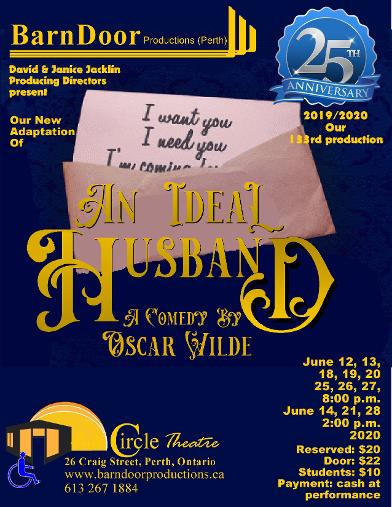 The inaugural
RAGGED EDGE FESTIVAL
a celebration of grass-roots theatre
from aroundEastern Ontario
Watch this space as the performance calendar fills!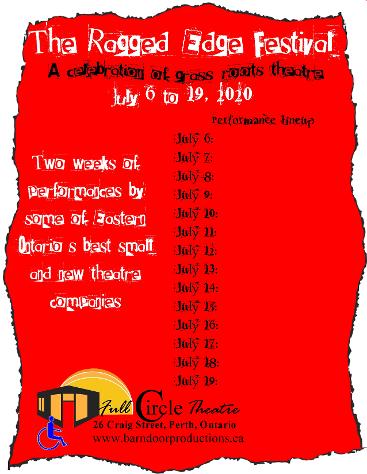 ROMEO & JULIET
by Wiliam Shakespeare
Are you kidding me?
What better way to finish off our 25th season?