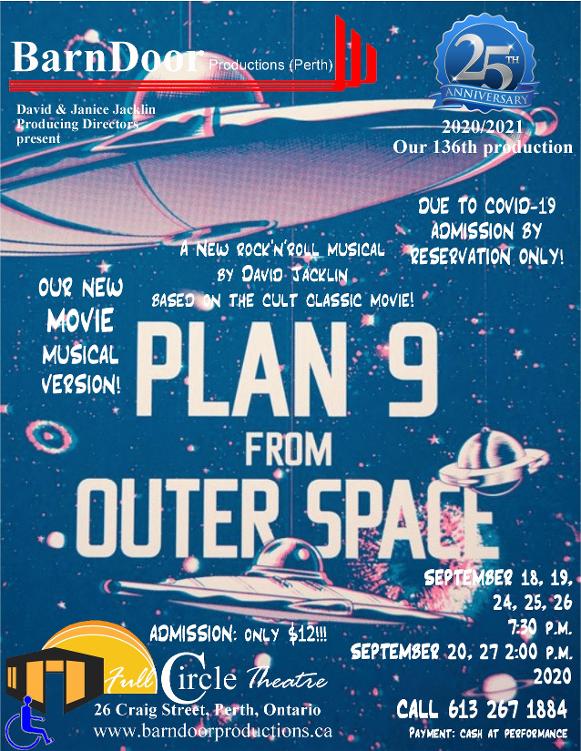 PLAN 9 FROM OUTER SPACE
IS OPEN!!
a new musical
from the cult classic movie by Ed Wood
Music, book and lyrics by David Jacklin
This is considered to be the WORST movie of all time --
so we had to make it into a musical!
An all-original rock'n'roll score.
Space-ships; space-aliens; space-zombies; space-monsters --
and SPACE-LOVE!

FIRST!






and use it to follow along with the music MP3s below
The two songs I mentioned are
No. 9: Near The Cemetery
and
No. 14: That's Why I Hold You In My Arms


THE CHARACTERS

ALREADY CAST
EROS, commander of a spaceship: BRIAN ATTERBURY
INSPECTOR CLAY, a policeman/dead guy/zombie/vampire: IAN JENNER
TANNA, Eros's second in command: KATHLEEN EVERETT
VAMPIRA,
a dead wife/zombie/vampire: KIM FISHER
CRISWELL,
a psychic/entertainer/TV personality:
MICHEAL ZAKRZEWSKI
1st Teen Girl: ISABELLE MORRISON
The RULER
, of the Universe: ANDY SIMPSON
GEN. ROBERTS
, of the U.S. Air Force: FRED BARRETT
Man Mourner
, at the funeral of the Old Man: FRED BARRETT
JEFF TRENT,
a pilot and husband of Paula Trent CHRIS ANGEL
DANNY,
a co-pilot and friend of Jeff Trent (doublable)
COL. EDWARDS,
MIKE MULQUEEN
LT. HARPER,
of the Los Angeles police
LARRY,
a rookie police office
KELTON,
another patrolman
PAULA,
wife of Jeff Trent, KRISTY TAIT ANGEL?
EDITH,
an air hostess (stewardess) (doublable)
Characters to be split up among the Company:
The OLD MAN, who is first a mourner, then a zombie/vampire
Gravedigger 1, who is first a worker, then a zombie/vampire
Gravedigger 2, who is first a worker, then a zombie/vampire
Woman Mourner, at the funeral of the Old Man
REV. LYNN LEMON, who presides over funerals


THE COMPANY:
3 male teens / 3 female teens
3 male adults / 3 female adults
who are, at various times, bystanders, mourners, aliens,
zombies and teenage hot-rodders.
HERE IS THE MUSIC
(including all the underscore and transition numbers)
No 2 Plan 9 From Outer Space.mp3
No 3 The Shadows Of Grief-A Time To Live.mp3
No 4 A Time To Live reprise.mp3
No 6 Plan 9 From Outer Space reprise.mp3
No 8 Your Pillow By My Side.mp3
No 9 Near The Cemetery.mp3
No 9a Near The Cemetery Transition.mp3
No 10 The Lost Roses of her Cheeks.mp3
No 10a It's A Saucer underscore.mp3
No 10b It's A Saucer Transition.mp3
No 11 Eros Calling Earth.mp3
No 12 The Bell Has Rung.mp3
No 14 That's Why I Hold You.mp3
No 15 There's Something Out There.mp3
No 15a The Zombie Walk Preparatory.mp3
No 16 - The Zombie Walk.mp3
No 17 The Zombie Walk reprise.mp3
No 18a The Zombie Walk underscore.mp3
No 19 Everything's On Fire.mp3
No 20 God Help Us In The Future - Plan 9 reprise.mp3
No 21 Bows and Finale Ultimo.mp3
No 22 Audience Playout.mp3