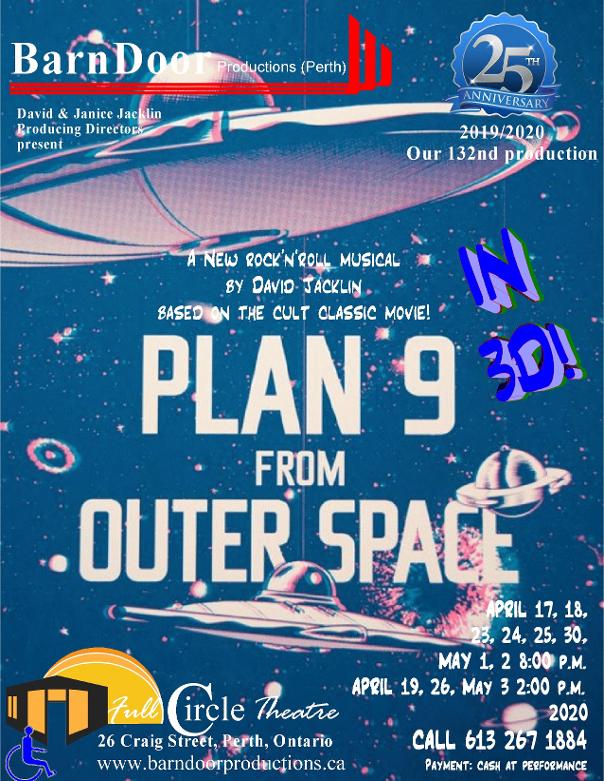 AUDITION REQUIREMENTS:
- If you have a resume you'd like us to see, do bring one. Not really needed.
- Prepare a short song that shows off your vocal ability.
NOTE: We cannot provide an accompanist -- please bring your own accompaniment, backing audio, or be prepared to sing a capella.
A digital piano will be available, as well as a sound system to plug audio devices into.
- We'll ask you to read a few pages from the script with another person.
AUDITIONS for

April/May 2020 musical
15-minute slots beginning 6:30 p.m. each night
Contact us
HERE
for a time slot


PLAN 9 FROM OUTER SPACE
a new musical
from the cult classic movie by Ed Wood
Music, book and lyrics by David Jacklin
PERFORMANCES:

April 17, 18, 23, 24, 25, 30

May 1, 2
8:00 p.m.
April 19, 26, May 3
2:00 p.m.
This is considered to be the WORST movie of all time --
so we had to make it into a musical!
An all-original rock'n'roll score.
Space-ships; space-aliens; space-zombies; space-monsters --
and SPACE-LOVE!

CAST:
large -- up to 20 or more
(See the character list below)

Everyone sings -- everyone dances -- everyone has LOTS to do!
Contact us
HERE
for a time slot
MUSICIANS!
THE BAND:
Keyboard 1 -- piano, electric piano, synthesizer
Keyboard 2 -- synthesizer, organ, string synth, Effects
Guitar -- electric, acoustic
Bass
Drums
We need a solid rock'n'roll band for this.
The audio of the music is below.
Scroll down -- but first:


The full score, the piano score, and even the instrument parts are all


Download the part for your instrument,

then come back here to follow along.
FIRST!






and use it to follow along with the music below
NOTE: the vocal lines in the files below are "sung" by
a program called Alter Ego -- a robot.
IT'S FAR EASIER TO FOLLOW TO THIS ROBOTIC SINGING
THAN IT IS WITH A SIMPLE MUSICAL SOUND,
even though the voices might sound "creepy" to some ears.
As to the quality of the singing,
it's not how well the bear sings, but that the bear sings at all.
Don't expect to understand all the lyrics
(how many radio lyrics can you actually understand?),
but download the score and/or script above to follow along.


THE CHARACTERS

JEFF TRENT, a pilot and husband of Paula Trent
DANNY, a co-pilot and friend of Jeff Trent (doublable)
EROS, commander of a spaceship
INSPECTOR CLAY, who is first a police inspector, then a dead guy, then a zombie/vampire. Must be large/strong.
LT. HARPER, of the Los Angeles police
LARRY, a rookie police office
KELTON, another patrolman
COL. EDWARDS, in charge of dealing with UFOs and other things that don't exist
PAULA, wife of Jeff Trent
TANNA, Eros's second in command and would-be lover
VAMPIRA, the dead wife of the Old Man, who becomes a zombie/vampire
EDITH, an air hostess (stewardess) (doublable)
Doubleable characters
CRISWELL, a psychic/entertainer/TV personality with wavy white hair
The RULER, of the planet the spaceship comes from
The OLD MAN, who is first a mourner, then a zombie/vampire
Gravedigger 1, who is first a worker, then a zombie/vampire
Gravedigger 2, who is first a worker, then a zombie/vampire
Woman Mourner, at the funeral of the Old Man
Man Mourner, at the funeral of the Old Man
REV. LYNN LEMON, who presides over funerals
GEN. ROBERTS, of the U.S. Air Force

A group of people who are, at various times, bystanders, mourners, aliens, zombies and teenage hot-rodders.
HERE IS THE MUSIC
(including all the underscore and transition numbers)
No 1 The Science Fiction Overture.mp3
No 2 Plan Nine From Outer Space.mp3
No 3 The Shadows Of Grief - A Time To Live.mp3
No 4 A Time To Live reprise.mp3
No 6 Plan Nine From Outer Space reprise.mp3
No 8 Your Pillow By My Side.mp3
No 9 Near The Cemetery.mp3
No 9a Near The Cemetery Transition.mp3
No 10 The Lost Roses of her Cheeks.mp3
No 10a It's A Saucer underscore.mp3
No 10b It's A Saucer Transition.mp3
No 11 Eros Calling Earth.mp3
No 12 The Bell Has Rung.mp3
No 14 That's Why I Hold You.mp3
No 15 There's Something Out There.mp3
No 15a The Zombie Walk Preparatory.mp3
No 16 The Zombie Walk.mp3
No 17 The Zombie Walk reprise.mp3
No 18a The Zombie Walk underscore.mp3
No 19 Everything's On Fire.mp3
No 20 God Help Us In The Future - Plan Nine reprise.mp3
No 21 Bows and Finale Ultimo.mp3
No 22 Audience Playout.mp3