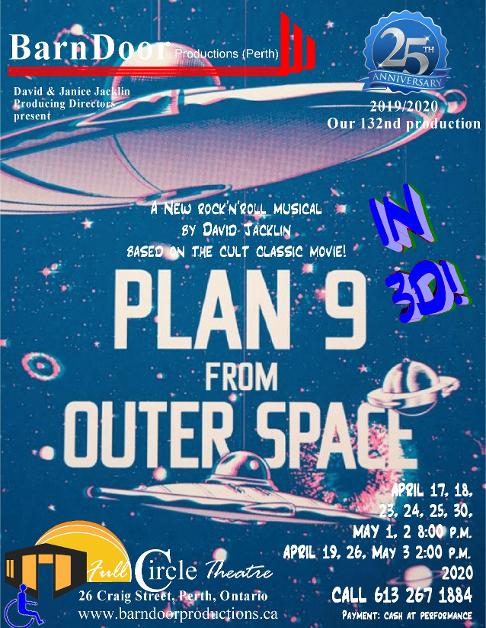 A preview page for our
April/May 2020 musical


PLAN 9 FROM OUTER SPACE
a new musical
from the cult classic movie by Ed Wood
Music, book and lyrics by David Jacklin
April 17, 18, 23, 24, 25
May 1, 2
8:00 p.m.
April 19, May 3
2:00 p.m.
This is considered to be the WORST movie of all time --
so we had to make it into a musical!
An all-original rock'n'roll score.
CAST:
large -- up to 16 or more
BAND:
2 multi-keyboards (keys provided)
guitar
bass
drums
Everyone sings -- everyone dances -- everyone has LOTS to do!
FIRST!






and use it to follow along with the music below
NOTE: the vocal lines in the files below are "sung" by a program called Alter Ego -- a robot.
The main reason the "vocals" are part of these files is
that
IT IS FAR EASIER TO FOLLOW ALONG WITH THE ROBOT THAN A SIMPLE MUSICAL SOUND,
even though the voices might sound "creepy" to some ears.
As to the quality of the singing, , it's not how well the bear sings, but that the bear sings at all.
Don't expect to understand all the lyrics (how many radio lyrics can you actually understand?),
but download the score or script to follow it.


No 1 The Science Fiction Overture.mp3
No 2 Plan Nine From Outer Space.mp3
No 3 The Shadows Of Grief - A Time To Live.mp3
No 4 A Time To Live reprise.mp3
No 6 Plan Nine From Outer Space reprise.mp3
No 8 Your Pillow By My Side.mp3
No 9 Near The Cemetery.mp3
No 9a Near The Cemetery Transition.mp3
No 10 The Lost Roses of her Cheeks.mp3
No 10a It's A Saucer underscore.mp3
No 10b It's A Saucer Transition.mp3
No 11 Eros Calling Earth.mp3
No 12 The Bell Has Rung.mp3
No 14 That's Why I Hold You.mp3
No 15 There's Something Out There.mp3
No 15a The Zombie Walk Preparatory.mp3
No 16 The Zombie Walk.mp3
No 17 The Zombie Walk reprise.mp3
No 18a The Zombie Walk underscore.mp3
No 19 Everything's On Fire.mp3
No 20 God Help Us In The Future - Plan Nine reprise.mp3
No 21 Bows and Finale Ultimo.mp3
No 22 Audience Playout.mp3