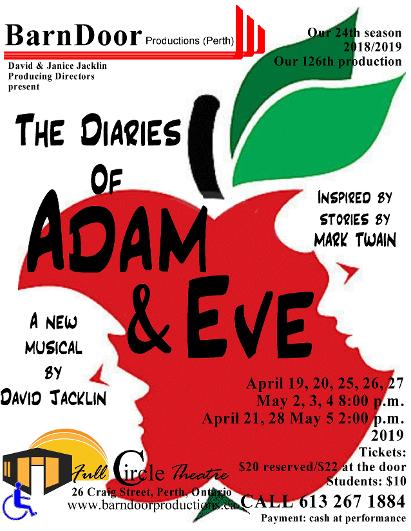 A preview page for our
April 2019 musical


The Diaries of
Adam & Eve
a new musical
inspired by stories by Mark Twain
April 19, 20, 25, 26, 27
May 2, 3, 4
8:00 p.m.
April 21, 28, May 5
2:00 p.m.
This show is inspired by two essays by Twain, but goes far beyond them.
A little bit cynical, a little bit reverent, a lot funny.
An all-original rock score.
CAST:
2 male / 2 female
Need to be young-ish; physically fit;
rock-oriented voices
BAND:
2 multi-keyboards (keys provided)
2 guitars
bass
drums
FIRST!








and use it to follow along with the music below
A note about the music:
The vocals in these files are sung by a computer!
(Actually, it's all digital.)
They can sound pretty weird (I mean, it's a robot, after all),
but I've found this treatment much better for following from the book
than simply having an instrumental sound for the vocal lines.
Double note: a few of the sung words don't agree with the book or score -- changes happen fast.
No 3 The Day Before Yesterday.mp3
No 4 That's Not What It's Not.mp3
No 7 Such A Lonely Creature.mp3
No 11 The Garden Is A Dream.mp3
No 12 Been There Named That.mp3
No 15 Am I My Brother's Keeper.mp3
No 17 The Generations of Adam.mp3
No 18 Wherever She Was.mp3