OUR 24th SEASON
was something to write home about!

All original or new adaptations
ALL PREMIERE PRODUCTIONS


RAIN
a play based on
a story by W. Somerset Maugham
and a screenplay by Maxwell Anderson
"One of the best you've ever done"
"That. Was. Good."
"Relevant still. Or, maybe, relevant again."
Exciting and challenging, it proved to be an intense,
fast-paced, hard-hitting and ENTERTAINING drama
that affected its audience deeply.
Directed by: Janice Jacklin
Set and tech: David Jacklin
Stage Management: Elaine Laxton; Jeanne Jenner
Costumes: Lesley Henderson Armstrong
THE COMPANY
(in order of appearance)
Georgina Spelvin as Ameena
Scott Duncan as Sergeant O'Hara
Don MacKay as Horn
Georgina Spelvin as Mrs. Davidson
Robyn Nelson as Mrs. Macphail
Brian Atterbury as Dr. Macphail
Joe Laxton as Mr. Davidson
Anne Marie Lindell as Sadie Thompson
Nolan Atterbury as Private Hobson
David Kroetsch as Quartermaster Bates of the S.S. Orduna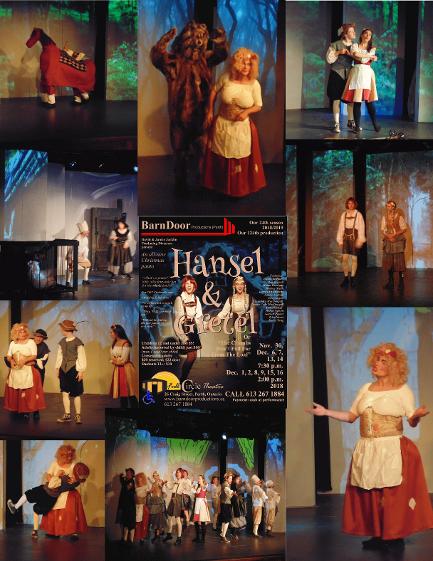 THE MALTESE FALCON
February 15 to
March 3, 2019

a new play based on
Dashiell Hammett's famous novel

Sam Spade is a womanizing, down-on-his-luck private eye, going nowhere fast -- until a dangerous young woman walks into his life -- and his partner is murdered.
"A masterful adaptation!"
How good is this script?
We've had interest in producing the script from the U.K., the U.S. and
Australia -- but NONE from Canada, the one country where it is legal (complicated copyright reasons).
NARRATOR/GUTMAN - Chris Erdos
SAM SPADE - Garrett Pipher
EFFIE PERINE - Karen Bernique
BRIGID O'SHAUGHNESSY - Keegan Carr
MILES ARCHER,
LT. DUNDY
,
Freed, Bryan - Don MacKay
DETECTIVE TOM POLHAUS, Luke, Jacobi - Scott Duncan
IVA ARCHER - Kim Fisher
JOEL CAIRO - Jerry Logan
WILMER COOK - Mitchell Bernique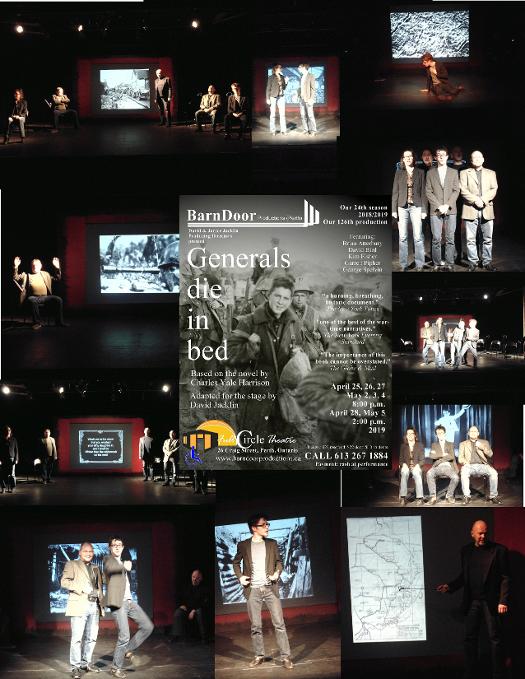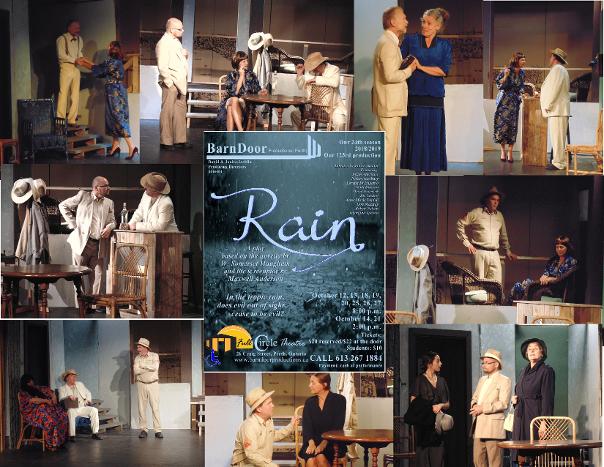 HANSEL & GRETEL
or
The Crumbs Don't Fall Far From The Loaf

November 30 to December 8, 2018

A brand-new "English panto"

Hansel and Gretel get lost in the woods and come upon a wonderful gingerbread house -- owned by an evil witch who eats little children.

That's the story, right? Now add a naughty singing bar-maid, a prince without a horse, an evil baron, a wistful widow, two evil henchmen and a Bavarian town full of peasants. And a bear. And a horse. And a lot of fun.

Vidow Vinkle ..... Brian Atterbury

Gretel Vinkle ..... Cassandra McDougall

Hansel Vinkle ..... Tyler Street

Baron Vasteland ..... Don MacKay

Potz .... Karen Bernique

Panz .... Jerry Logan

Lady Malevola ... Susan Code McDougall

Adalicia Bierman ..... Robyn Nelson

Prince Rupert ..... Garrett Pipher




The Villagers

Ben Bennett (The muscle)

Rodney Myatt (Cuddles The Bear)

Georgina Spelvin (The other muscle)

Laurie Latham (Valiant The Horse)

Kathy Tang (The other end of Valiant The Horse)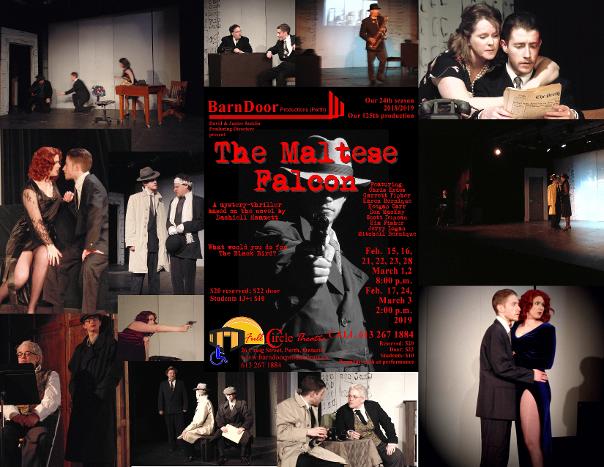 GENERALS DIE IN BED
Our brand-new adaptation of the novel by
Charles Yale Harrison
Harrison's 1930 novel became an international best-seller,
called by the New York Times
"a burning, breathing historic document",
but it
offended a lot of people in high places in Canada
and was largely suppressed.
We believe this to be the first stage adaptation of Harrison's story:
a young man's experience in the trenches, the rest areas and
the brothels of World War One, as written by someone who was there.
A multi-media, musical adaptation, that uses
images, sound and motion picture,
not just as a background, but almost as an additional character .
Called "the best production I've ever seen" and
"a masterpiece" and
"theatre at its finest."
And one woman wrote:
"I saw it tonight. I want to see it again -- RIGHT NOW!"
The Company
Brian Atterbury
David Bird
Kim Fisher
David Jacklin
Garrett Pipher
BOX & COX,
COMPLETE!
Two one-act farces by different authors -- with the same characters!
Box & Cox by J.M. Morton
and
Box & Cox, Married & Settled by J.S. Coyne
Although these scripts have been around for more than 150 years,
we believe that this was the first time that anyone has staged them together as a "complete" evening.

The concensus: "That was fun!"
Which is exactly what it was supposed to be.
THE COMPANY
(In order of appearance)
James John Cox, a journeyman hatter . . . Tyler Street
John James Box, a journeyman printer . . . Brandt Kryvenchuk
Mrs. Bouncer, their landlady . . . Susan Code McDougall
Mrs. Sophy Box (née Dawes) . . . Abigaile Gagnon
Mrs. Fanny Cox (née Hawes) . . . Selena MacKay
A gentleman(?) in the street . . . We can't be sure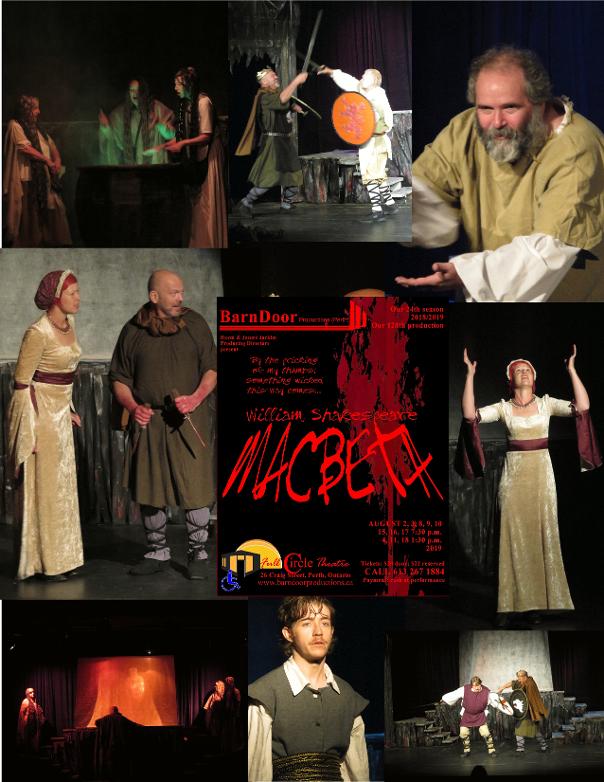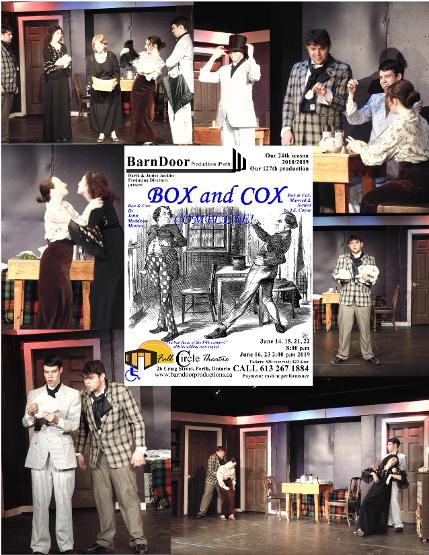 MACBETH
a tragedy by William Shakespeare
What a way to wrap up our 24th season!
A powerful, hard-hitting,
shocking, surprising (two different things),
moving, exciting and
just plain GOOD production!
"...the best show you've ever done!"
"...the best production of Macbeth I've ever seen!"
"...an astonishing production!"
"...a must-see for everyone who loves great theatre!"
"...my heart is STILL pounding!"
And the curse hit us in the last two minutes of
the final performance
,
when the fire alarms went off just as Mackers was about to get his.
We finished the play.
The Company
Melanie Fulop: First Witch, Lady MacDuff, A lady
Janice Jacklin: Second Witch, A lady
Kim Fisher: Third Witch, A Gentlewoman
Rob Glas: King Duncan, An Old Man, Siward
Garrett Pipher: Malcolm, Second Murderer, First Apparition
Joe Laxton: MacDuff, A Sergeant
Brent Maguire: Ross, Third Murderer, Third Apparition
David Bird: Macbeth
Brian Atterbury: Banquo, The Doctor
Sarah Nelson: Lady Macbeth
Braidey Merrigan: Fleance, MacDuff's son,
Second Apparition, a messenger
Scott Duncan: The Porter, First Murderer,
Seyton, messengers
And special mention to Tyler Street, for stepping in for one performance.