Our 23rd season has begun!
A season of all premiere productions!

"Superb!"
is the word.

SUMMER 2018
The summer sun will return!
And so will the fun!

Willm Shaksper

a new play based on a drama by
H.F. Rubinstein and Clifford Bax




Performances:
NOTE THE SPECIAL START TIMES!
August 10, 11, 16, 17, 18, 23, 24, 25
7:30 p.m.
August 12, 19, 26
1:30 p.m.


Before there was a Bard of Avon, there was a man named Willm Shaksper -- or so his name is signed in three of the six signatures we have.

In five episodes, Rubinstein and Bax's 1917 play looked at Shakespeare's life through what was known at the time. MUCH has been learned since then, and our new version of this play tries to incorporate some of that new knowledge into understanding the Bard's character.

From a brash young man starting out, through a middle-aged man flush with success, through an older man, embittered by loss and frustrations, we see something that may have been the real man.

With a minimum cast of 5 men and 2 women (could be more), the show offers a real acting challenge for all, with doubled and tripled roles of varying types.


Characters:

PHILIP HENSLOWE, pawnbroker and theatrical adventurer. Aged 42.
CHRISTOPHER MARLOWE, the playwright, aged 28.

POOR TOM, a poor man.

JOAN HENSLOWE, daughter of Philip Henslowe. A vivacious young woman. (Birth unknown)
EDWARD ALLEYNE, the actor, aged 26.
WILLIAM SHAKESPEARE, actor and playwright, aged 27, 32, 38, 43, 51.
THE DARK LADY of the sonnets, (ROSALINE), a maid-of-honour to Queen Elizabeth I. (20s.)
W. H. (PROTEUS), possibly Henry Wriotheley, Earl of Southampton. Late 20s.
WILL KEMP, clown and singer. 40s.
STAGE-KEEPER, the "door-man" of the Globe Playhouse. 60s or later.
RICHARD BURBAGE, the actor. Aged 33, 37 and 41.
RICHARD ROBINSON, the Queen in "Hamlet." A young actor – 15 or so.
MADAME MONTJOY, an Huguenot refugee, middle-aged.
BEN JONSON, the poet, aged 35.
JUDITH, Shakespeare's daughter, aged 24 and 31.
THOMAS QUINEY, son of a neighbour of Shakespeare and husband to Judith, aged 27.
FRANCIS COLLINS, a solicitor from Warwick, mid-40s.
ANNE SHAKESPEARE, Will's wife, aged 59.
A POET – possibly Thomas Middleton (generally accepted as the author of The Puritan). 20.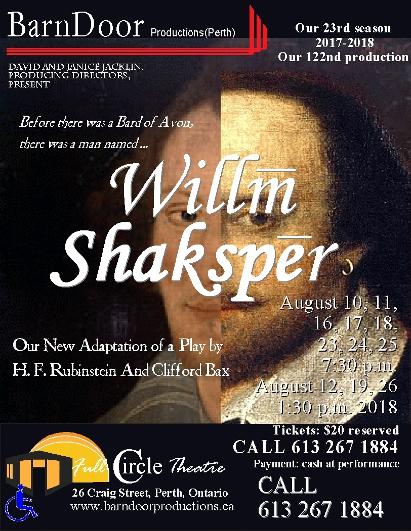 Below: a sketch of Shakespeare based on the Chandos portrait and a copy of one of the six known Shakespeare signatures, clearly signed "Willm Shaksper" -- which, with accompanying marks, was actually a legal scribe's shorthand for his full name.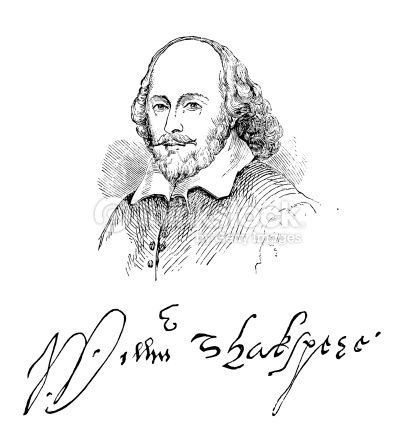 A Perfect Likeness
by Daniel Rover Singer
The premiere Canadian production!

October 13, 14, 15, 19, 20, 21, 22

Production complete!
Charles Dodgson: Connor Williamson
Charles Dickens:
David Bird

What a show this was: funny, surprising, intense, sparkling, dark, and a hundred other things.
"Blown away" was the general comment from audience members. Here are some more:

"The cookie was good. The coffee was great. The play was amazing." R.D. Brooke

"Marvellous! Absolutely bloody marvellous!"
"A brilliant play exceptionally well performed and directed. Very gripping the way these two actors held the stage. A MUST SEE!" J.L. Elgin

"Lewis Carroll and Charles Dickens meet. They share some claret and wend their way through their approaches to their craft and the secrets of their lives. A Perfect Likeness is worth the drive to Perth. The acting is terrific (veteran David Bird plays a beautifully layered and very funny Dickens and 17-year-old Connor Williamson, who has already worked with Perth's professional company, Classic Theatre, plays the newly-published Carroll). It's a solid script that examines the complexity, genius and vulnerability of these two literary greats. There's a matinee Sunday and shows through next weekend." C.N. Ottawa

"This play would shine on the professional stage anywhere! Superb acting, obviously great direction, topped off with costuming and set design perfection. An amazing two-hander not to be missed at Full Circle Theatre in Perth." J.S. Perth

"A Perfect Likeness at the Circle Theatre in Perth was AMAZING, David Bird and Connor Williamson worked in perfect rhythm. A joy to watch two actors who spoke naturally in conversation that drew you in and held your interest. No awkward pauses.... no stage horse to be found.... beautiful theatre. Thank you gentlemen, well done."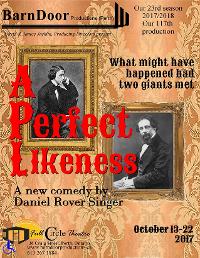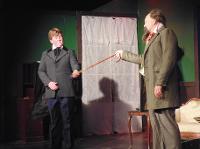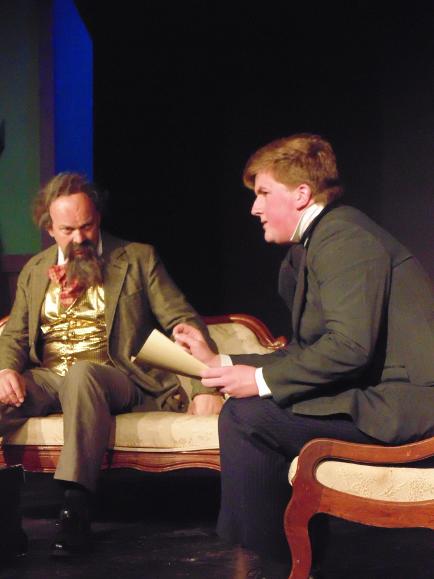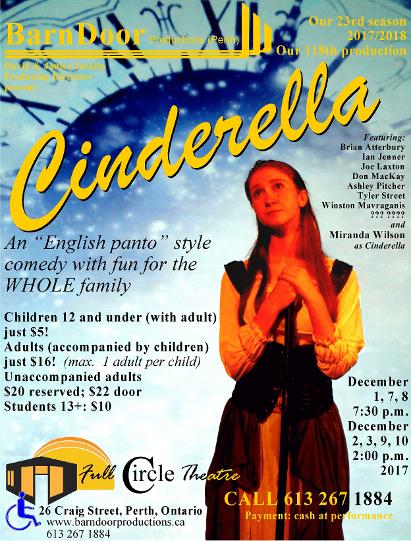 Special family ticket prices:
Children under 12 (escorting an adult) just $5!
Adults (escorted by a child) just $16!
(max. 1 adult per child at this price, please)
Unescorted adults $20 reserved; $22 door
Students 13+ just $10!
CINDERELLA
a new traditional English-style panto
December 1, 7, 8 7:30 p.m.
December 2, 3, 9, 10 1:30 p.m.
(Note the early start times and the additional matinees; this is a show for children)

This is a brand-new version of the age-old Cinderella story -- told in traditional panto fashion, with all the fun and craziness of the British style.
Cheer on Cinders and Buttons; boo the Wicked Stepmother; hiss at the Ugly Stepsisters; laugh with the Baron and Dandini (and much more).
It's just plain old-fashioned fun.

Characters:
The Fairy Godmother, Ashley Pitcher
Cinderella, Miranda Wilson
Buttons, Tyler Street
Baron Hardup, Don MacKay
Baroness Hardup, Joe Laxton
Griselda Hardup, Ian Jenner
Ammonia Hardup, Brian Atterbury
Prince Charming, Winston Mavraganis
The Chamberlain, Tyler Street

The Ghost of Cinderella's Mother, Ashley Pitcher


Why is BDP doing a panto?
Keep reading below and find out!


PANTO CAN BE MURDER
a brand-new backstage
murder-mystery thriller farce

Performances:
February 16, 17, 22, 23, 24 8:00 p.m.
February 18, 25 2:00 p.m.

WORLD PREMIERE!


Everybody loves a panto.
Everybody loves a thriller.
Everybody loves a backstage farce.
So, here's all three in one!

This is the story of what was going on

BACKSTAGE at last December's Cinderella panto.

It's a murder mystery with lots of laughs and silliness. The clever Detective Inspector solves the mystery while the panto performance goes on (unseen but heard)on the other side of the set!


We will be offering a special ticket price
to those who can bring in their adult ticket
to December's CINDERELLA!
So see both shows and have lots of laughs --
and save a few bucks, too.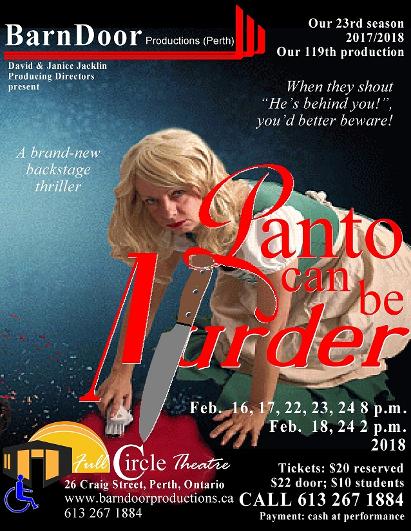 Final audition:

Monday, December 18, 7:00 p.m.
All welcome.
The cast for this one is (mostly) the same cast as for our Cinderella panto in December, but with four additional characters.
5 women/8 men
Jenni Wale (Cinderella) about 20-24
Ruth Buchanan (Fairy Godmother) about 50
Taylor Ellis (Stage Manager) about 24
Meg Proznuk (A.S.M.) about 19
W.P.C. Lorraine Duff (Police) about 23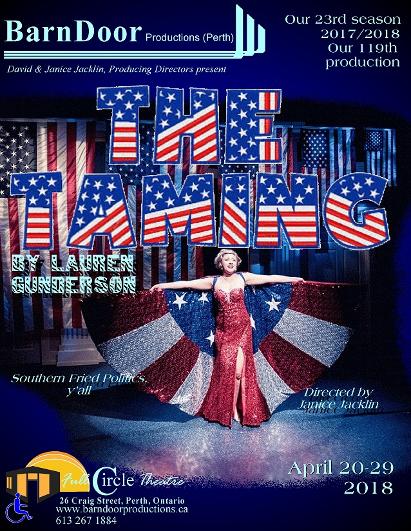 PATRICIA/James Madison, Joanna McAuley

BIANCA/Charles Pinkney, Kim Fisher

KATHERINE/George AND Martha Washington AND Dolly Madison, Ursula Rice Leech

THE TAMING
By Lauren Gunderson





April 20, 21, 26, 27, 28 8:00 p.m.
April 22, 29 2:00 p.m.





The premiere Canadian production!



Shakespeare meets American politics -- all set in a motel room at a beauty pageant.

And, it's a comedy -- and a satire -- and a history lesson -- all in one.

And, as timely as it's possible to get -- politically.


This is all out verbal war between the right and the left -- played out in a hotel room in Georgia between a "lefty" environmental activist, a "righty" political campaign advisor and Miss Georgia ....
... along with a few Founding Fathers, a couple of Founding First Ladies, an intern or two and lots of good ol' Stars And Stripes.
Hilariously funny and kick-you-in-the-groin serious.
CHARLEY'S AUNT
by Brandon Thomas
in a new two-act version

Performances:
June 8, 9, 14, 15, 16, 21, 22, 23 8:00 p.m.
June 10, 17, 24 2:00 p.m.

Charley's Aunt
is the longest running farce in London history. It opened THREE YEARS before
The Importance of Being Earnest
and was still running after Earnest closed.
It's a "chestnut" in the best sense of the word: always reliable, always warm, always familiar -- and still very funny.
Jack and Charley want to ask their girls to tea to propose to them (oh, it's very proper!) and use the excuse of Charley's aunt coming to visit to make it right. But, when the venerable lady ("from Brazil, where the nuts come from!") can't come, the lads enlist the aid of their chum Babs to impersonate the aunt. Complications, needless to say, arise.
More fun than 10 ordinary comedies and, in BDP's new 2 act version, faster and more furious than ever.
Characters:
Jack Chesney – Oxford undergraduate, in love with Kitty
Charles Wykeham – Oxford undergraduate, in love with Amy
Lord Fancourt Babberley – Undergraduate pulled unwillingly into Jack and Charley's scheme. "Charley's Aunt"

Stephen Spettigue – Uncle of Amy, guardian of Kitty, and the story's villain
Colonel Sir Francis Chesney – Father of Jack Chesney
Brassett – Jack Chesney's valet
Donna Lucia d'Alvadorez – Charley's real aunt from Brazil -- where the nuts come from.

Amy Spettigue – Stephen Spettigue's young niece
Kitty Verdun – Stephen Spettigue's young ward
Ela Delahay – orphaned young woman accompanying Donna Lucia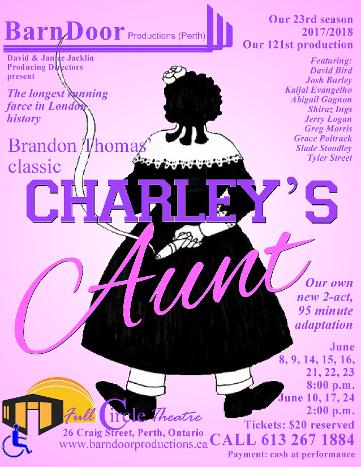 Below: W.S. Penley, the original "Charley's Aunt"