Our 23rd season had one word that ran through the whole year:



"Superb!"


An entire season of either Canadian or world premiere productions.
An entire season of engrossing, exciting and totally "different" shows.
A Perfect Likeness
by Daniel Rover Singer
The premiere Canadian production!

October 13, 14, 15, 19, 20, 21, 22

Production complete!
Charles Dodgson: Connor Williamson
Charles Dickens:
David Bird

What a show this was: funny, surprising, intense, sparkling, dark, and a hundred other things.
"Blown away" was the general comment from audience members. Here are some more:

"The cookie was good. The coffee was great. The play was amazing." R.D. Brooke

"Marvellous! Absolutely bloody marvellous!"
"A brilliant play exceptionally well performed and directed. Very gripping the way these two actors held the stage. A MUST SEE!" J.L. Elgin

"Lewis Carroll and Charles Dickens meet. They share some claret and wend their way through their approaches to their craft and the secrets of their lives. A Perfect Likeness is worth the drive to Perth. The acting is terrific (veteran David Bird plays a beautifully layered and very funny Dickens and 17-year-old Connor Williamson, who has already worked with Perth's professional company, Classic Theatre, plays the newly-published Carroll). It's a solid script that examines the complexity, genius and vulnerability of these two literary greats. There's a matinee Sunday and shows through next weekend." C.N. Ottawa

"This play would shine on the professional stage anywhere! Superb acting, obviously great direction, topped off with costuming and set design perfection. An amazing two-hander not to be missed at Full Circle Theatre in Perth." J.S. Perth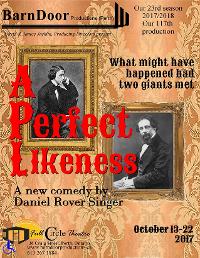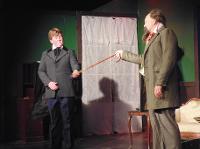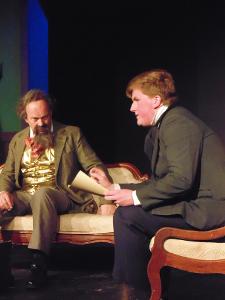 "A Perfect Likeness at the Circle Theatre in Perth was AMAZING, David Bird and Connor Williamson worked in perfect rhythm. A joy to watch two actors who spoke naturally in conversation that drew you in and held your interest. No awkward pauses.... no stage horse to be found.... beautiful theatre. Thank you gentlemen, well done."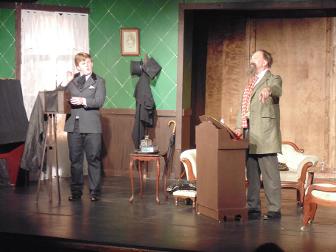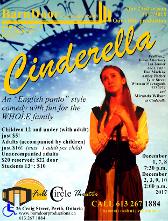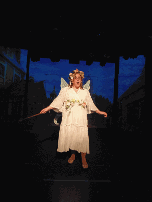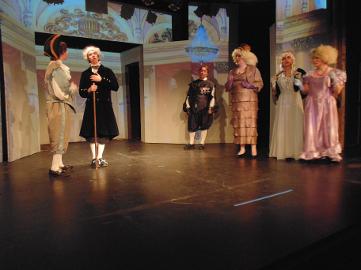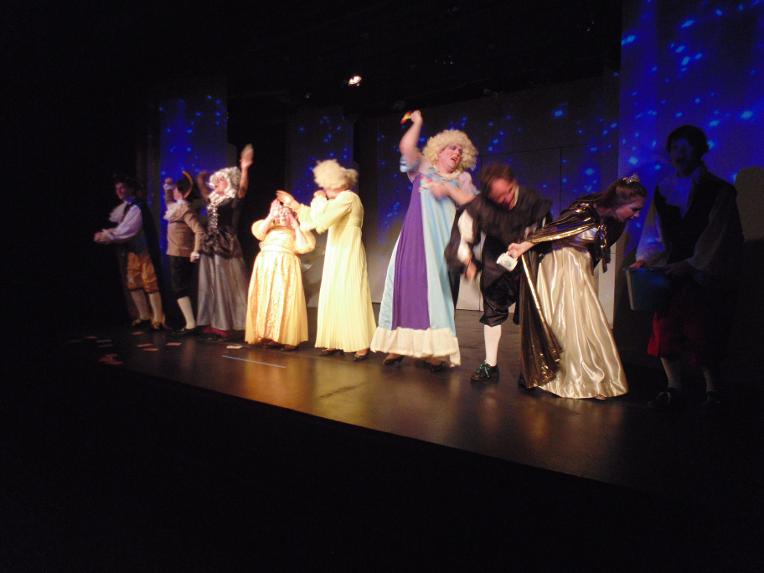 CINDERELLA
a new traditional English-style panto
December 1 to 10, 2017
Our biggest seller ever at Full Circle Theatre!
Oodles of crazy fun and only one life-threatening injury in the entire run -- well, a good cut, anyway.
The Fairy Godmother, Ashley Pitcher
Cinderella, Miranda Wilson
Buttons,
Tyler Street
Baron Hardup
, Don MacKay
Baroness Hardup
, Joe Laxton
Griselda Hardup
, Ian Jenner
Ammonia Hardup
, Brian Atterbury
Dandini, Garret Pipher
Prince Charming, Winston Mavraganis
The Chamberlain, doubled by Buttons

The Ghost of Cinderella's Mother, doubled by The Fairy Godmother
CINDERELLA was:
"Amazing & hilarious"
"I don't think I've ever laughed so much in my life"
"That was 'way, 'WAY too much fun. 'Way too much"
"Without hesitation, that was the best panto I've ever seen"
"Omg, what a great show. It felt wonderful to laugh like that"
"Laugh out loud, high energy panto in its most outrageous tradition"
"An amazing...stellar production and a curtain call to end all curtain calls"
"Ohhh my! Amazing ... absolutely hilarious!"

"A MUST SEE"

PANTO CAN BE MURDER
a brand-new backstage
murder-mystery thriller farce
by David Jacklin


February 16 to 25, 2018


WORLD PREMIERE!

A good time was had by all and a group of intrepid adventurers set out on a quest that was one of the most intricate and demanding productions we've done -- and we've done Hamlet!

Big laughs, big fun and the premiere of a brand-new script that is unlike anything we've seen before.

The Company:
Jenni Wale (Cinderella) Miranda Wilson
Ruth Buchanan (Fairy Godmother) Ashley Pitcher
Barry Inman (Buttons) Tyler Street

Vance Britton (Baron Hardup) Don MacKay

Terry Lavasseur (Director/Baroness) Joe Laxton
Hugh Coltman (Griselda) Ian Jenner

Dennis Willett (Ammonia) Brian Atterbury

Julian Havers (Dandini) Garret Pipher
Ben Roe (Prince Charming) Slade Stoodley

Detective Inspector Tuff Jeff Wilson

Taylor Ellis (Stage Manager)
Annie West
W.P.C. Lorraine Duff
Kimberly Baker
Meg Proznuk (A.S.M.) Madison Reid
A SPECIAL NOTE:
PANTO CAN BE MURDER
makes its international debut
with the Hartley Arts Group in
Hampshire, U.K.
next February!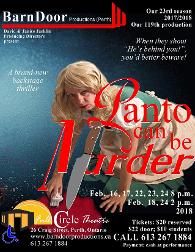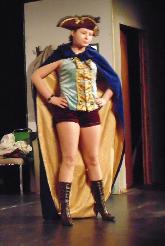 PANTO CAN BE MURDER comments:
"It's hilarious!"
"Too much fun!"
"I couldn't stop laughing."
"So much fun to see the Cinderella characters backward!"
"I've avoided panto like the plague but --
-- this was so much fun, I want to see more!"
"This play is brilliant! The two parts fit together perfectly."
"It's a hoot! No, it's a hoot-and-a-half!"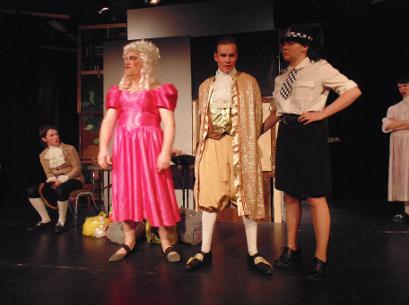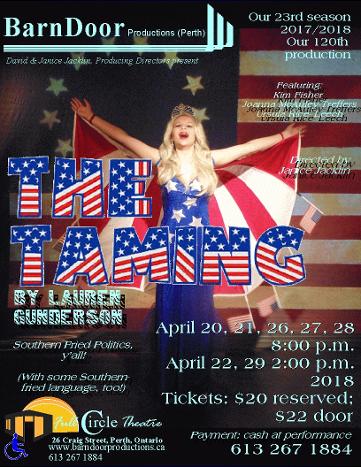 PATRICIA/James Madison, Joanna McAuley

BIANCA/Charles Pinkney, Kim Fisher

KATHERINE/George AND Martha Washington AND Dolly Madison, Ursula Rice Leech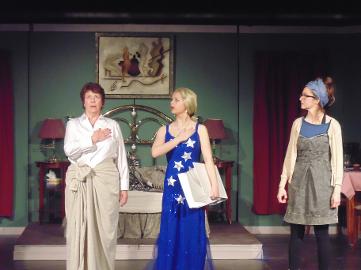 THE TAMING
By Lauren Gunderson





April 20, 21, 26, 27, 28 8:00 p.m.
April 22, 29 2:00 p.m.





The premiere Canadian production!



Shakespeare meets American politics -- all set in a motel room at a beauty pageant.

And, it's a comedy -- and a satire -- and a history lesson -- all in one.

And, as timely as it's possible to get -- politically.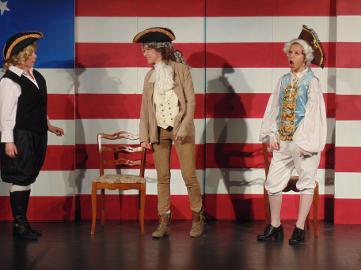 An all out verbal war between the right and the left -- played out in a hotel room in Georgia between a "lefty" environmental activist, a "righty" political campaign advisor and Miss Georgia ....
... along with a few Founding Fathers, a couple of Founding First Ladies, an intern or two and lots of good ol' Stars And Stripes.
Hilariously funny and kick-you-in-the-groin serious that either knocked its viewers over with its intensity or baffled them entirely -- depending on the viewer, of course.
WHICH WERE YOU?

CHARLEY'S AUNT
by Brandon Thomas
in our own new two-act version

Charley's Aunt
has to be one of the funniest shows we've put on the stage.
It's a "chestnut" in the best sense of the word: always reliable, always warm, always familiar --
and, in BDP's new 2 act version, faster and more furious than ever.
We had a hoot running around, slamming doors and throwing Tyler from place to place -- and the audience had at least as much fun.
Jack Chesney – Josh Burley
Charles Wykeham – Slade Stoodley
Lord Fancourt Babberley – Tyler Street

Stephen Spettigue – Greg Morris

Colonel Sir Francis Chesney – David Bird
Brassett – Jerry Logan
Donna Lucia d'Alvadorez – Shiraz Ings

Amy Spettigue – Grace Poltrack
Kitty Verdun – Abigail Gagnon
Ela Delahay – Kaijai Evangelho
SPECIAL NOTE:
Our CHARLEY'S AUNT
will be making its international debut
this October in the U.S.!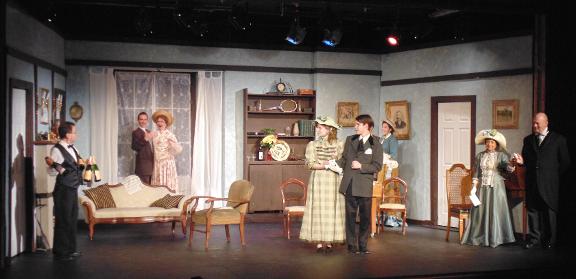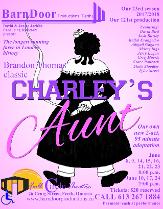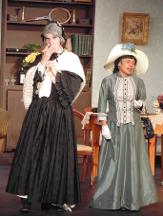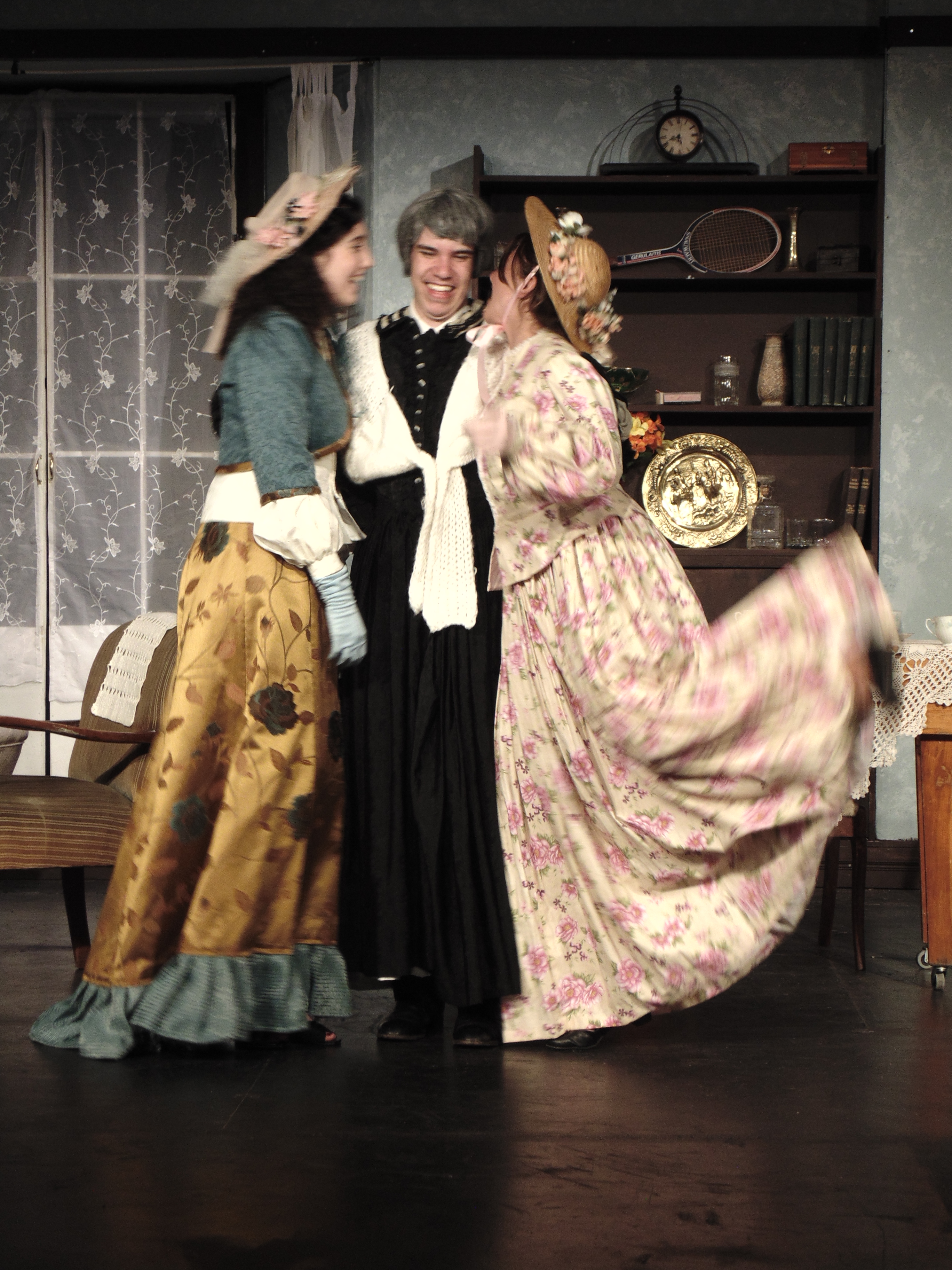 Willm Shaksper

a new play based on a drama by
H.F. Rubinstein and Clifford Bax




August 10 through 26, 2018


Before there was a Bard of Avon, there was a man named Willm Shaksper -- or so his name is signed in three of the six signatures we have.

This new version of Rubinstein and Bax's 1917 "Shakespeare" stretches the original far past its beginnings.




It's a study of the Bard's life in five episodes, based on what we know of him.
From a brash young man just starting out, through a middle-aged man flush with success, through an older man, embittered by loss and frustrations, we see something that may have been the real man.




For those who dared come see it, they were treated to a glittering, musical, funny, dramatic, surprising show that filled the stage with excitement.




For those who were too afraid to come -- phhht! to you. You missed out big time.





"Brilliant! Simply brilliant!"

"It's Shakespeare's language, but it's just everyday conversation!"

"This play is --- wonderful!"



THE COMPANY

Brian Atterbury
David Bird
Garrett Pipher
Grace Poltrack
Kathie Reid
Ursula Rice-Leech
Slade Stoodley
Tyler Street
Ian Jenner
AND SELENA MACKAY