OUR 22ND SEASON, 2016-2017, offered a playbill of astonishing variety.
- a 2400 year-old comedy
- a 4 year-old show that knocked Broadway for a loop
- a musical adaptation of a classic
- a BRAND-NEW adaptation of a hundred year-old thriller that still thrills, chills and amuses
- an exciting new play from a rising, new playwright
- an exciting, sexy bit of fluff to make you giggle
- and one of the most important plays of the last century.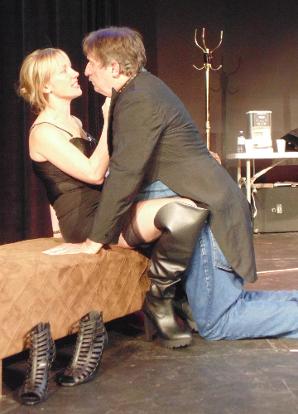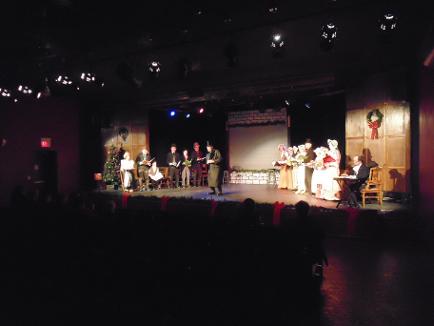 7 KEYS TO BALDPATE

February 17 to 26, 2017

We had tremendous fun with our new adaptation of George M. Cohan's mystery-farce. Lots of thrills and chills and spills -- and a show that kept the audience guessing all along.

"You fooled us!"

"I never saw the ending coming. And, then I never saw the other ending coming!"

A big cast, but we brought in some new faces and some veterans to make it a strong and entertaining production.

CAST:

Hal Bentley, David Bird
William Hallowell Magee, Brian Atterbury
John Bland, Ian Jenner
Peters, John Stephen
Lou Max,Brent McGuire
Jim Cargan, Greg Morris
Jiggs Kennedy, Joe Laxton

Mary Norton, Karen Bernique
Mrs. Rhodes, Nancy Browman
Myra Thornhill, Theresa Stork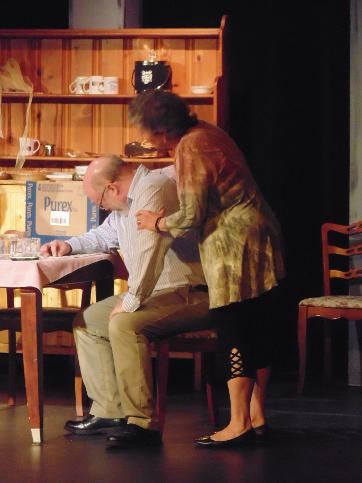 THE DECORATOR
JUNE 9 to 18, 2017





Directed by David Bird




Back to some good old fashioned farce to launch our summer series. Donald Churchill's show is becoming a staple of summer theatre and this production showed why. A great way to kick off the summer.

"Funny and fast paced performance. Loved it!"
"Perfect! Perfect summer fun!"
"I nearly had an asthma attack laughing."




The Cast:

Jane

: Kristy Tait-Angel

Marcia

: Karen Bernique

Walter

: Chris Angel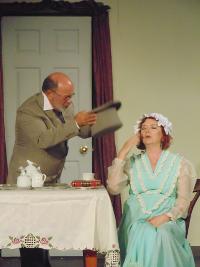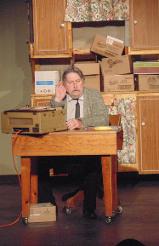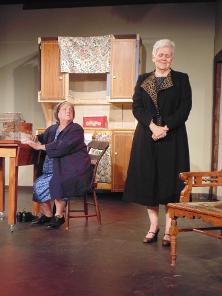 LYSISTRATA

August 11 to 20, 2017

Aristophanes' 2,400 year old anti-war comedy,
in a brand-new, musical version.
It's still as funny, sexy, silly and thought-provoking
as it was in Athens in 411 B.C.




The Company:

Lysistrata: Satinka Schilling
Calonice: Laura Baker
Myrrhine: Miranda Wilson
Lampito: Kim Fisher
The Magistrate: Gary King
Cinesias: Adam Bond
Stratyllis: Kathie Reid
Philostratus: Brian Atterbury
A Spartan herald: Scott Duncan

A Chorus of Old Women: Josi Gilbertson, Kim Fisher, Nancy Moxon
A Chorus of Old Men: Scott Duncan, Greg Morris, John Stephen
Other young women and men: Nolan Atterbury




"Naughty -- but fun"
"Hilarious", "I love it!"
"It's an education!"
"Entertaining and hilarious!"
"That was jaw-dropping!"
"They should do this in New York."

VENUS IN FUR
by David Ives
October 14 to 23, 2016

A playwright/director is auditioning for his new adaptation of a sensational 1870s novel. A woman who is totally wrong for the role walks in, late. Or is she wrong for it? Or is she perfect for it?
Who IS she?

"That was amazing!"
"That was AMAZING!"
"An AMAZING show!"
"That was amazing . . . that was AMAZING!"
"That was f*****g AMAZING!"
And, two weeks after the show,
"Venice In Fur was amazing!"

Get it? It was an amazing production.
Were you amazed as well, or did you miss it?
CAST:
THOMAS, David Jacklin
VANDA, Tegan Mackey
Direction and technical operation, Janice Jacklin
CHARLES DICKENS'S
A CHRISTMAS CAROL
BDP's original adaptation
December 2 to 11, 2016

Our perennially-favourite
original
musical story theatre adaptation of the classic story proved to be as popular as ever.
"A superb production."
"A revelation!"
"The jig alone is worth the price of admission."
"Worth far more than the asking price."
"Another masterpiece."
"If I could afford it, I'd see every performance!"
"I now like Dickens!"

The Cast

David Bird Karen Hanlon
Scott Duncan Kathie Reid
Murray Hodgins/Chris Angel Janice Jacklin Nolan Atterbury Elaine Warner-Laxton
Abby Brisson Joseph Laxton
Jamie Graham Maya Rutherford
Brian Atterbury Ella Anderson
Willow-Grace Hanlon Lara DelGrande
Robert DelGrande

Special costume assistance from
Marilyn Bird and Jeanne Jenner

Technical Operators: Don MacKay, Karen Bernique
Front of House: Jeanne Jenner, Madge Jeffrey, Donna Bourgeault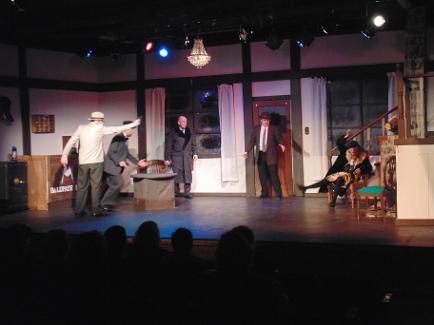 THE TIN WOMAN

April 21 to 30, 2017

We had no idea of how the audience would react to this heart-felt play. A heart transplant recipient goes on a trip to find the family of her donor -- and finds her heart, too. How did our audience react?

"This is good... this is VERY good."
"This is SO amazing."
"I didn't know whether I should laugh or not -- but it's funny -- but it's sad."
"All right. I cried. But I laughed, too."





Full of laughs, but very touching as well.



JOY, Lesley Sneddon
ALICE, Joanna McAuley Treffers
SAMMY, Caledonia Matheson
NURSE/DARLA, Donna Bourgeault
JACK, Brian Atterbury
HANK, Jeff Wilson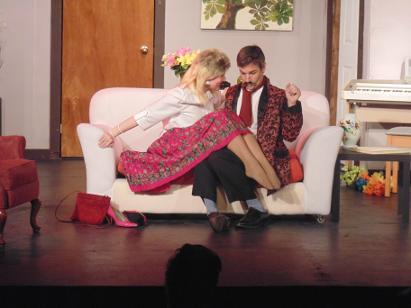 TRIFLES, TEA & TAPE

July 7 to 23, 2017
Trifles
Susan Glaspell's enduring one-act mystery play
still grabs an audience.
Featuring: Barb Guthrie, Janice Jacklin, Brian Atterbury, Greg Morris, Scott Duncan


Tea Cups
George Grossmith tiny two-hander is funny and musical and silly.

Featuring: David and Sheila Kroetsch


Krapp's Last Tape
Samuel Beckett's absurdist clown show is totally different, but marvellously theatrical.


Performed by George Spelvin
About Trifles:
"... magic!"
"I've seen other productions that fell flat, but this one digs down to the centre of the emotion."
About Tea Cups:
"A delight!"
About Krapp's Last Tape:
"Brilliant!"
"Perfect!"
"Thank you for Krapp's Last Tape!"