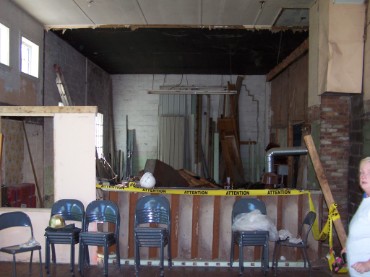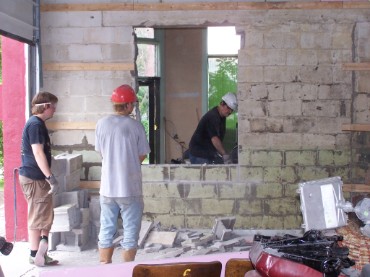 Above: Concrete goes out.
Right: Steel goes in.
Below: rebuilding walkways for rampless barrier-free accessibility.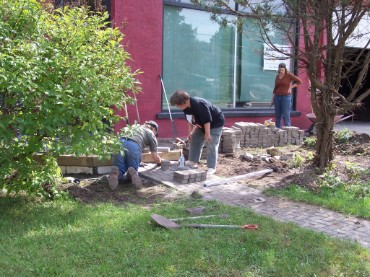 Right: the first sections of more than 5,000 board feet of studding go up. A brute of a job in 15 and 16 foot high sections, up to 16 feet wide.
Below: A celebratory 1-year anniversary cake. Yeah, we look a little mad at this point, but the slog has just begun.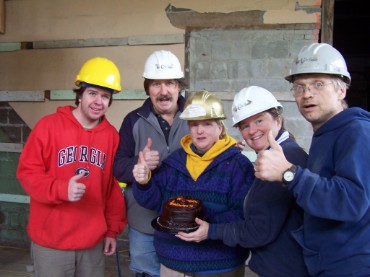 FALL 2010: With building permit in place, our volunteers tackle the job of gutting and rebuilding the car wash!

Left: from the lobby to the rear of the building.
Below: from the rear to the front of the building.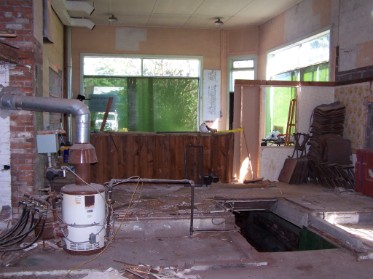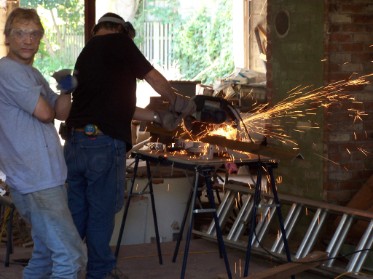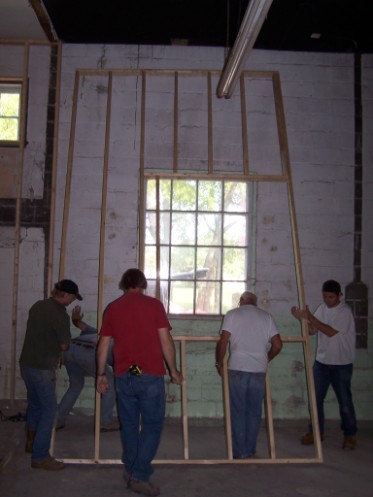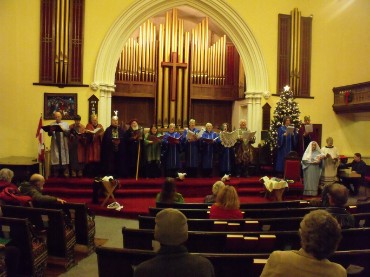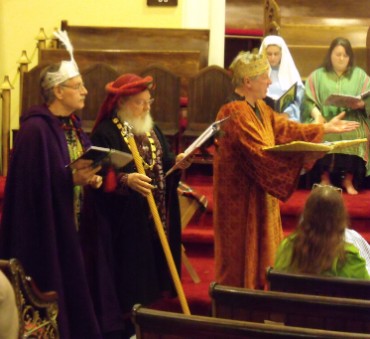 THE CHRISTMAS MYSTERIES
Heavily into the throes of construction, we still found time to mount a very special event for Christmas: an original adaptation of the Nativity plays from the 14th century Wakefield Mystery Cycle. Performed in the beautiful St. Paul's United Church in Perth, it was a lovely and very entertaining show, if sparsely attended. Riotous fun and sacred moments combined.

Left above: the cast of The Christmas Mysteries sing Guadete! to organ accompaniment in the finale.
Left below: The Three Kings.
Below: Mary, Joseph and the Babe escape to Egypt. Oh, and Hotie, the donkey. Donkey Hotie? Get it? Oh, well.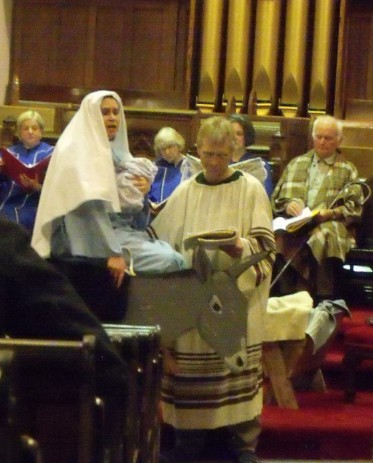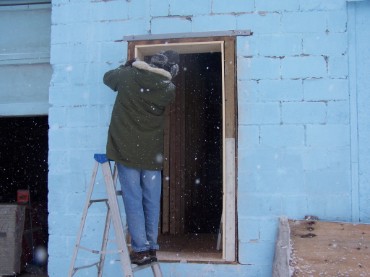 Below: the subfloor for the auditorium rake, with some of the sheathing on it, the tech area in the bg, stud walls around the perimeter.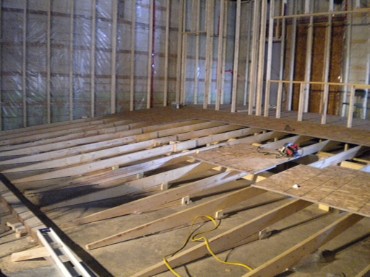 Right: The framing for the stage: tripled 2X8 beams, 2X8 joists on hangers
and screwed!
, all sitting on 6X6 posts. You can actually drive a car onto the stage!
Below: Days after we put the stage floor down, we took time out of construction to build the set for a new opera,
Open House,
which we had contracted to produce for Popinjay Productions. By this time, we were down to 1 electrical circuit!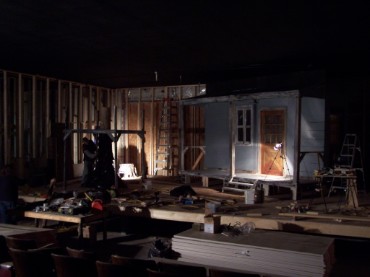 WINTER/SPRING 2011
Work on the building continued through snow and sleet -- literally.
Left: Gary King working on the frame for the new rear exit door. Note steel lintels above the door, 4X4 posts and additional 4X4 lintel -- it's built!
Below: a crew lift one of the last stud frame units into place. Note the unit with the fire door already in place, filling one of the bay door openings.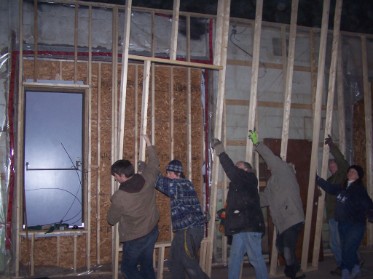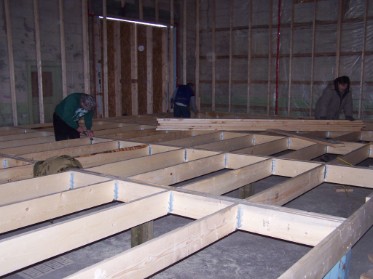 Below: the set for Open House, on the stage at the Perth Theatre Project's Studio Theatre.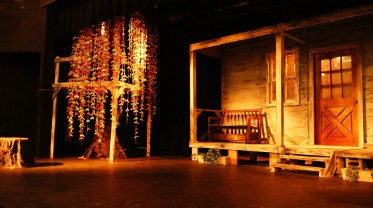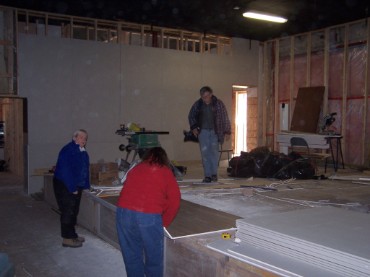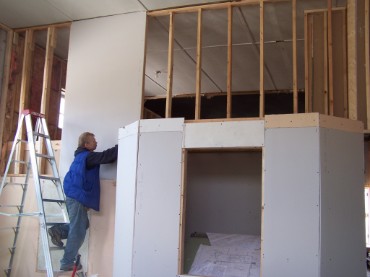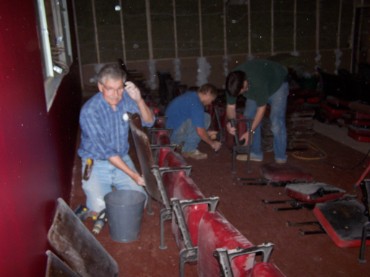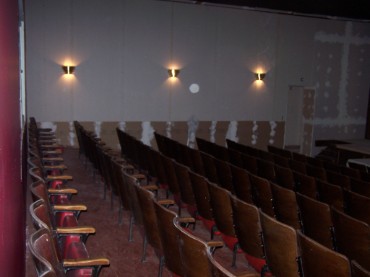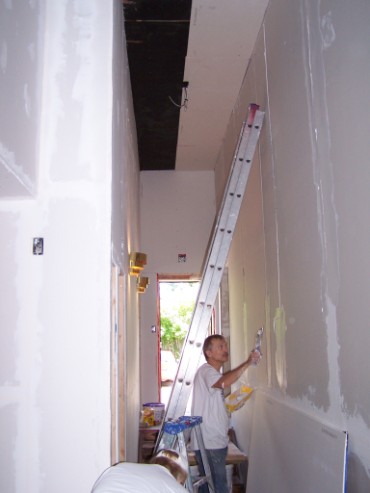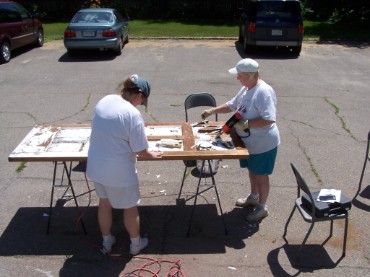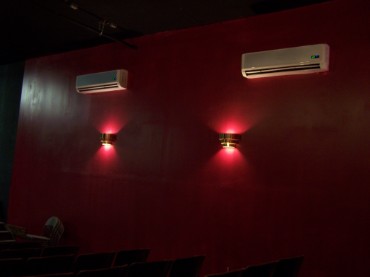 SPRING/SUMMER 2011

As the weather began to warm, progress quickened. Insulation went in, dry-wall began going up, tradesmen began to appear and a faint glimmer of light was seen at the end of the tunnel.
Left: cutting drywall, using the edge of the stage as a convenient work table. Note the R40 fibreglass insulation on the rear wall.
Below left: dry-wall going up on the box-office and lobby walls.
Below: the stage with Safe'N'Sound insulation installed. The entire auditorium is surrounded by the stuff, which, combined with other aspects, cuts noise transmission by an amazing 81 deciBels. That's a Grateful Dead concert cut down to a quiet afternoon reading in the parlour.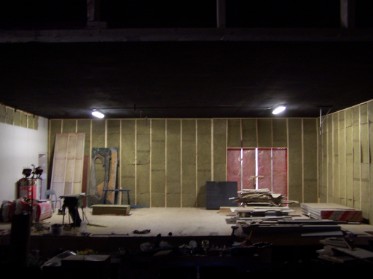 Left: a slightly fuzzy shot of assembling seats. They came out of Perth's 1915 Balderson Theatre, a sumptuous vaudeville/cinema house that ran until 1958. From there, the seats went to P&DCI high school until 1988, when we grabbed as many as we could. Refurbished, we have 102 installed and another 50 or so available.
Left and below: cleaned up and ready for June 18th's Doors Open Ontario showing. While a long way from done, this was the first opportunity for people to come through the building and see what was happening. We opened a few eyes!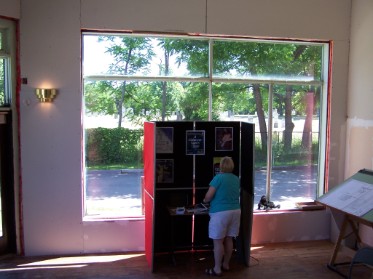 Left and below: Huge work continued with mudding and finishing drywall, running electrical wiring, preparing reclaimed and re-purposed materials, painting, adding HVAC equipment, and, of course, plumbing.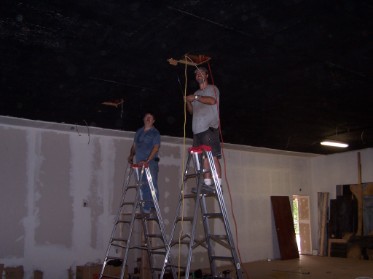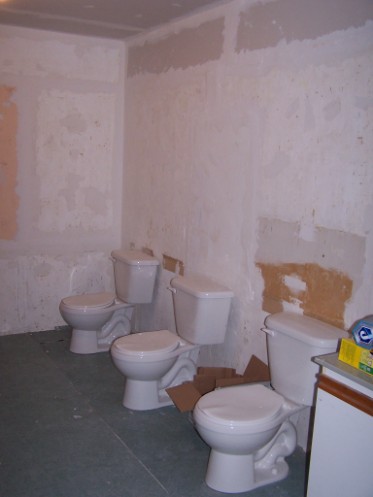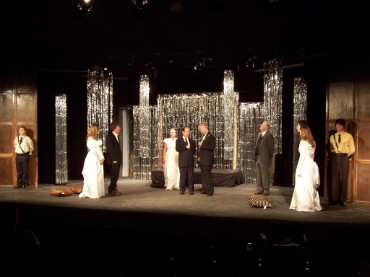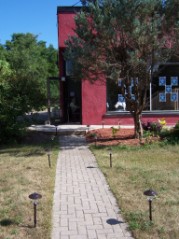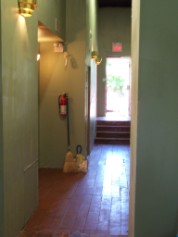 The Full Circle Theatre building, August 5, 2011 -- Opening Day!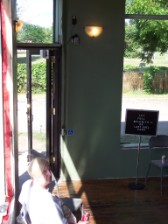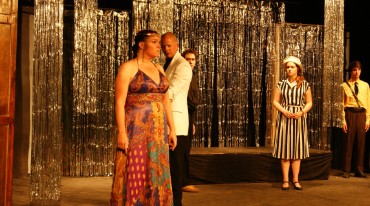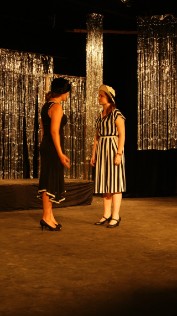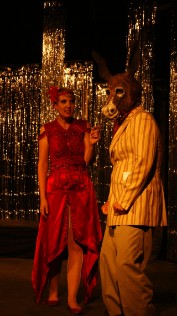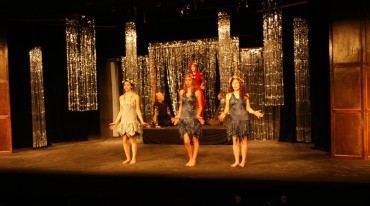 The Opening
A Midsummer Night's Dream
by William Shakespeare

If you can think of a better production to open a dream theatre, then you're smarter than we are.
This Dream was a dream. What a cast, what a production! Hilarious, frightening, mysterious, furious, poetic, musical, romantic, exciting and much more, with some brilliant performances from a very strong cast.
AND, we opened our new theatre, too!
Directed and with original songs by
David Jacklin
Costumes by
Donna Bourgeault with Jeanne Jenner
Props and special costume pieces by
Joe Laxton
Stage Manager, Elaine Laxton
Front of house,
Janice Jacklin, Marilyn Bird, Nancy Moxon
and the Friends of the Full Circle Theatre

THE COMPANY
Theseus, Rick Wood
Egeus, Gary King
Lysander, Aidan Shenkman
Demetrius, Connor Burnham
Philostrate, Robert Del Grande
Quince, Don Lee
Snug, Gina Tremaine
Bottom, Joe Laxton
Flute, Stephen Morgenstern
Snout, Ian Jenner
Starveling, Janice Jacklin
Hippolyta, Tracy Noonan
Hermia, Sydney Jacklin
Helena, Bronwyn Jaques
Oberon, David Bird
Titania, Kristy Angel
Puck Chris Angel
Peaseblossom, Lauren Jaques
Cobweb Natalie Gray
Mustardseed Robin Ross
Guards, Mat Larabie, Alex Hodgins

And now, we begin a whole new chapter!
2011-2012 is going to be exciting indeed!
Why not join us at the
Full Circle Theatre?