With work underway converting Charlie's Car Wash to the Full Circle Theatre, we ran a reduced season for 2009-2010, with only 4 productions happening.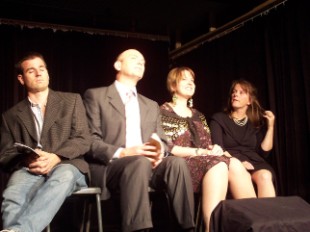 Above and below: Chris Angel, David Bird, Kristy Angel, Karen Bernique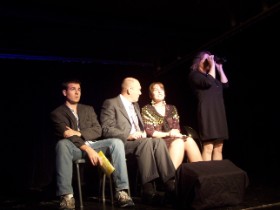 Even with only 4 shows on the boards and 90% of our attention on the renovations of the car wash, we managed to do some interesting work!
A Night In The Theatre
A comedy by Lawrence Casler
October 2009
Directed by David Jacklin

Front of House: Janice Jacklin, Sydney Jacklin
With a temporary move into quarters at the Myriad Centre for the Arts in Perth, we chose another simply staged play to keep ourselves active. Four people watch a play that is performed in our imaginations. Their comments and reactions provide our entertainment. It's almost like going to real theatre!
The Cast
Walter Pace: David Bird
Margaret Locker: Karen Bernique
Donna Pace: Kristy Tait Angel
Stanley Locker: Chris Angel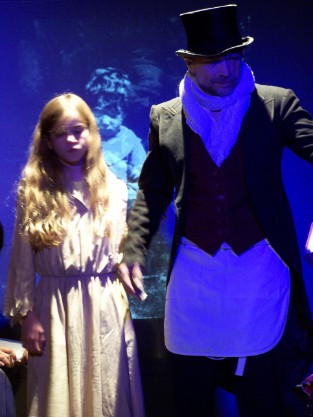 Above: Rachel Needham and Joe Laxton

Below: Rachel Needham, Sydney Jacklin and the cast.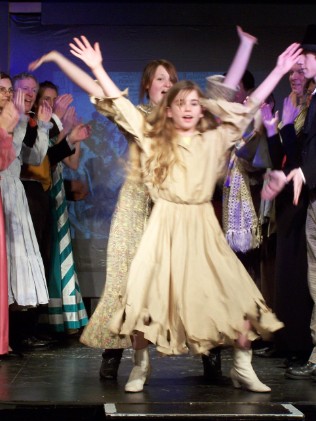 The Chimes
December 2009
A new musical adaptation of Charles Dickens' other Christmas story. The Chimes is engaging, exciting and entertaining, as well as seriously scary in some places! A real challenge for our cast, as well as a technical tour de force. Presented at the Myriad Centre for the Arts.

Created and directed by David Jacklin
Front of house
Chris Angel, Kristy Angel, Pamela Holm, Sean Jacklin
Nancy Moxon
Gary King
Cathy Nobleman
Janice Jacklin
Vicky Mavraganis
Ron Cosens
David Bird
Elaine Laxton
Nancy Browman
Rachel Needham
Sydney Jacklin
Vince Scattolon
Alexis Scott
and
Joe Laxton as "Trotty" Veck
Below: Alexis Scott, David Bird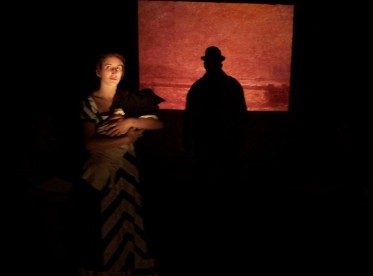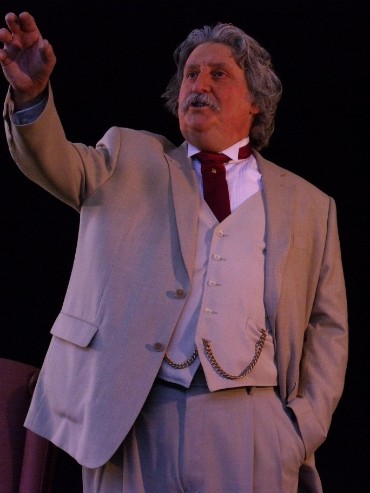 David Jacklin as Mark Twain.

Mark Twain's Patent Scrapbook
May and July 2010
Digging back into the deep past, we revived a one-man show that David first performed 33 years before, when he was 21!
Mark Twain's Patent Scrapbook is a collection of Twain's writings and ramblings, brought back to the stage in lively fashion in observance of the 100th anniversary of Twain's death.
Presented in Perth at the P&DCI auditorium and later in Smiths Falls at the new Station Theatre.

Directed by Janice Jacklin
Featuring David Jacklin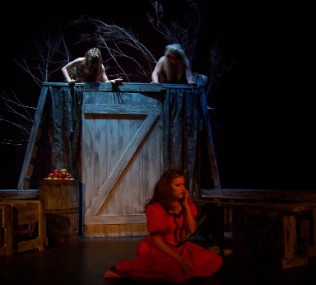 Above: Amanda Gunnewiek, Katilin Ring, Bronwyn Jaques

Below: Marvin Hudgens plans to "whop" John the Witch Boy. It doesn't work out the way he expected. Most of the cast in the shot.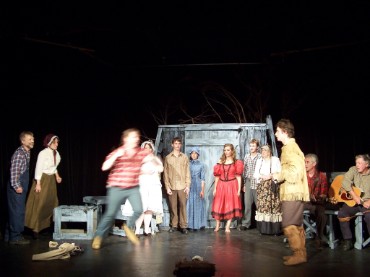 Dark of the Moon
By
Howard Richardson and
William Berney

July/August 2010

Oh, what a show! Dark, mysterious, moving, dramatic, comic, musical, balletic, mythical and poetic, it came to the stage in grand style at the Station Theatre in Smiths Falls. A show that was called "just crazy good" by someone on the street.

Directed and designed by
David Jacklin
Costumes
Macy Scarrow (Witch Gals)
Joe Laxton (Conjur Folk)
Donna Bourgeault & Jeanne Jenner
Stage Manager
Elaine Laxton
Lighting operator
Sean Jacklin
Sound operator
Linda Daniluk
Set construction & painting
David Jacklin, Janice Jacklin, Sean Jacklin, Edith Jacklin (that's 3 generations!)
Photography
Sydney Jacklin

Cast

John, The Witch Boy – Cory Lavery
The Fair Witch – Kaitlin Ring
The Dark Witch – Amanda Gunnewiek
The Conjur Man – Joe Laxton
The ConjurWoman – Vera Campbell
Mrs. Summey – Donna Bourgeault
Edna Summey – Gina Tremaine
Miss Metcalfe – Vera Campbell
Hattie Heffner – Elaine Laxton
Barbara Allen – Bronwyn Jaques
Mrs. Allen – Alexis Scott
Mr. Allen – Joe Laxton
Floyd Allen – Alex Gunnewiek
Mr. Bergen – Paddy O'Connor
Mrs. Bergen – Janice Jacklin
Ella – Kelly Schilling
Uncle Smelique – Gary King
Hank Gudger – Alex Chisamore
Marvin Hudgens – Ian Jenner
Preacher Haggler – George Spelvin
Mr. Atkins – Mike Erion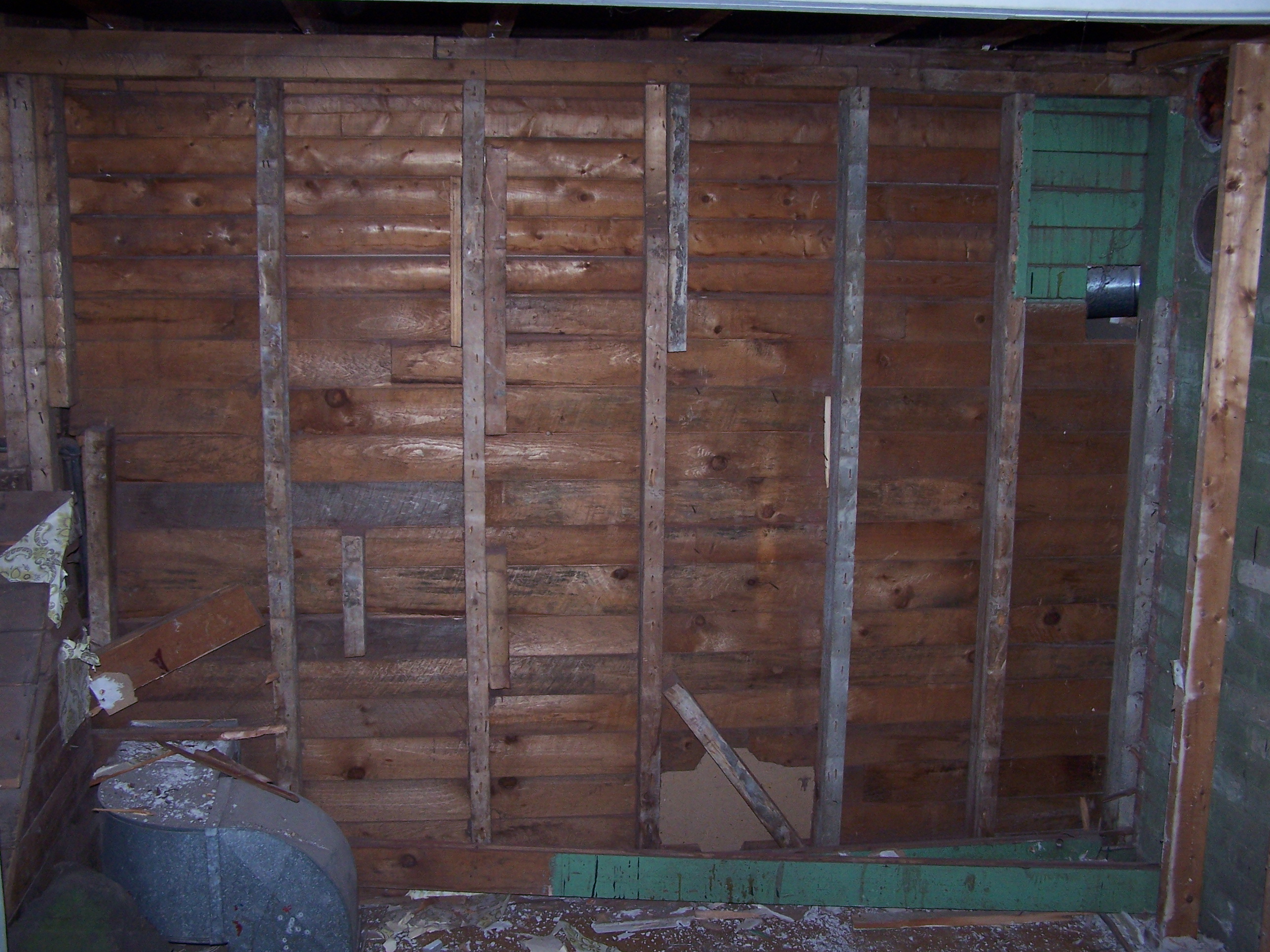 Above:stripping out the old lower office.

Upper Right: the old upper office, walls removed, leaving only the beloved washroom fixtures that the women loved to use.
Lower Right: using a jackhammer to remove concrete installations in the theatre side! That's dead centre of the front row of seats. Note the "insulated" walls.

Below: Volunteers scrubbing theatre seats in the beautiful basement. This was the men's shower when the place was a work-out gym!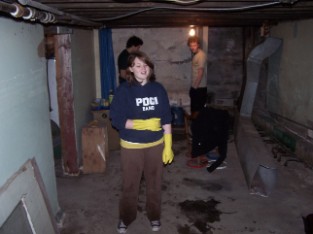 At the end of June 2010, we received our building permit to begin work on the conversion of the car wash. What a job! Stripped to the bare concrete walls and floors, we then proceeded to re-build from the walls in.