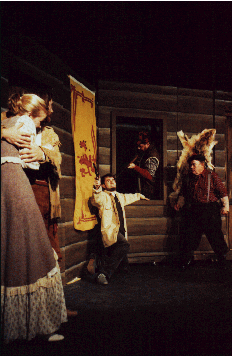 Left: some action from Act Two. Melodrama, yes, but just try to stay uninvolved.

The Wolf, a melodrama of the Hudson's Bay Country. October 13,14,15, 19,20,21 2000. THE WOLF was a terrific night's entertainment, mixing laughter and drama, passion and danger and a ton of colour and theatricality. It showed what good melodrama really was: engaging, engrossing, exciting and accessible. Cast: Jules Beaubein: Jude Farmer; McTavish: Allan Jones; Hilda: Teagan Healey; Batiste Le Grand: Richard Pitcher; MacDonald: Emrys Davis; Huntley: Casey Kenny

THE WOLF was re-mounted as the 1st of our MARKS BROTHERS MELODRAMA shows for our 2002-2003 season.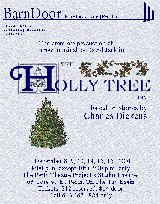 The Holly Tree, a new musical by David Jacklin, based on stories by Charles Dickens.
Unfortunately, The Holly Tree didn't happen in 2000. We were unable to come up with the 20 people we needed to make the show work, so it was postponed. Instead, we did in-house workshops with some of our company and mounted a workshop production of the show with the Smiths Falls Community Theatre for Christmas 2001 (see 2001/2002 Season). then with new full orchestrations and a full company, The Holly Tree was premiered in 2003.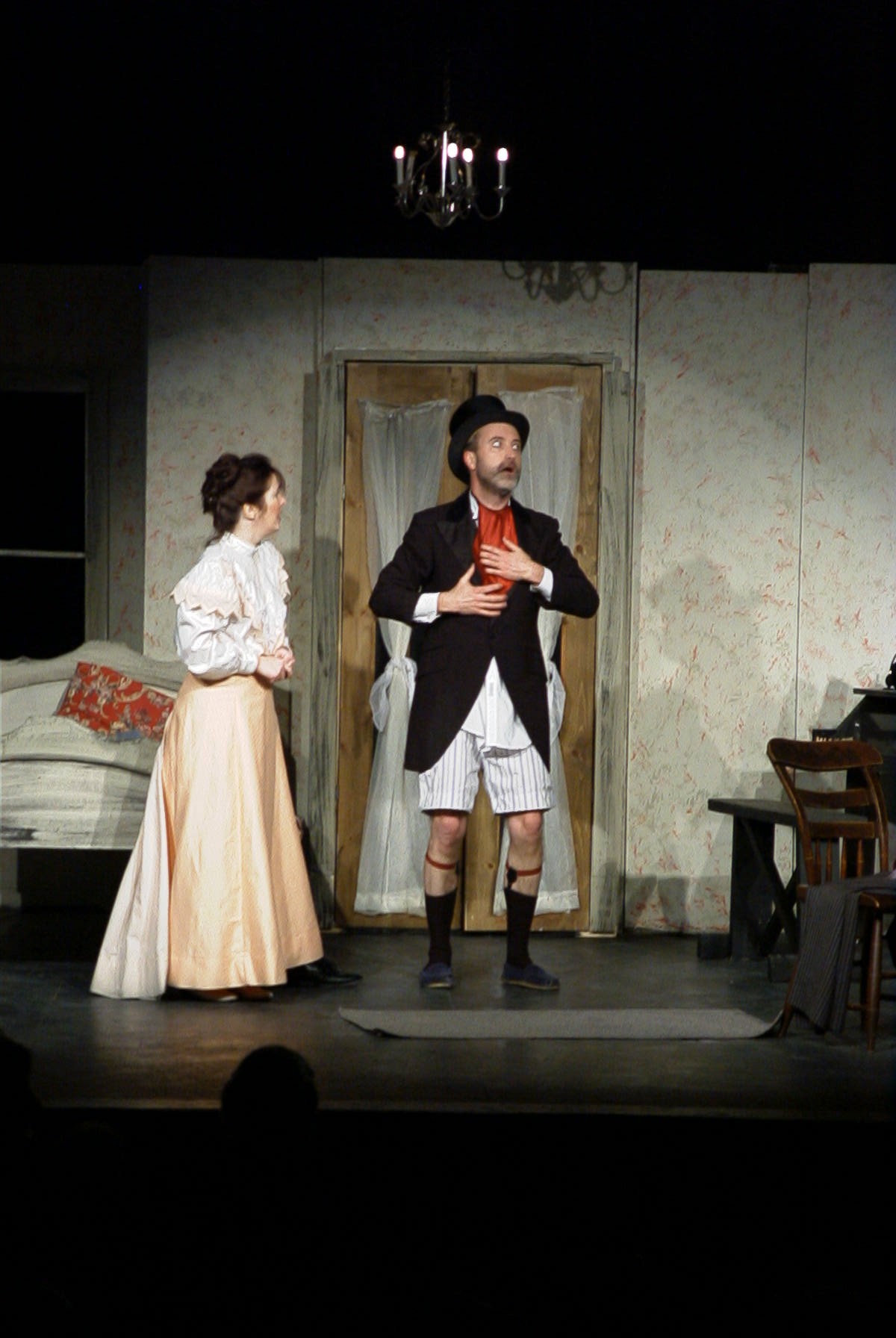 Janice Reid and Peter Graham


Mister Chase! A new translation of a farce by Georges Feydeau. February 23, 24, 25; March 1,2,3 2001 What a whirlwind of a show! Great performances from a great cast and a doozy of a script that kept those select few who saw the show in stitches for the whole night. This show is going places and you had the chance to see it here first! Did you? Cast: DUCHOTEL, Robert Del Grande; MORICET, his friend, Peter Graham; CASSAGNE, from the country, Sandy Rankin; GONTRAN, Duchotel's nephew, Matthew Sneyd; BRIDOIS, commissioner of police, Jeremy Dutton; 1st Police Officer, Jim Bond; LEONTINE, Duchotel's wife, Janice Reid; Mme LATOUR, the former Comtesse de Latour du Nord, now a concierge, Susan McDougall (nee Code); ETIENNE, the butler chez Duchotel, Bob Sneyd
Mister Chase! is an original adaptation that is available for production
Contact us about it.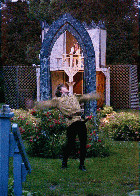 Above and below:
Greg Linforth as Romeo; Laura Hendrick as Juliet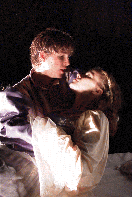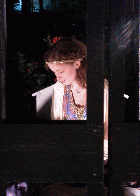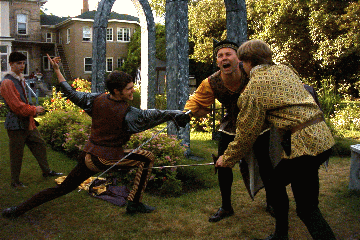 Above: Devon Nagle, Damon Shannan, Shaun Palmer, Greg Linforth.
Romeo & Juliet by William Shakespeare.
Simply glorious. Audiences were bowled over by the energy, the intensity, the passion -- by fencing and fights like they'd never expected; by a gritty, sweaty and very earthy production that was almost everything except gentle; and above all by "a pair of star-crossed lovers" who played out a story that was physical, uncontrolled, unpredictable and always believable. This was just good theatre from start to finish.

Here's the outdoor record: 6 years; 37 performances; 0 rain-outs. June 14,15,16; 21,22,23 2001

The Cast (In Order of Appearance)

SAMPSON, David Paul; GREGORY, Devon Nagle; ABRAHAM, Landon Hicks; BALTHASAR, Michael Lalonde; BENVOLIO, Reid Linforth; TYBALT, Damon Shannan; Watchman , Richard Pitcher; CAPULET, Peter Graham; LADY CAPULET, Janice Reid; MONTAGUE, Robert Del Grande; LADY MONTAGUE, Susan McDougall; ESCALUS, David Bird; ROMEO, Greg Linforth; NURSE, Catherine Clark; JULIET, Laura Hendrick; PARIS, Matthew Sneyd; Page, Nicholas Rainville; MERCUTIO, Shaun Palmer; 2nd Capulet, Richard Pitcher; FRIAR LAURENCE, Joe Laxton; PETER, Michael Alon; An Apothecary, Robert Del Grande; FRIAR JOHN, Richard Pitcher; Citizens, Guards, Watchmen, Attendants: Charlotte Argue; Landon Hicks; Devon Nagle; David Paul; Maurice Rainville

Romeo and Juliet was our last Garden Classic in association with Gisela and Phil Aston. Our deep appreciation goes to them for their willingness to support our work and to open their property to our use, year in and year out. In April of 2002, Perth Manor Heritage Inn was sold to Michael J. Dwyer and David K. Marshall, who continue the tradition of elegance that the Manor has built and also the growing tradition of excellent outdoor fare that our Garden Classics series provides.

Below: the set at dusk