Difficulties with bookings at the Studio Theatre and some health concerns prompted us to take a bit of a breather. Rather than mounting a full season, we worked with other groups in the area and kept rather busy.
From September 2001 to June 2002, David and Janice contributed to nine different projects by five different groups. Some holiday.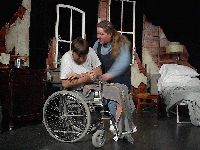 David Jacklin and Catherine Clark

Misery, by Simon Moore, based on the novel by Stephen King. The very first Company of the Studio Theatre Production. Directed by Janice Jacklin and featuring Catherine Clark and David Jacklin, Misery was an experiment in pushing the limits of audience acceptance for our "mainstream" ideas. Adjudged by many to be the best production ever mounted at The Studio Theatre, Misery benefited from the professional experience of the cast, the strong direction of Ms. Jacklin and the wonderful set and props by Joe Laxton. It was remarkable theatre..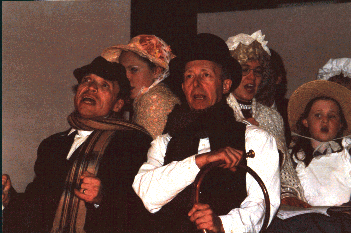 The cast sing All Souls Aboard The Birmingham High Flier in Act One

The Holly Tree, a new musical by David Jacklin, based on stories by Charles Dickens.
After a tough year trying to find a cast and a stage for this show, we brought it to audiences in a "concert" production with the Smiths Falls Community Theatre. We pushed, pulled, dragged and whirled the cast through an intensive re-working of the script and score and ended up with a highly entertaining and satisfying production. Thanks to all for hanging in with us through a tough few months.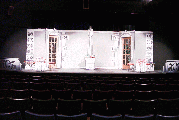 Above: Act One Set for Private Lives
Below: Act Two Set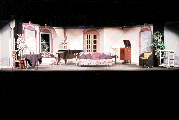 Private Lives, by Noel Coward. We were asked to provide help with staging the Company of the Studio Theatre's 3rd production, and ended up building the sets, and providing original music, along with dramaturgy and directorial advice and the programme. Here's a couple of shots of some sets we're very proud of. Act One above; Acts Two and Three below. Thanks to George Macmillan and Greg Robinson for graphic concepts and hard work.
We also provided original music and soundscape material for CotST's Charlie and the Chocolate Factory in January of 2002, which was a chance for David to have fun with some VERY strange synthesizers effects.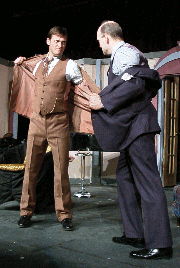 Jamie Schoular and David Bird in Private Lives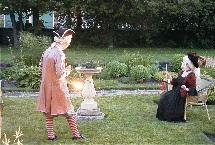 Above: David Bird as Snake, Catherine Clark as Lady Sneerwell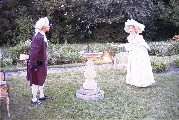 Joe Laxton as Sir Peter Teazle
Patty Greer Strong as Lady Teazle
The School for Scandal by Richard Brinsley Sheridan. July 11,12,13,18,19,20 2002. Due to the change in ownership of the Perth Manor, we have moved our Garden Classics to July -- and with good results! Scandal was our second biggest seller ever and received rave comments. Helped by a strong cast, marvellous costumes and perfect weather, the show was thought by many to be our best ever. To the timid souls who worry about rain on their heads, here's the outdoor record: 7 years; 43 performances; 0 rain-outs.
The Cast: LADY SNEERWELL, Cathy Clark; MR. SNAKE, David Bird; JOSEPH SURFACE, Steve Whittaker; MARIA, Laura Hendrick; MRS. CANDOUR, Barb Guthrie Gill; MR. CRABTREE, Ian Doig; SIR BENJAMIN BACKBITE, Greg Linforth; SIR PETER TEAZLE, Joe Laxton; MR. ROWLEY, Gord MacKay; LADY TEAZLE, Patti Greer Strong; SIR OLIVER SURFACE, Peter Graham; MOSES, David Bird; CHARLES SURFACE, Reid Linforth; SERVANTS (all of them) Michael Alon
Costumes Designed by Charles Glover of The Costume Rental Shop, Bear Creek, Nova Scotia; Costume coordination, Margaret Graham and Jeanne Jenner; Properties: Joe Laxton, Janice Jacklin, Sydney Jacklin