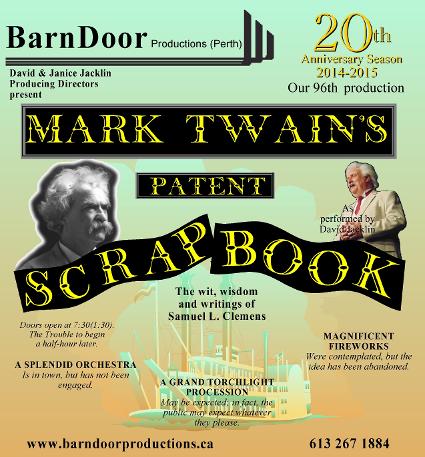 BarnDoor Productions' Producing Director
David Jacklin
digs deep into the vaults of his own past to revive a show that he first performed when he was 21 years old – 37 years ago now – although David's first performance as Mark Twain was at 12 years old!
Mark Twain's Patent Scrapbook

started out as a student exercise in 1977 and has been revived in several incarnations since then.
Given a major rewrite in 2010, to commemorate the 100th anniversary of Twain's death, the show has been brushed off again to open the 20th Anniversary Season of Perth's BarnDoor Productions.
Samuel Langhorne Clemens was born in Hannibal, Missouri in 1835, the year of Haley's Comet. He drifted from place to place and job to job through his early adult years, until, in 1865, he came to prominence with a short story, The Celebrated Jumping Frog of Calaveras County, published under the pen name Mark Twain. As he put it, he "never did an honest day's work" thereafter.

Twain often joked that the book that made him the most money was his patented "self-sticking" scrap book, which sold over 100,000 copies. David Jacklin has taken the name for his one-man show, which is a collection of stories, writings and reminiscences from Twain's personal "scrapbook".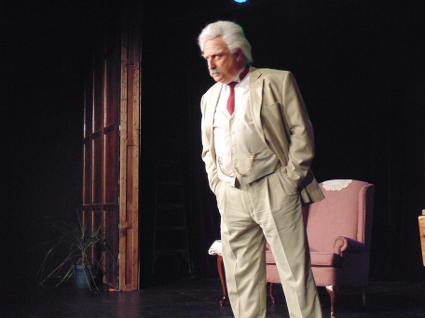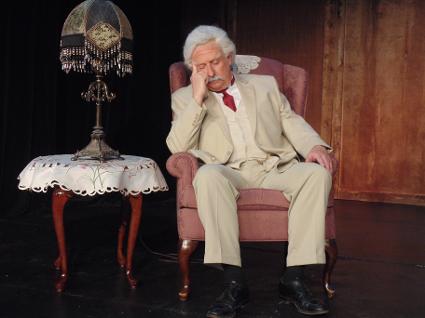 Twain usually inserted the following into programmes for his lectures, which he continued up until just a few weeks before his death in 1910.

Mr. Twain's comments today will be taken from the following, although he refuses to be pinned down as to which:
Notebooks and Journals
Old Times on the Mississippi
Concerning Tobacco
An Encounter with an Interviewer
Roughing It
The Jumping Frog
The Sandwich Islands Lecture
Huckleberry Finn
My First Lie
A Ghost Story
How I Treated A Cold
History Repeats Itself
The Damned Human Race
The Papers of the Adams Family
Last Words of Great Men


MARK TWAIN'S PATENT SCRAPBOOK
is a full evening of heart-warming entertainment.
It is funny, insightful and moving.
Audience comments include:
"A tour-de-force!", "A gem!", "I can't tell you how much I enjoyed it."
to simply
"Thank you!"


Performed in two acts, the show runs 55 minutes for the first act and 45 for the second. With an intermission, it is still under 2 hours.
Utilizing only a chair, a couple of tables and a lamp, it is simple to set up and can be performed just about anywhere.
CONTACT:
www.barndoorproductions.ca
613 267 1884
CLICK HERE TO EMAIL US!