OUR 19th SEASON
2013-2014
THE 39 STEPS
adapted by Patrick Barlow
from the novel by John Buchan
from the movie of Alfred Hitchcock
October 18 to 27, 2013


Directed and designed by David Jacklin
Front of House: Janice Jacklin, Nancy, Moxon, Jeanne Jenner, Fred Barret, Paddy O'Connor, Gary King,
Elaine Laxton, Joe Laxton
and the Friends of the Full Circle Theatre
Lighting operator, Nolan Popplewell
Costumes and props, Donna Bourgeault
with special thanks to Marilyn Valiquette and the Kanata Theatre
Stage Manager, Marie White

The Company

Richard Hannay . . . . . . . . . . Garry Welsh
Margaret/Pamela . . . . . . . . . . Juli Heney
Annabella/Mrs. McGarrigle/Clown . . . . . . Donna Bourgeault
Professor Jordan/Compere/Clown . . . . . . . Ian Jenner
Mr. Memory/John McTite/Clown . . . . . . . .Mark Daley

The Voice of the BBC . . . . . . David Bird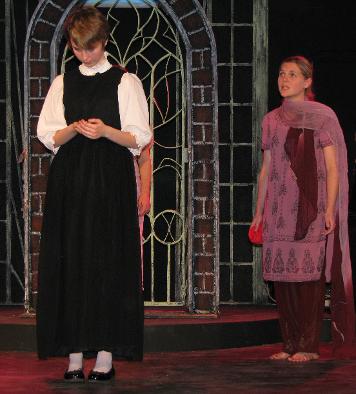 December 6 to 15, 2013

Refereed by Janice Jacklin
Front of House: Janice Jacklin, Nancy Moxon, Jeanne Jenner, Marilyn Bird and the Friends of the Full Circle Theatre
Set, David and Janice Jacklin
Lighting operator, Ted Bryant
Video and sound operator, Damien Rice-Lapise
Costumes and props, Donna Bourgeault and Joe Laxton
Stage Manager, Elaine Laxton

Featuring
David Bird
David Jacklin
Joe Laxton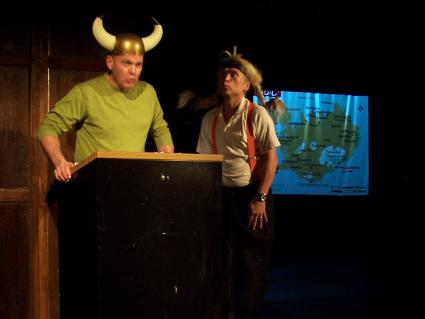 You've Got Hate Mail
by Billy Van Zandt and Jane Milmore
Some of the biggest laughs we've ever heard. A real crowd pleaser, with a lightning fast pace and great performances from a strong cast.
"If you want to know what's happening Off-Broadway, you don't have to go to NYC." was one patron's comment. "Pace like a Chinese ping-pong game."
C.C. Almonte
Directed by David Jacklin
Front of House: Janice Jacklin, Nancy Moxon, Jeanne Jenner
and the Friends of the Full Circle Theatre
Set, Sound and Lighting, David and Janice Jacklin

Featuring
Mark Daley as Richard
Julia Bryant as Wanda
Tracy Noonan as Stephanie
Gina Tremaine as Peg
Ian Jenner as George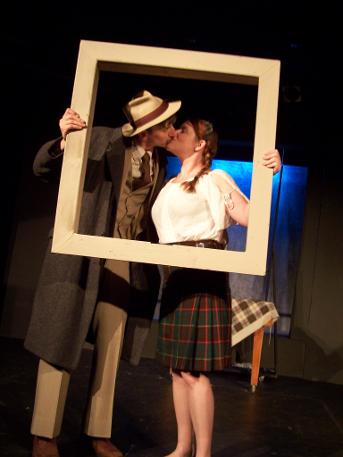 The Perth Community Choir's
The Secret Garden
Not our own production, but one we had a hand in shaping and one which showed off the Full Circle Theatre to full advantage. A stunningly beautiful and musical show. Directed by our own Kristy Angel.
November 7 to 17, 2013
Every Christmas Story Ever

Told (And Then Some!)
by Michael Carleton, James Fitzgerald and John K. Alvarez

David Bird, Joe Laxton and David Jacklin turned loose on a stage to run amok!
Referee Janice Jacklin wore out three whistles during the (seven) rehearsals.
More fun than three guys should be allowed to have on stage.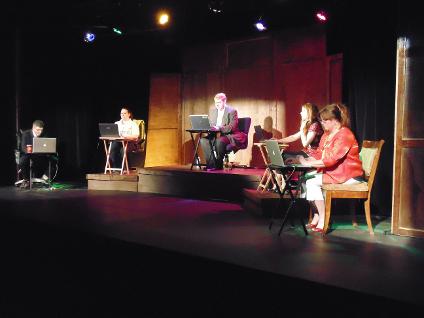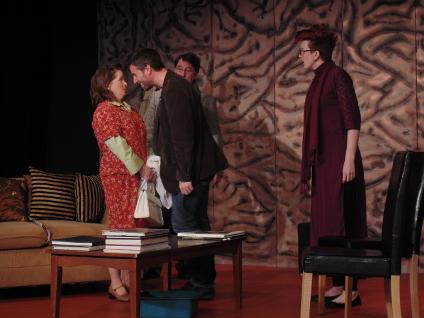 God of Carnage

By Yasmina Reza
Translated by Christopher Hampton

April 25 to May 4

Directed by Janice Jacklin
Set, Sound and Lighting, David Jacklin
Stage Manager, Nicole Brazeau
Technical operator, Joe Laxton
Front of House: Janice Jacklin, Donna Bourgeault,
Jeanne Jenner and the Friends of the Full Circle Theatre

Featuring
Chris Angel as Michael
Kristy Angel as Veronica
Karen Bernique as Annette
Don Mackay as Alan


GASLIGHT

By Patrick Hamilton
in a new edition prepared for BDP

June 13 to 22, 2014

Directed and designed by David Jacklin
Costume preparation (and set assistance), Janice Jacklin
Stage Manager, Elaine Laxton
Technical operator, Joe Laxton
Front of House: Janice Jacklin, Jeanne Jenner, Nancy Moxon
and the Friends of the Full Circle Theatre

Our thanks to our friends at Kanata Theatre, especially Marilyn Valiquette, for loan of a number of costume pieces

Featuring (in order of speaking)
James Benda as Jack Manningham
Tegan Mackey as Bella Manningham
Emily Richardson as Nancy
Kathie Reid as Elizabeth
David Bird as Inspector Rough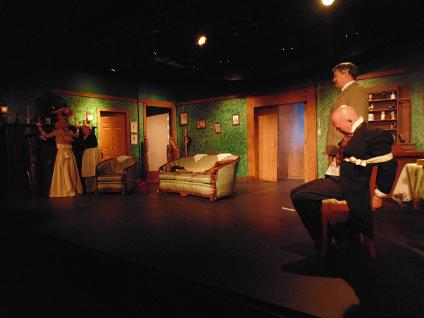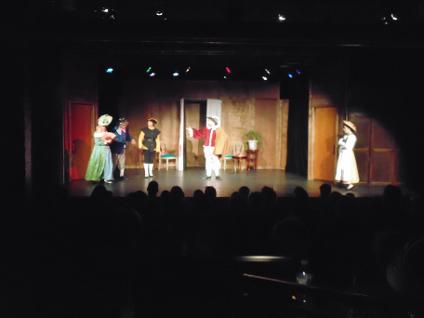 THE COUNTRY WIFE

By William Wycherly
in a new edition prepared for BDP
July 25 to August 10, 2014

Directed and designed by David Jacklin
Costumes designed by Sarah Cochrane
Additional costumes by Kanata Theatre and Marilyn Valiquette,
Costume preparation, Janice Jacklin, Jeanne Jenner, Kristy Angel
Stage Manager, Elaine Laxton
Technical operator, Janice Jacklin
Front of House: Janice Jacklin, Jeanne Jenner, Nancy Moxon
and the Friends of the Full Circle Theatre
Horner, Chris Angel
Sir Jaspar, David Jacklin
Harcourt, Benjamin Korol
Dorilant, Brandon Halladay
Sparkish, Ian Jenner
Pinchwife, Joe Laxton
Lady Fidget, Satinka Schilling
Mrs. Dainty, Julia Bryant
Mrs. Pinchwife, Toni Whelpdale
Alithea, Kristy Angel
Lucy, Julia Bryant
Lady Squeamish, Janet Rice