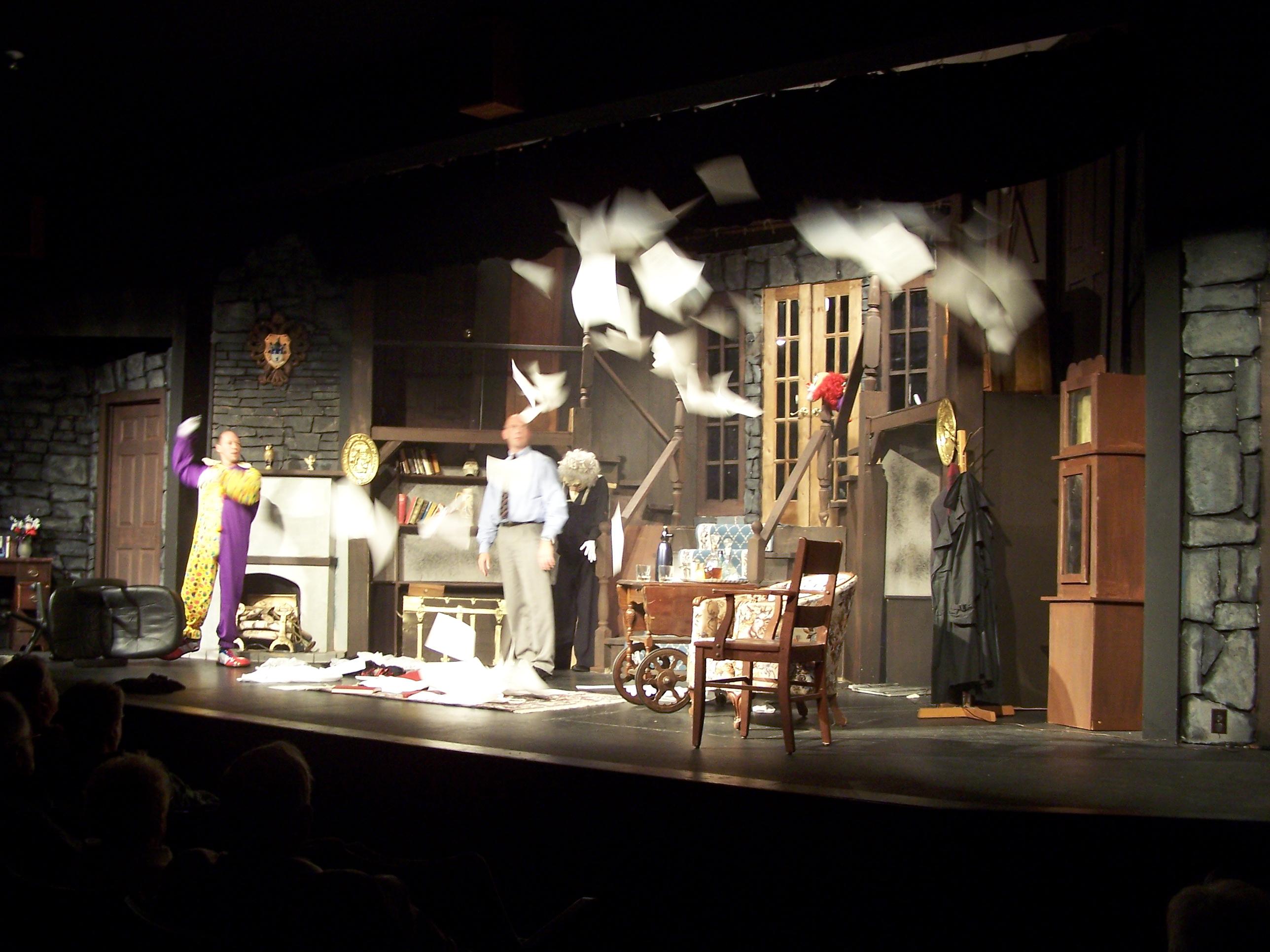 Above: Jamie Benda and David Bird
Below: John Gribsby and David Bird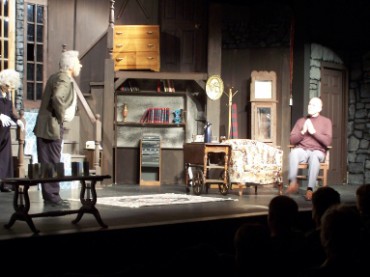 SLEUTH
By Anthony Shaffer
October, 2005
Shaffer's mind-bending thriller keeps everyone guessing to the last second and our deceptively small cast kept the suspense to the end. Powerful performances and great houses.
The Company of the Studio Theatre
Directed by Janice Jacklin
Set Design by David Jacklin
Stage Manager, Shelley Smith
Set Crew, John Gittens, Ruth Gittens, Sean Jacklin, Sydney Jacklin, Elaine Laxton, Joe Laxton
Box Office, Janice Jacklin, Dennis Hoffman, Ruth Gittens



Cast, in order of appearance

Andrew Wyke, David Bird
Milo Tindle, James Benda
Inspector Doppler, John Gribsby
Detective Sergeant Tarrant, Charles Seward
Constable Higgs, Carl Newhouse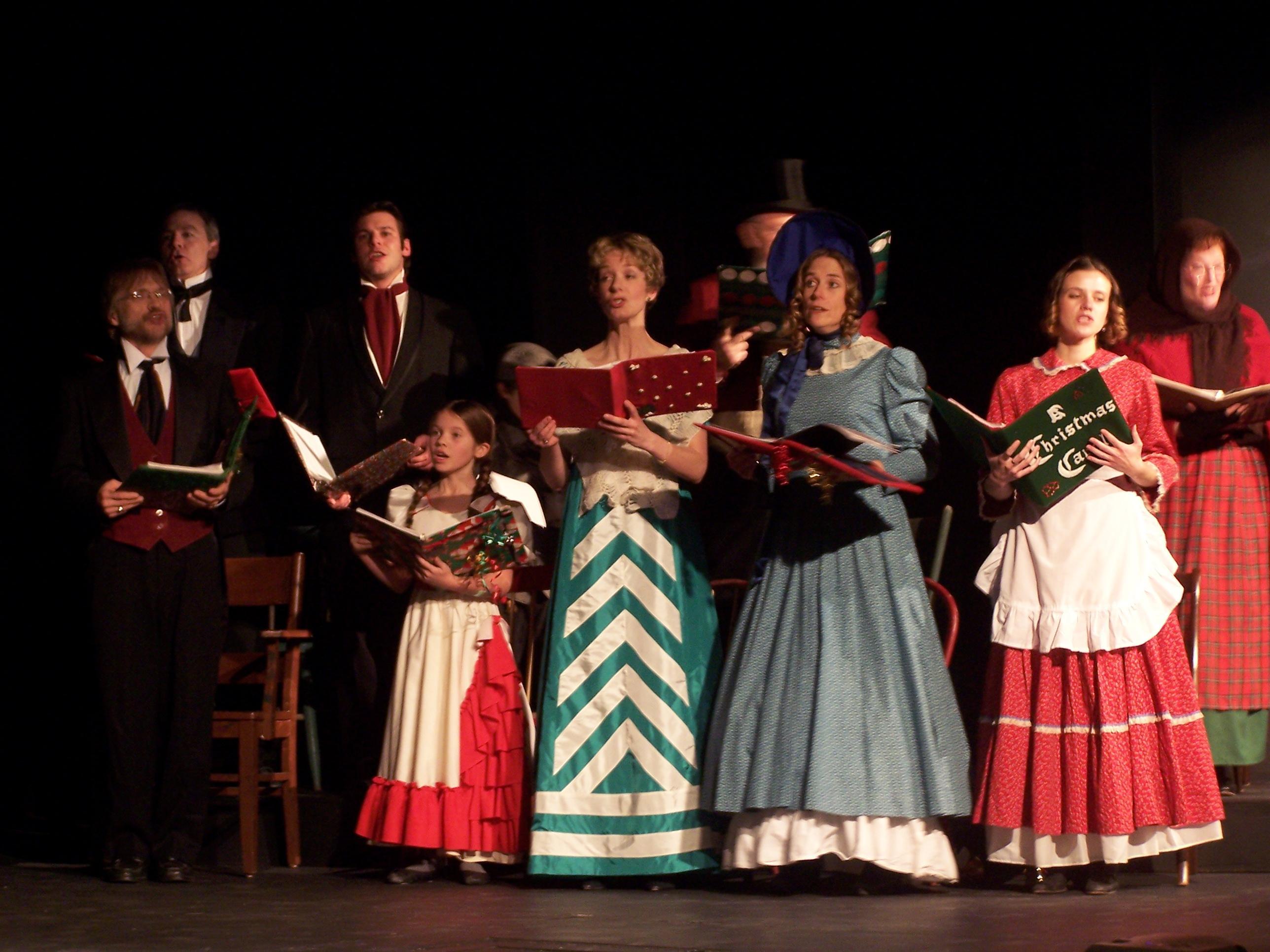 Carollers carolling in A Christmas Carol
Below: David Bird as Marley's Ghost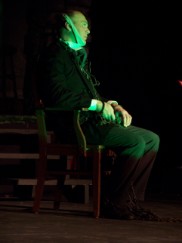 Charles Dickens' A Christmas Carol
A new adaptation by David Jacklin
Dec. 9,10,11, 15,16,17 2005

The Company of the Studio Theatre
Our 3rd rendition of our very popular adaptation of The Carol proved as popular as ever. We added some new twists, such as a back-projected video show that brought audio, music and video together into one element. Very effective, indeed.


Featuring:

David Bird
Gary King
Elaine Laxton
Sydney Jacklin
Scott Duncan
Bridget Theobald
Janice Jacklin
Janet Coward
Ross Kerr
Sarah Long
Mark Graydon
Joe Laxton
Kaleb Bingley
Rowan del Grande
Todd Stace
Joanne Oatway
Clark Theobald
Pam Graydon
Kathie Reid
Meagan Ricketts
Narrator Robert del Grande
and special appearance by Peter Woodwark
Music by David and Sean Jacklin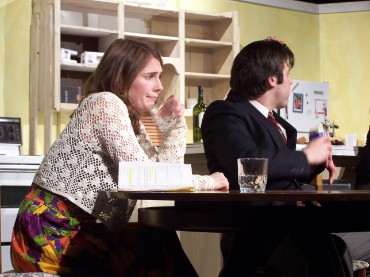 Above: Raynee Doner Hodge, Todd Stace
Below: Todd Stac, Mary Jane Lee, Raynee Doner Hodge, David Jacklin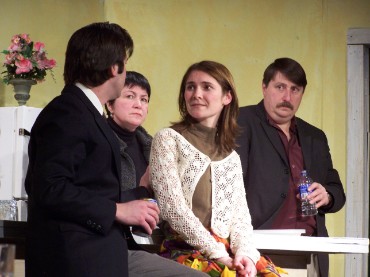 Maggie's Getting Married
A comedy by
Norm Foster

February 2006
Maggie was our 50th production and, coincidentally, turned into one of our biggest sellers ever. A show that combined a very strong cast with an engaging, very funny script and which arrived at just the right time to catch the audience's enthusiasm, we were SRO for much of the run and received huge, prolonged Standing O's.
The Company of the Studio Theatre

Direction by David and Janice Jacklin
Stage Manager, Jean Cooke
Technical Operators, John Gittens, Sean Jacklin
Box Office, Janice Jacklin, Dennis Hoffman

Cast, in order of appearance

Wanda Duncan, Karen Bernique
Maggie Duncan, Raynee Doner Hodge
Cass Duncan, Mary Jane Lee
Tom Duncan, David Jacklin
Axel Wilkie, James Benda
Russell McMillan, Todd Stace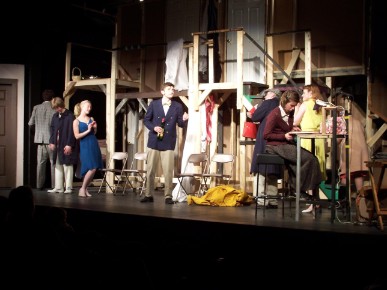 Above: The company caught in character in Act Two. This photo was NOT staged, but actually snapped during a performance!
Below: Chris Jackson, Tegan Healey. The lovely Tegan's costume may have had something to do with SRO houses! Sorry, Teg, just had to put this one up!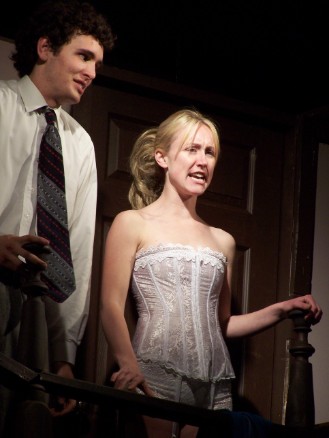 Noises Off!
A comedy by Michael Frayn
The Company of the Studio Theatre
Another box office record setter, along with being a show that pushed the technical limits of the Studio Theatre, literally, to the last inch. The mammoth set that revolves twice was within 1/2 inch of the ceiling when moving! Huge audiences, huge laughs, huge applause.

Direction and design, David Jacklin
Stage Manager and sardines, Jean Cooke
Technical Operator, John Gittens
Set Construction and Engineering, John Gittens, Frank Roy
Stage Crew, Karen Bernique, Jean Cooke, John Gittens, Frank Roy, Todd Stace, the cast
Costume construction, Janice Jacklin, Sydney Jacklin
Box Office, Janice Jacklin, Dennis Hoffman
The Cast

Mrs Clackett/DOTTY OTLEY: Cathy Clark
Roger Tramplemain/ GARRY LEJEUNE: Chris Jackson
Vicki/ BROOKE ASHTON: Tegan Healey
Philip Brent/The Sheik/FREDERICK FELLOWES: Garry Welsh
Flavia Brent/BELINDA BLAIR: Juli Heney
Burglar/ SELSDON MOWBRAY: Gary King
Lloyd Dallas: David Bird
Tim Allgood: Kenny Dodd
Poppy Norton-Taylor: Maegan Ricketts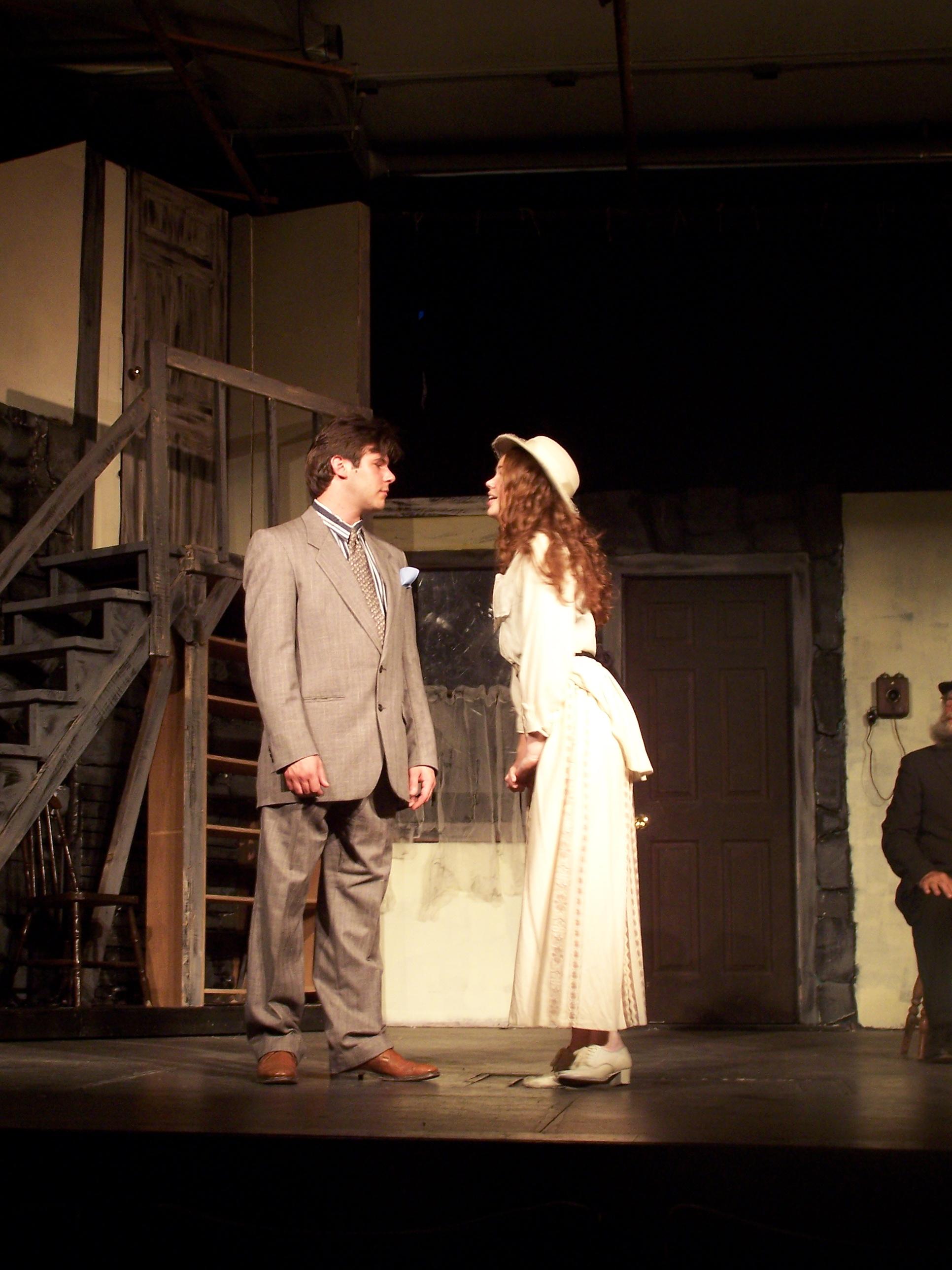 Above: Todd Stace, Sabrina Doyle -- Are You Sincere?
Below: Sabrina Doyle, Gary King - After the song Hold Me.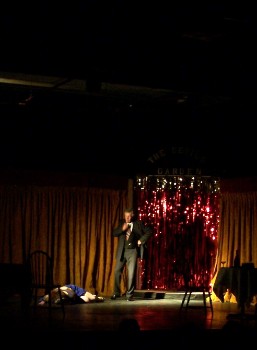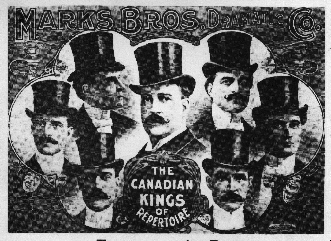 THE LURE OF THE LIGHTS
OR
WHY WOMEN SIN

A musical melodrama based on a 1903 play by
Will C. Murphy
July 2006

The conventional wisdom is that melodrama cannot be made into a musical. We defied that with this show and created a truly entertaining and absorbing show that was filled with music, comedy, drama and excitement. Perhaps more shocking today than in 1903, it was one of our best-sellers, in a season of best-sellers.

Directed and designed by David Jacklin
Front of House, Janice Jacklin, Sydney Jacklin
Technical Operators, John Gittens
Set Crew, Elaine Laxton, Joe Laxton
Costume Coordination, Marilyn Bird
Set Construction, David Jacklin, John Gittens, Sean Jacklin

The Players (In order of appearance)

FRISCO JENNIE, a woman fallen on bad times
Brianna Browman
ALDERMAN RILEY, a prominent citizen
Gary King
SLIM MORGAN, a small-time crook
Todd Stace
POP SMITH, his older henchman
Phil Romain
DOPEY JIM, a newly released convict
Ron Cosens
ROSE WALKER, an innocent
Sabrina Doyle
POLICE OFFICER
Joe Laxton

Pianist, Val Leavitt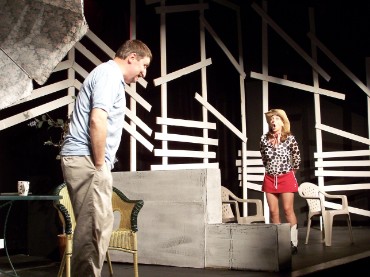 David Jacklin, Laurie Reesor

Here On The Flight Path

by Norm Foster

July-August 2006

We brought our 2003 production of Flight Path back for a summer run that was a perfect way to cap off an exceptional season. A couple of weeks after we closed, we had the opportunity to see the author's wife (for whom the female role was written) perform it in a "pro" show -- at the risk of being accused of hubris, it didn't hold a candle to ours.

Directed by Janice Jacklin
The Cast
Laurie Reesor
David Jacklin