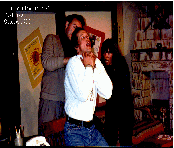 Raymond Compton, Rick Wood, Rita Taylor
Deathtrap, by Ira Levin. The longest running thriller in Broadway history, Deathtrap is a whirlwind twister of a show with enough genuinely frightening content to qualify as an Ontario Tory campaign platform. The show came together beautifully, unfortunately, the audience stayed home. Why? We just don't know. You missed a great show. Directed by Janice Jacklin. Cast: Sidney Brule, Raymond Compton; Myra Brule, Rita Taylor; Clifford Anderson, Rick Wood; Helga Ten Dorp, Kathie Reid; Porter Milgrim, Ian Doig. Set Design, David Jacklin. Props, Kirby Smith. FOH, Jacquie Schaus, Margaret Graham. October 1997.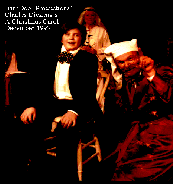 Nicholas Rainville, Kathie Reid, David Bird
Charles Dickens's A Christmas Carol, adapted by David Jacklin. After the tremendous success of its premiere in 1997, we remounted the show, with a polished book and some new music. Once again, the show proved itself to be a moving and memorable crowd pleaser. Cast: Michael Cooper , Randy Ferrier, Jamie Cooper, David Bird, Peter Graham, Amanda Burke, Janice Jacklin, Barb Guthrie, Joel LeBlanc, Joanne Oatway, Scott Duncan, Robert Del Grande, Carolyn Sutherland, Suzanne Baron, Sarah Gibson-Bray, Ian Duffy, Anne Hammond-Cape, Nicholas Rainville, Carl Bray, Phyllis Van Pelt , Bonnie Walther, Jennie Aunger, Gerry Cann, Ian Doig, Kathie Reid, Mitchell Sturmey. Costumes coordinated by Jeanne Jenner. Technician, Dan Murdock. Front of House, Jacquie Schaus. December 1998.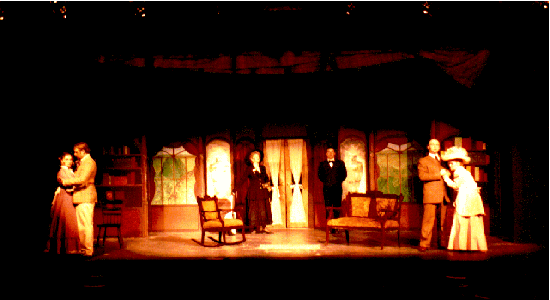 Amylee Patterson, Chris Cotrell, Susan Code, Scott Duncan, David Bird, Barbara Robertson
The Importance of Being Earnest by Oscar Wilde. It is amazing to us how much depth there is in the really great scripts of the past (not to put down the present). Earnest is just one big gem from first word to last. We dug up and reinstated Act Two's lost "Mr. Gribsby" episode which gave even veteran Wildian's a whole hatful of fresh laughs. We also got hit with 3 feet of snow during the second week of the run, cancelling one performance and cutting into audiences for the others. Too bad, because we were on our way to a record box office. Cast: Lane, Peter Graham; Algernon Moncrieff, Chris Cotrell; John Worthing, David Bird; Lady Bracknell, Susan Code; Gwendolyn Fairfax, Barbara Robertson; Miss Prism, Brenda Healey; Cecily Cardew, Amylee Patterson; Doctor Chasuble, Ian Doig; Merriman, Scott Duncan; Mr. Gribsby, James Benda. February/March 1999.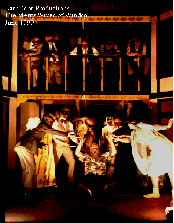 The Merry Wives of Windsor by William Shakespeare. Oh, oh, oh! Not your standard classic: why there are (ahem!) off-colour jokes in that play! Back on the Rose Stage, with a big cast, a lot of laundry, the biggest buck-basket ever woven and a 50's setting, our Merry Wives ended up as our second biggest selller to date -- despite those who might tsk-tsk-tsk over a couple of ribald lines. Hey, it's fun, people! Cast: Shallow, Ian Doig; Evans, Robert Delgrande; Slender, Ken Eccles; Page, Peter Graham; Bardolph, Richard Bowen; Pistol, Graham Shaw; Nym, Jack Hurd; Falstaff, Richard Pitcher; Anne Page, Taes Leavitt; Mrs. Ford, Juli Heney; Mrs. Page, Louise Adolph; Simple, Eric Craig/ Scott Ferguson; Host of the Garter Inn, David Bird; Robin, Nicholas Rainville; Mistress Quickly, Sarah Hood; John Rugby, George Spelvin; Dr. Caius, Jon Van Wingerden; Fenton, Jonathan Adjemian; John, George Spelvin; Robert, Maurice Rainville. The Musicians: Joe and Barb Martin; Bridget and Patrick Fitzgerald; Beth McLeod. Props: Kirby Smith. FOH: Jacquie Schaus, Susan Keyes, Margaret Graham. June 1999