TRIFLES, TEA & TAPE


Three plays about small things.


It's an unusal step for BDP to delve into one-act plays,
but, as usual with BDP,
these are one-acts with a difference:

- A classic murder-mystery in one act
- A tiny little musical by G&S's favourite tenor
- An incisive tale for one actor and a tape deck

Please note the dates: due to the Stewart Park Festival, there will be a 1-week hiatus between the two runs.


AUDITIONS for
Trifles and Cups & Saucers
will be held:

TBA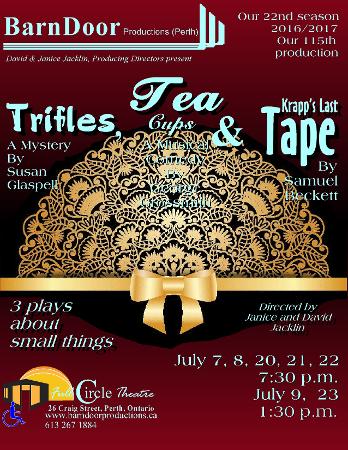 TRIFLES
a play by Susan Glaspell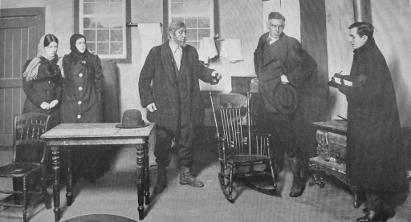 Above, the original production of Trifles, at the Provincetown Playhouse in 1916.
Living at the Provincetown, Rhode Island writers' colony in the summer of 1916, Glaspell's husband came home one evening to inform her that he had volunteered her to write a one-act mystery for the Provincetown Playhouse to perform. A week later, she had TRIFLES, a small play about small things.
Yes, we all studied it (or ignored it) in high school; yes, we've all seen countless lousy productions of it.
BUT!!!!
It is intense, terse, surprising and so well written.
Done right, it is gripping theatre.
SO: join us and do it right!
CAST:
HENDERSON, A County Attorney (30-ish)
PETERS, A Sheriff (40+)
HALE, A Farmer (40+)
MRS. PETERS, Sheriff Peters' wife (40+)
MRS. HALE, Hale's wife (40+)
Running time, about 30 minutes.
HERE IS THE SCRIPT IN PDF FORMAT
Below, a modern production of Trifles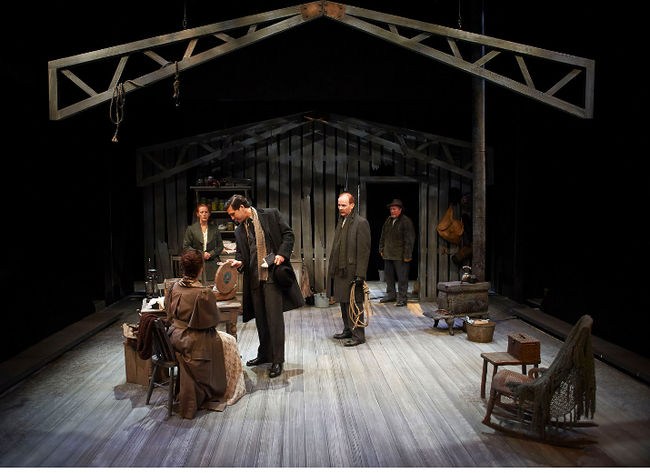 CUPS & SAUCERS

A comic vignette by George Grossmith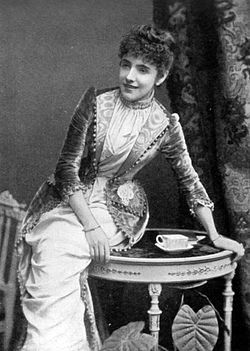 Above, Jennie Bond as a very young Mrs. Nankeen-Worcester in Cups & Saucers

George Grossmith is the actor who originated most of the comic leads in Gilbert & Sullivan's operettas: Ko-Ko in The Mikado; Sir Joseph Porter in H.M.S. Pinafore; The Major-General in Pirates; and more.
Grossmith was known as a gifted performer and writer of both novels and theatrical pieces -- including 18 comic operas of his own.
Cups & Saucers is a tiny confection that debuted as a curtain-warmer for H.M.S. Pinafore in 1878.
Characters:
Mrs. Nankeen-Worcester, 60+, an eccentric collector of old china.
General Deelah, 60+, an eccentric collector of old china.
Running time, about 15 minutes.
HERE IS THE SCRIPT IN PDF FORMAT
HERE IS THE SCO
RE IN PDF FORMAT
Below are MP3s of the music.
I'm doing something new with these: the vocal parts are sung by ROBOTS!
It's a new piece of developmental software that's not quite advanced enough to replace humans, but if you follow along in the score or script, it should give you a better feel for the harmonies and vocals than just having an instrumental sound in place of vocals.
KRAPP'S LAST TAPE
a play by Samuel Beckett

This one-act is by the author of Waiting For Godot and Endgame.

It is the story of the life of a man who has recorded his thoughts each year
and is now playing them back in his old age.
It is for one man and a tape-deck.

Running time, about 40 minutes

The role of Krapp will be played by Joe Laxton