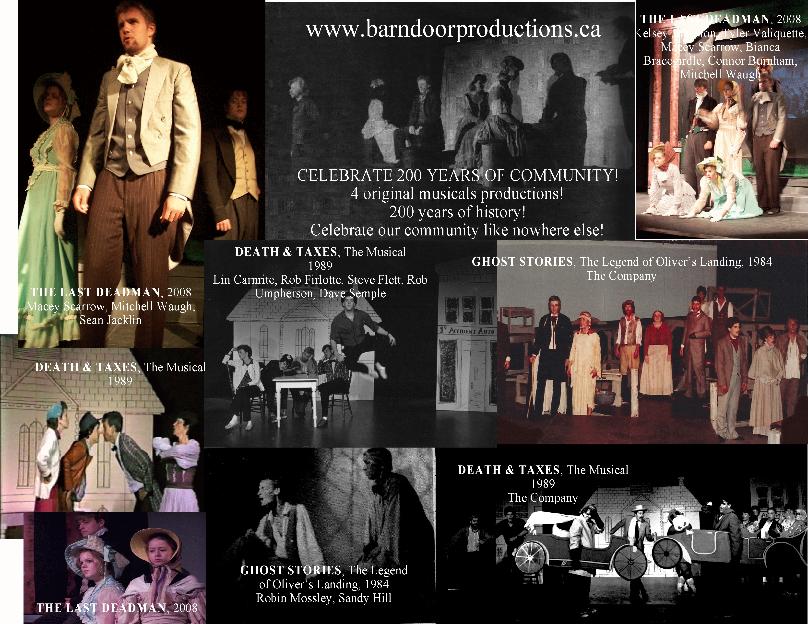 BELOW ARE OUR PLANNED SPRING, SUMMER AND FALL PRODUCTIONS
TO CELEBRATE THE 200th ANNIVERSARY OF OUR COMMUNITY




The Last Deadman

David Jacklin's legendary drama with music
about Canada's last fatal duel

PERFORMANCE DATES:
June 10, 11, 12, 16, 17, 18, 19

First performed in 1983 (the 150th anniversary of the duel), this intense drama looks at the effect of the duel on its victor -- a man who very nearly became Canada's first prime minister!

More than simply a story of a lady's slighted honour, the duel had far-reaching consequences for the shaping of our nation.

Told with drama, music, humour and excitement, it is a challenging and surprising multi-media theatrical event.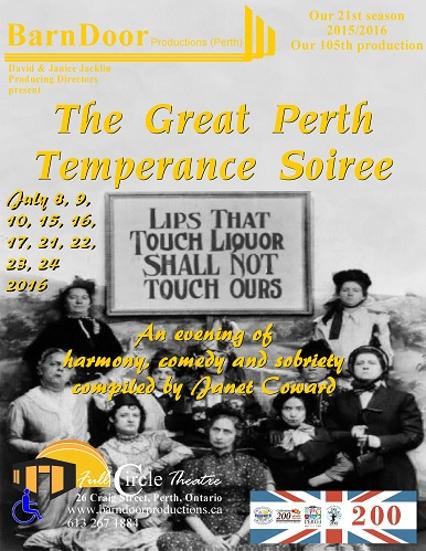 GHOST STORIES
The Legend of Oliver's Landing
A musical chiller by David Jacklin
PERFORMANCE DATES:
August 5, 6, 7, 11, 12, 13, 14, 18, 19, 20, 21
In 1833, John Oliver and his wife were making a comfortable living ferrying travellers across Big Rideau Lake at a place people called, naturally enough, Oliver's Landing. They were both murdered in a dispute involving a Native woman and their dead son. When the cabin was torn down, years later, a "large number" of skeletons were found in the basement. David Jacklin has turned this local legend into a chilling, soaring piece of musical theatre, dramatic, funny and filled with exciting music. A major hit in 1984 and 1992, it has been revamped for 2016 with some new music and an exciting new libretto.

"A winner! It's grim, clever, funny . . . thrilling, indeed!" CBC Radio One.
"Lovers of good theatre can all rejoice! (Ghost Stories) is believable, bewitching and, best of all, blatantly unpredictable!"
Brockville Recorder & Times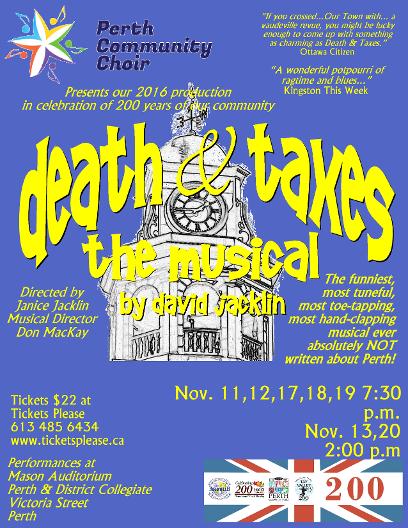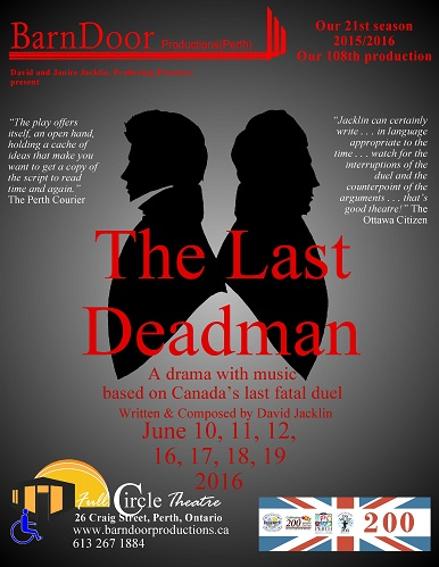 The Great Perth
Temperance Soiree


An evening of harmony, comedy and sobriety
by Janet Coward


PERFORMANCE DATES: July 8, 9, 10 ONLY


This fun-filled show traces the rise and fall of the temperance movement in Perth in the 19th century.

Dull, right? No way!

Taken directly from the pages of the
Perth (Bathurst) Courier,
it's filled with laughs, surprises and a lot of music.

Join the "cold-water army" and battle for sobriety.
This is not only a look at one aspect of Perth's history, but an overview of the society that built our community.

AND, IT'S FUN!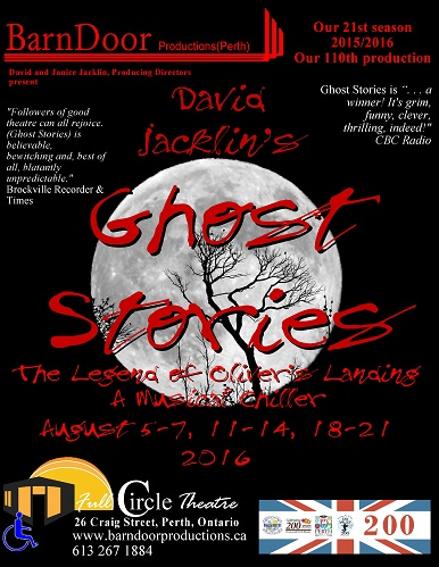 DEATH & TAXES
The Musical
by David Jacklin
PERFORMANCES:
NOVEMBER 2016
Final dates TBA

We have reached an agreement with the
Perth Community Choir
for this show to become their
fall 2016 production!

The funniest,
most tuneful,
most toe-tapping,
most hand-clapping
absolutely-NOT-about-Perth
musical ever!
The town of Pompeii, Ontario is slowly being buried by the onrush of civilization. Can they find a way to turn their town around? Can they find their pride and their reason for being once more?
Re-written for 2016, it now features full orchestrations in a big band style, along with new scenes and new musical numbers!

"A delightful potpourri of ragtime and blues ..."
Kingston This Week
"If you took Our Town and crossed it with Sunshine Sketches of a Little Town, throwing in a heaping helping of a vaudeville revue, you might be lucky enough to come up with something as charming as Death & Taxes."
Ottawa Citizen