OUR 22ND SEASON, 2016-2017, offers a playbill of astonishing variety.
- a 2400 year-old comedy
- a 4 year-old show that knocked Broadway for a loop
- a musical adaptation of a classic
- a BRAND-NEW adaptation of a hundred year-old thriller that still thrills, chills and amuses
- an exciting new play from a rising, new playwright
- an exciting, sexy bit of fluff to make you giggle
- and one of the most important plays of the last century.

You could scroll down this page to find out more,
or you could just click the button below and order tickets.

In case you haven't noticed -- we do good stuff!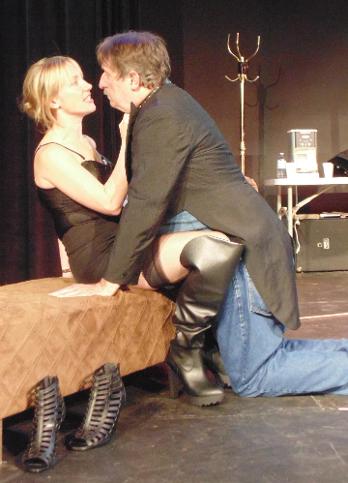 VENUS IN FUR
by David Ives
(October 14 to 23; production closed)
"That was amazing!"
"That was AMAZING!"
"An AMAZING show!"
"That was amazing . . . that was AMAZING!"
"That was f*****g AMAZING!"
And, two weeks after the show,
"Venice In Fur was amazing!"

Get it? It was an amazing production.
Were you amazed as well, or did you miss it?
CAST:
THOMAS, David Jacklin
VANDA, Tegan Mackey
Direction and technical operation, Janice Jacklin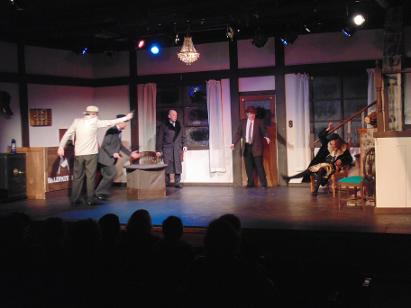 7 KEYS TO BALDPATE

(February 17 to 26; production closed)

We had tremendous fun with our new adaptation of George M. Cohan's mystery-farce. Lots of thrills and chills and spills -- and a show that kept the audience guessing all along.

"You fooled us!"

"I never saw the ending coming. And, then I never saw the other ending coming!"

A big cast, but we brought in some new faces and some veterans to make it a strong and entertaining production.

CAST:

Hal Bentley, David Bird
William Hallowell Magee, Brian Atterbury
John Bland, Ian Jenner
Peters, John Stephen
Lou Max,Brent McGuire
Jim Cargan, Greg Morris
Jiggs Kennedy, Joe Laxton

Mary Norton, Karen Bernique
Mrs. Rhodes, Nancy Browman
Myra Thornhill, Theresa Stork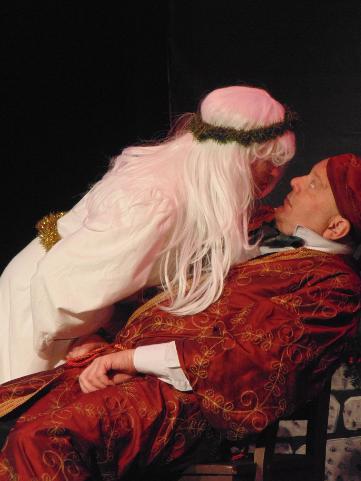 CHARLES DICKENS'S
A CHRISTMAS CAROL
Back in 1997, we debuted our own musical, choral adaptation of Dickens's Christmas classic.
The last time we mounted it was 2005, so maybe it's time to bring it back.
It's a "musical story theatre" -- we use the actual text of Dickens's book, rather than "improving" upon it with our own script.

It's funny, surprising, entertaining, delightfully musical, beautifully moving and a great way to ignite the holiday spirit(s).
With a cast of nearly 20 and a boisterous, fun-filled staging, it's true holiday entertainment.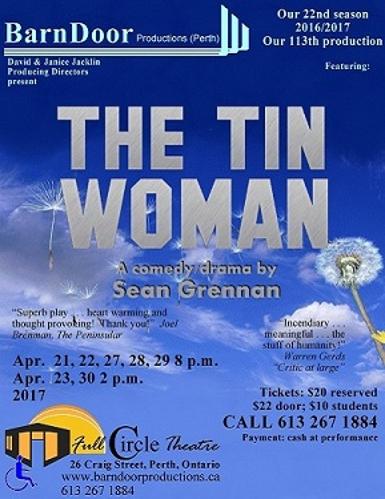 THE TIN WOMAN

April 21 to 30

A new play by an emerging author. A heart transplant recipient goes on a trip to find the family of her donor -- and finds her heart, too. A comedy-drama, or drama-comedy, either way, it's critically acclaimed.

We've got a strong cast with some new faces and a lot of energy going into this one.
Join us and see what the fuss is about.





SUMMER 2017

NOTE: Summer productions are not part of the season subscription package.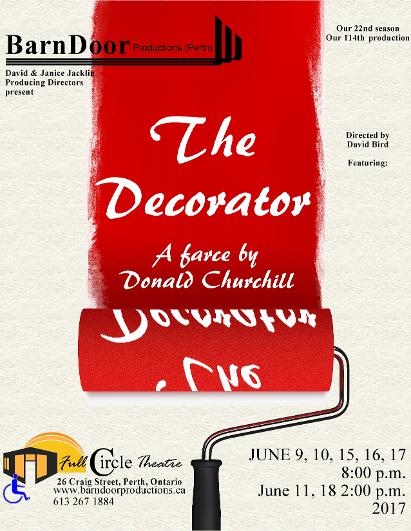 THE DECORATOR

JUNE 9, 10, 15, 16, 17 8:00 p.m.
June 11, 18 2:00 p.m.

When you're having an affair with your best friend's husband and she starts to catch on, what else can you do except enlist the aid of the hapless decorator who has come in to redo the study? It helps that he's not only a part-time decorator, but a part-time actor, too.
Donald Churchill's fun three-hander is a great way to kick off the summer.

Audition: POSTPONED pending arrival of scripts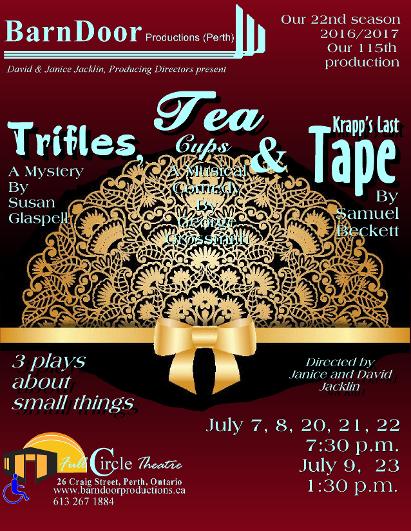 TRIFLES, TEA & TAPE


July 7, 9, 20, 21, 22 7:30 p.m.
July 9, 23 1:30 p.m.
(yes, there's a week between the two runs.)

Three plays about small things.
Susan Glaspell's Trifles is one of the seminal mystery plays of the last century; George Grossmith's tiny Tea Cups is a refreshing as a nice cuppa; and Samuel Beckett's Krapps' Last Tape is an engrossing look at a man's life -- with a cast of a man and a tape recorder.

Audition: 7:00 p.m. March 20 2017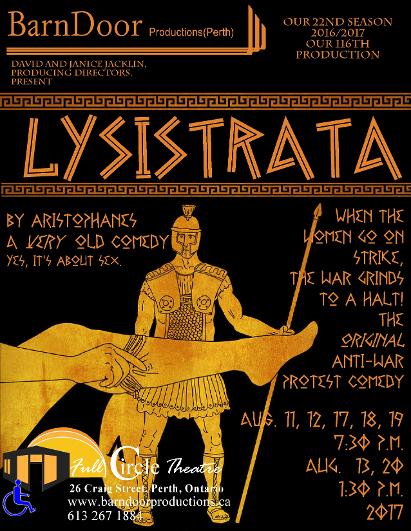 LYSISTRATA

AUG. 11, 12, 17, 18, 19 7:30 p.m.
Aug. 13, 20 1:30 p.m.

Aristophanes' 2400 year old anti-war comedy,
in a brand-new, musical version.
It's still as funny, sexy, silly and thought-provoking
as it was in Athens in 411 B.C.

The Greeks have been warring for twenty years.
The Greek women go on strike:
no nooky until the men stop the war.
The men refuse to give in --
no matter how hard it gets.

CAST: lots of both, but mostly women
Script available soon.

AUDITION: 7:00 p.m. April 3 2017